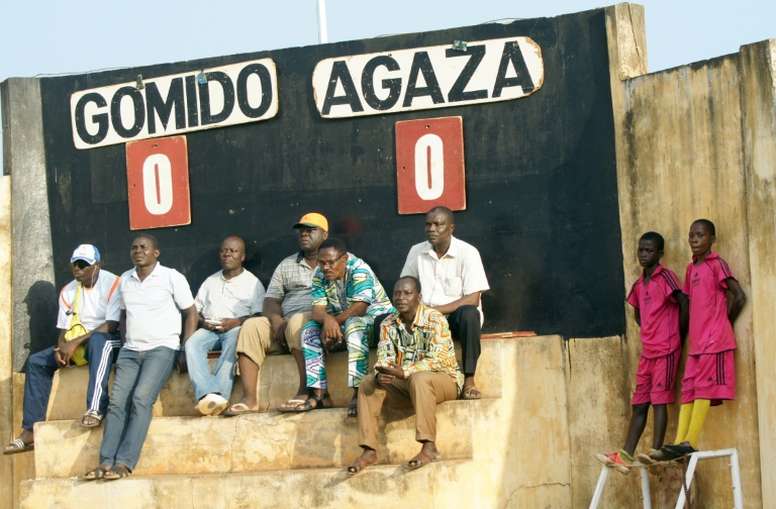 League limbo leaves Togo's footballers frustrated
No ball has been kicked in the country's top two domestic leagues for nearly a year, leaving the 2014-15 season unfinished after deadlines for the resumption of fixtures were missed.
The situation is frustrating the likes of Blaise Kouma, who captains second division side Etoile Filante, based in Togo's capital, Lome.
"We're lacking competition and going backwards. It's bad for Togo. We're a great footballing nation," he told AFP.
Tom Saintfiet, the Belgian coach of the national side 'Les Eperviers' (The Sparrowhawks), agreed.
"It's a real shame. No competitive football for months. I'm having to do the rounds of small grounds in Lome to watch matches when there's talent elsewhere in the country," he said.
"It's not easy in this situation to spot new players."
- Financial problems -
The restart of the leagues was first due on March 15 and the last on September 12 -- but both dates came and went.
Most clubs decided to boycott the competitions in protest at the so-called "normalisation committee" headed by former sports minister Antoine Folly.
The committee was put in place by world governing body FIFA in December 2014 to replace Togo's football federation (FTF), which was riven with internal dissent and bad management.
FTF officials, including its president Gabriel Ayemi, were all dismissed.
The committee's aim is to revise the FTF statutes and organise new elections by November 30 at the latest.
It is also charged with improving the day-to-day running of the game, operating like an electoral commission whose decisions are definitive and binding.
But for most club officials, the committee isn't fit to run the leagues.
"It's not the issue," responded one member of the committee, who asked not to be identified.
"These club officials tend to make small calculations with the sole aim of scuppering all the work we're doing.
"Some of them are hiding behind this crisis because they don't have the financial means to take part in this competition."
- 'They've done nothing' -
According to sources close to the committee, a first division club in Togo has to spend at least 60 million CFA francs (91,470 euros) every season.
The Togolese state, however, subsidises every team a total of only 10 million CFA francs.
As such, the crisis shows no sign of ending, which is pushing players, coaches and supporters towards small local tournaments.
One tournament organised last month by sports television station TLS at the Agoe stadium in Lome's northern suburbs attracted several thousand supporters.
Four top-flight clubs took part.
"It's pathetic to see these players in small stadiums because they're lacking competition," said Adekanmi Olufade, a former Togo international.
"The members of the federation and the club officials should back down to bring an end to this crisis, which has gone on long enough."
For Kouassi Talon, technical director at Agaza, the championship "is grounded because the normalisation committee is asleep".
"They were given nine months, they've done nothing," he added.
- Frustration -
Supporters and club managers, tired of traipsing around small stadiums, are also speaking out.
"We're tired of these repeated crises in the federation," said Michel Solatevi, a former player and supporter.
"Nothing is moving and we're forced to go from ground to ground. Football in Togo is going backwards."
"We have to voice our frustrations so those responsible end the crisis that's annoying everybody," added club manager Michel Ajavoin.
The crisis comes just as a number of players, including former captain Emmanuel Adebayor, have made themselves unavailable for selection.
Former Tottenham Hotspur, Arsenal, Manchester City and Real Madrid striker Adebayor and others have on several occasions criticised the "chaos" in the FTF.
To top it all, a friendly match with Egypt in Cairo on October 13 was cancelled due to organisational difficulties, hampering Togo's preparations for upcoming World Cup qualifiers.
Togo's only appearance at the finals was in Germany in 2006.