Latest transfer news and rumours from July 3rd 2020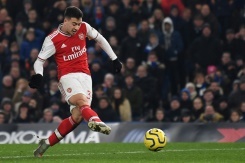 21:00:Martinelli signs new long-term contract with Arsenal
Arsenal forward Gabriel Martinelli has signed a new contract with the Premier League club.
19:00: Chelsea to go after Havertz
Although Frank Lampard admitted at a press conference that Chelsea have not made any offers to sign Kai Havertz, the Daily Telegraph reports that the club has decided to take action. The striker will be a priority for the blues.
15:50: Chelsea and City after a former Barcelona player
Lucas Digne is in his second season at Everton and has earned a permanent position in the team. Such has been his evolution that he has attracted the attention of Chelsea and Manchester City.
13:30: Atletico preparing another offer for Koulibaly
Defender Koulibaly is still on the wish list of Europe's greatest teams. Atlético, according to the Italian press, is considering sending another offer for the Senegal striker.
12:45: RAI': Barça want to send Griezmann to Juve
Antoine Griezmann's days at FC Barcelona could be numbered. In Italy, 'RAI' says that the Catalan club has offered it to Juventus and both entities would be negotiating their transfer. Douglas Costa and Rabiot would enter the operation, always according to that source.
9:00 Bayern Munich confirm Leroy Sane signing from Man City
Bayern Munich on Friday confirmed the signing of Germany winger Leroy Sane from Manchester City on a five-year contract for reportedly at least 50 million euros.