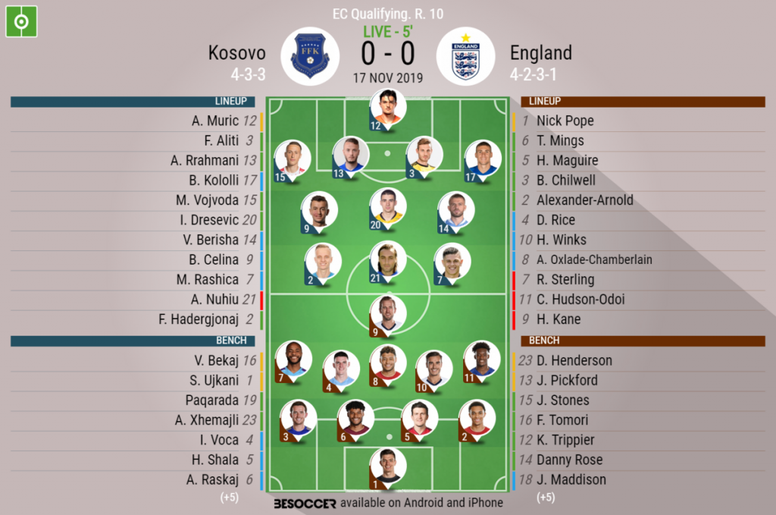 Kosovo v England - as it happened
90'
FULL TIME! Full time sees England win with another qualifying game. England have now scored at least 4 goals in all eight of their Euro 2020 qualifiers. 37 goals in 8 games. The second half was the key and even though they looked shaky at times, they managed to go away confidently with the win.
90'
A great strike from Mason Mount, who just casually puts the ball in the bottom corner!
90'
MOUNTS FIRST SENIOR INTERNATIONAL GOAL!!
82'
England are three up after a beautiful finish from Marcus Rashford. Sterling passes the ball to him and with one touch, he naturally slots it into the bottom corner. 0-3
81'
Nuhiu is replaced by Rashani for Kosovo
78'
Another goal and another landmark for Harry Kane sees England double their lead. STerling passes the ball into the box and dreadful defending from Aliti sees Kane get the ball and slam it into the back of the net. No player has scored in all of their Qualifying matches, Kane has just done so. 12 goals in 8 qualifiers
75'
Declan Rice covers well, after Zhegrova has a shot and goes one on one with Nick Pope, Rice is there to clear the ball away for a corner
71'
Mason Mount comes on for Alex Oxlade-Chamberlain and for Kosovo Hadergjonaj is replaced by Zhegrova
71'
England have not conceded this evening, but still all has not been well defensively.
68'
Hdergjonaj is on his own and makes a run down the pitch, with two defenders chasing him, but his shot is weak and Pope deals with it.
64'
First change of the night for Kosovo, Halimi replaces Berisha.
60'
Chilwell's first shot is saved by the keeper and Sterling passes it back into the box for Kane, who's shot is denied by the near post!
58'
England make their first change, as Hudson-Odoi comes off and Rashford is his replacement
54'
Vojvoda fouls Sterling and gives England a free kick. The free kick is taken by Chilwell, but it goes wide from the goal and goes out for a goal kick
49'
Kosovo corner! The ball went to Berisha, who tried his luck from range, but it went wide.
47'
Kololli goes into the book for a foul on Sterling, who wasn't even on the ball. Free kick for England just outside the box, which is shot straight at the keeper, who catches it easily
45'
We're back for the second half!! No changes have been made for either side
45'
Half Time! Harry Winks first England goal is the difference between the two teams at the break, as England go into half time 0-1 up. Nobody has ever beaten Kosovo internationally at their home stadium, can they come back in the second half?
41'
Kosovo have a shot, good approach play sees Celina receive the ball, but he skies the ball well over the bar.
37'
The goal has given England a lot as they now have the confidence to play the game at their tempo. Kosovo looked dangerous for half an hour, then the goal came and they seem to have lost some spark.
31'
On the half hour mark, England take the lead from an unlikely source- Harry Winks. A nice bit of play and link up well sees Wink receive the ball in the box and he beats the defenders to slot the ball in the back of the net and give England the lead.
29'
Great run from Hudson-Odoi, who then tries to find the right angle to get his shot in, but he aims it right at the keeper, who easily deals with it
23'
Rashica strikes from faraway and it is a powerful shot that Nick Pop deals with well. Kosovo giving as good as they get at the moment!
22'
The corner is headed away by Harry Kane
21'
Corner for Kosovo as Alexander-Arnold clears the ball out
20'
A great atmosphere tonight, there is a real positive vibe for tonight's fixture!
18'
Vojvoda has a neat bit of play near the box, but he cannot finish it off and skies the ball out of play. England need to get better on the ball themselves tonight.
14'
A good bit of play from England. Chilwell makes a run down the wing, puts an early cross in for Kane in the box, who passes to Sterling just outside the box, which forces the Kosovo keeper into making a good save for a corner.
10'
England have a free kick again as Oxlade-Chmaberlain receives another blow to his ankle from Aliti. Maguire has come forward for this. Oxlade-Chamberlain takes the free kick and put it in the box, but the keeper catches the ball.
9'
Nuhiu fouls Mings and England have a free kick in their own half!
7'
England have scored in the first 11 minutes in the last four international games they have played
6'
Berisha crosses the ball into the box for Kosovo after a bit of nice play on th eleft side of the pitch, Nuhiu is there to get his head on it and forces Nick Pope to make a save
2'
Nothing serious as he is now back on his feet and running it off!
1'
Alex Oxlade Chamberlain is down and in agony as he slipped going in for the ball and fell on his left ankle. He has already had a serious injury in the last few years.
Prev.
England could win a top 6 seeding just from securing a point from tonight's game!
Prev.
The locals at Kosovo are all waving England flags around, as they show the love that they have for England, as some fans are even wearing England scarves and shirts too
Prev.
Gareth Southgate says that tonight's game will be a challenge and that his team have to be prepared. He says today is a chance to look at a couple of players more deeply who could be in contention to play in the summer. Hudson-Odoi is back from injury and Southgate says he has the quality and temperament to start.
Prev.
Kosovo have received England well and all the fans are excited to welcome them to their country. Their manager says that he thinks England are favourites to win the Euro and have such a good offensive parcel in the squad. Kosovo have never lost at home at their stadium.
Prev.
5 changes for Gareth Southgate's side, as Nick Pope comes into the squad in goal. for the first time. Mings and Rice come in and Raheem Sterling is back after missing the last match against Montenegro. Hudson-Odoi is also back in the squad
Prev.
England: Nick Pope (GK); Mings, Maguire, Chilwell, Alexander-Arnold; Rice, Winks, Oxlade-Chamberlain, Sterling, Hudson-Odoi; Kane
Prev.
Kosovo: Muric (GK); Aliti, Rrahmani, Kololli, Vojvoda; Dresevic, Berisha, Celina; Rashica, Nuhiu, Hadergjonaj
Prev.
Join us for live coverage of the Euro 2020 Qualifier match between Kosovo and England at the Pristina City Stadium. England qualified for the Euro's on Thursday night against Montenegro, but can they win again tonight? They cannot be caught in the Group and are top of it!