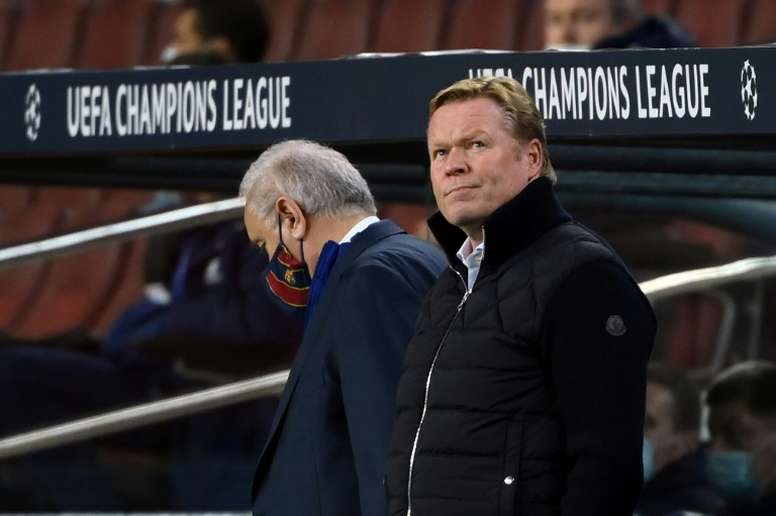 Koeman and his coaching staff accept pay cut
The terrible economic situation Barcelona are going through has forced them to tighten their belts. Even those who joined the side in the middle of the crisis have also taken a pay cut. Ronald Koeman and his coaching staff have agreed to reduce their salaries.
According to 'Mundo Deportivo', both the Dutch coach and his assistants Alfred Schreuder and Henrik Larsson have said yes to Carles Tusquets, the leader of the interim board. They had reportedly given until this Monday to make a decision. Nevertheless, the match in Kiev in the Champions League delayed that deadline by a few days.
The Dutchman arrived in the summer on a two year contract and during his time so far at the club, he has become more and more aware of the club's limitations. That helped him sees how they could not agree to his requests such as when he wanted to buy Eric Garcia and Memphis Depay. He always said that he never demanded anything from the board as a result of this situation.
In addition, the Catalan media outlet says that Koeman has thought about telling the squad in training this Friday. Not to put pressure on them, just to inform them. He is aware that several players have yet to make a decision on the pay cut the club wants the footballers to take.
When the match against Dynamo Kiev finished, Barcelona's legal representatives sent the latest proposals to the squad. Koeman and his coaching staff have now agreed to reduce their contracts. The club need to reduce by their wage bill by 191 million euros because of the reduction of income by around 300 million euros due to the pandemic.
On 21st October, four players renewed their contracts and agreed to put on hold 30% of their salaries for this season on hold. They were Marc-Andre ter Stegen, Gerard Pique, Frenkie de Jong and Clement Lenglet. Part of the team still has to respond to the proposal.