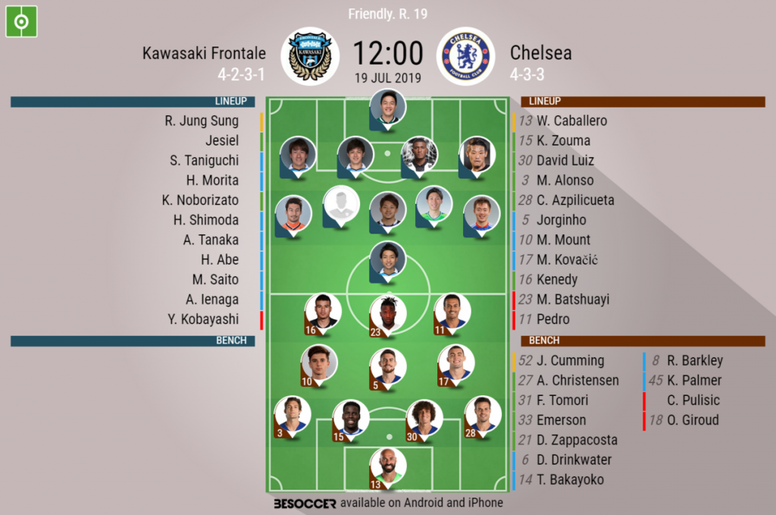 Kawasaki Frontale v Chelsea - as it happened
Kawasaki Frontale
Chelsea

93'
FT: Kawasaki 1-0 Chelsea!!!! It's all over in Yokohama!! The Japanese side claim a famous victory thanks to a goal from Leandro Damiao four minutes from time. Chelsea had some good chances, but they came up against a well ordered defence and couldn't break them down. That's all from us, thanks for your company and we hope to see you again soon!
93'
Chelsea working a move, they need to get it into the box, David Luiz is possessed and it's game over!!!
92'
Maguinho on for Morita for Kawasaki.
91'
Zappacosta gets a corner now. Kawasaki are defending really well. Nothing comes of it.
90'
Two extra minutes. Would be at least four normally.
90'
Pulisic wins a corner and it was very close to being a penalty!
88'
Kawasaki were pressing in the last few minutes and Damiao has been a headache for Chelsea all half. This would be embarrassing for the Chelsea side. It's a pre-season friendly, but there's lots of stars on show.
86'
Damiao scores!!!!! I think it was Nakamura who chipped the ball into the far stick after David Luiz could not clear and Damiao heads in at the far post. Caballero couldn't keep it out with his legs. Major shock here!
85'
And now Nakamura forces Caballero into a save!
85'
What a chance for Kawasaki!! Nakamura chases down a ball which was going out of play and Damiao's header rattles the bar!
84'
Giroud heads at the goalie!
84'
Kawasaki have made a chance. Nishimura is on.
83'
Hasegawa is raging after not getting a corner after Zappacosta! A goal kick was given.
78'
Bakayoko is getting treatment after that challenge. He's limping heavily on the sideline.
77'
Damiao is penalised for sliding in on Bakayoko.
74'
Great shot from 31m by Giroud, over the wall and the GK dives to his left to divert it for a corner. Luiz and one other get in each other's way and it's a goal kick.
73'
Palmer wins a free-kick now on the edge of the box. This could be dangerous. Kawasaki have held firm so far despite being second best.
72'
David Luiz's strikes cannons into the wall.
72'
Chelsea have a free-kick here in a really dangerous position. 25m out.
71'
Chelsea sub: Kasey Palmer on for Kenedy.
70'
Chance for Kenedy!!! It started with a throw in and Kenedy started a move which included Barkley and one other teammate and the goalie made himself big to deny Kenedy.
69'
Pulisic tries to make his way into the box, but he is stopped in his tracks by a Kawasaki man.
65'
Pulisic comes on for Mount to make his debut.
64'
Kawasaki are making three or four changes here and even the GK is being switched. Shota Arai is the new man between the sticks.
64'
Zappacosta hits at Jung Sung, the Kawasaki goalie!
63'
The game seems to have quietened down in the last few minutes. Not much to report.
59'
Kenedy has a grreat chance after a splendid pass by Barkley. He is unable to score from a tight angle though and he hits the stanchion post in frustration.
59'
Chelsea win a corner, but Mount's delivery is headed away at the near post.
56'
Chelsea double switch: Jorginho and Kovacic off, Bakayoko and Drinkwater on.
55'
Damiao!!!!!!! A very dangerous ball in sees Damiao dive to header just wide at the near stick. That was incredibly dangerous.
53'
Damiao is playing well and the Japanese team produce some good build up play.
52'
David Luiz buys a free-kick in his own penalty area.
50'
A lovely cross in by Kawasaki and Emerson has to head away to prevent Damiao nipping in at the far post.
49'
Kepa is ill as is Abraham so that is why they aren't playing today.
48'
Mount!!!!! Barkley sees the run of Mount and plays a lovely ball for the ex-Derby man whose shot just curls past the far post.
48'
Alonso has also been replaced by Emerson.
47'
Barkley plays the ball in for the substitute Zappacosta, but it's too strong. Batshuayi, Pedro and Azpiluceta have gone off.
47'
Hasegawa and Damiao on for Kawasaki, Kobayashi and I think Saito are off. Mawatari and Chinen also on.
45'
Whole host of changes coming here. Giroud one of many coming on. Christensen and Barkley also coming on. I know Zouma is not back out for the second period.
45'
HT: Kawasaki 0-0 Chelsea! Half-time in Yokohama in a match which was dull for the first 25 minutes with Kawasaki slightly better before Chelsea were the better team in a lively last 20. Batshuayi, Mount and Pedro have had the best chances for the English side while Ienaga has looked the most dangerous for the Japanese side. Join us in 10!
45'
It's cleared and it's half-time! That's a shame because it was livening up.
45'
Abe wins a corner now after a nice move by the Japanese side. Last play.
45'
David Luiz clears the corner and Batshuayi causes havoc on the counter before he is finally dispossessed.
45'
Caballero!!!!! The move starts at midfield and Ienaga forces a great save out of Caballero! Corner for Kawasaki.
43'
Shimoda dispossesses Batshuayi after the Belgian took the ball off a Japanese player initially.
42'
Kenedy tries a very hopeful overhead kick which goes nowhere near the goal.
39'
What play by Chelsea!!!! Azpilicueta crosses to Batshuayi, he fends off the defender to feed Mount who sees his goalbound shot deflected by Jesiel.
36'
Kovacic plays in Batshuayi, he beats Taniguchi before Noborizato dispossesses him. The English side are starting to show their quality now.
34'
Kenedy has another go now which flies just wide of the goal!
33'
What was he doing??? A terrible pass across the face of his own goal leads to Kenedy having a free run at goal, but his first touch is heavy and that allows Taniguchi to clear.
32'
Chelsea win a free-kick after Kovacic is brought down.
29'
What a chance for Pedro!!! As stupid defensive error by Kobayashi and Pedro hits a curling shot from 25 yards out which lands on the top of the net. That was dangerous.
28'
Ienaga heads wide of the goal after getting his head on the end of the set piece at the near post.
27'
Saito wins a corner after trying to nutmeg Azpilicueta.
26'
Azpilicueta crosses into the box and a defender clears.
25'
Nice move by Kawasaki Frontale, but Abe is unable to control the pass.
24'
0-0 is a very fair score here so far. Chelsea are now the better side though.
21'
Chelsea have two or three shots from outside the area, but they all get blocked and then Azpilicueta's ball in beats everybody.
20'
This has definitely got a pre-season feel despite the Chelsea talent on show.
17'
Batshuayi!!! He plays a lovely one-two with Mount and then the ex-Marseille man sees his shot go wide of the post. There looked to be a slight nick of the defender, but the ref gave a goal kick.
15'
Pedro!!!!! A long punt forward finds the Spaniard who is unable to connect properly.
13'
Zouma fouls Kobayashi in midfield.
11'
Saito is looking sharp down Chelsea's right.
10'
Saito crosses into the box, Luiz can only head to Ienaga who hits a powerful shot from inside the box straight at the GK!
9'
The game has been played mainly in the midfield up to now and the Japanese club have had more possession and territory.
6'
Chelsea almost lose the ball stupidly near their own goal! David Luiz recovers though.
4'
Saito makes a nice move down this near side and looks for a teammate in the box, but David Luiz clears.
4'
Kawasaki have been keeping the ball in Chelsea in the last few minutes, but well away from the goal.
1'
Pedro sends an early ball into the box which the Japanese side are able to clear away from danger.
1'
Kawasaki get us underway in the Uruguay looking shirts from right to left.
Prev.
28 degrees in Yokohama. Yuichi Nishimura is the ref!! The man who did the famous 2014 WC opener between Brazil and Croatia which was highly controversial.
Prev.
The players are out and we are about to start!
Prev.
Kawasaki are third in the Japanese League and beat FC Tokyo 0-3 last Sunday.
Prev.
Kawasaki team: Jung Sung-Ryong (GK), Abe, Ienaga, Jesiel, Kobayashi, Morita, Noborizato, Saito, Shimoda, Tanaka and Taniguchi.
Prev.
Chelsea team: Caballero (GK); Alonso, Zouma, Azpilicueta, David Luiz; Kovacic, Jorginho, Pedro; Mount, Kenedy and Batshuayi.
Prev.
Good morning and welcome to live coverage of the friendly between Kawasaki Frontale and Chelsea from Yokohama!