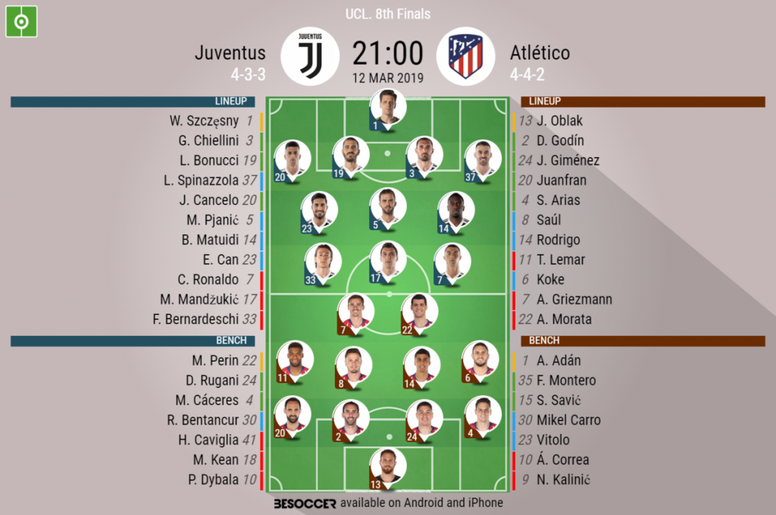 Juventus v Atletico - As it happened
95'
As always, thank you for joining our live coverage of this evening's thrilling Champions League clash! We hope to see you again soon!
95'
FT: Juventus 3-0 Atletico. And that wraps it up at the Allianz stadium as Juventus absolutely drown Atletico at home in Turin with relentless chances on goal. In the end, Ronaldo got his hat-trick, and Juve have him to thank for a memorable Champions League comeback!
92'
Remember...Atletico only need one goal to win it!
90'
Five added minutes at the end of the second-half!
86'
GOOOAAAAALLLL JUVENTUS!!! Ronaldo has his hat-trick!!! He converts the penalty by firing into the bottom left corner!
85'
Correa pushes Bernardeschi to the floor in the box and Juve have a penalty!!!
82'
CHANCE JUVE! Kean has an immediate impact as his shot glances millimetres wide!!!
80'
Substitution Juve - Mandzukic comes off for Kean.
79'
Griezmann's free-kick lacks any venom and Szczesny gathers unchallenged.
76'
Juve in possession again on the right hand side and Atletico scramble their defence together as they look to be playing the damage control game.
75'
In a rare turn of events, Atletico have a free-kick but unsurprisingly, nothing comes of it.
73'
Juanfran goes into the book after flooring Ronaldo. Mandzukic almost gets on the end of the resulting free-kick!
71'
CHANCE JUVE! Ronaldo was running free towards goal and looked to be set for the hat-trick but for a crucial sliding challenge from Gimenez.
67'
Substitution Juventus - Spinazzola comes off as Juve introduce Dybala into the mix.
66'
Ronaldo charged down the hat trick but was inches away from bringing Chiellini's ball down and shooting.
65'
Bernardeschi receives the first yellow card of the evening after he catches Arias in the face.
61'
CHANCE ATLETICO! A rare chance comes Correa's way but his strike isn't on target and Atletico are still looking to score away from home!
59'
The counter attack doesn't get very far as Saul is brought down and the referee denies the free-kick!
58'
He assumes his famous stance and releases a shot but it hits the wall and Atletico can counter!
57'
Juventus with another free-kick in a promising spot on the pitch just outside the 18-yard box! Atletico can't afford to concede another one! Perfect Ronaldo striking distance...
54'
Its all about Juventus in this clash as chance after chance end in extremely near misses for the home side! Atletico have no response.
49'
GOOAAAAALLLLLL JUVENTUS!!! There's the comeback! And of course, it's Ronaldo again! Oblak looked to have kept it out but goal-line technology confirmed that it crossed the line!!!
47'
CHANCE JUVE! After just one minute, Cristiano Ronaldo almost heads in Juventus' second of the evening!
45'
And we're back for the second-half! Atletico get us up and running.
45'
HT: Juventus 1-0 Atletico (1-2 on agg). Juventus have been absolutely relentless at home in Turin and Atletico couldn't find their feet in the game at all. Chiellini had a goal disallowed early on after Ronaldo fouled Oblak in the box but it wasn't long before Ronaldo put the home side in front! Stay tuned to see if Atletico can respond in the second-half!
45'
Atletico Madrid finally have a bit of possession towards the end of the first-half! Again, they almost make it count as Morata's header comes close!
45'
Two minutes of added time for Atletico to find some hold on this match.
44'
Juve corner right on the stroke of half-time... Chiellini very nearly makes it two for Juventus but Oblak palms it over the bar for another corner!!!
43'
CHANCE JUVENTUS! Cristiano Ronaldo gets some serious air time on his leap for a header! It only just flies wide...
39'
What a fabulous match to watch so far! The Juve fans are in full voice as their team treats them to a brilliant first-half so far!
37'
Pjanic is down after Morata caught the back of his had in an aerial challenge.
35'
Bernardeschi attempts the spectacular with a bicycle kick! His effort flies only inches above the crossbar!
34'
Atletico are really suffering against a Juventus side who are in complete control of proceedings at home in Turin!
32'
Bernardeschi lines up for the free-kick and his effort isn't far off target!
31'
Juve have a free-kick in a dangerous position... can they really put the pressure on Atletico?
29'
Bernardeschi charges down the left wing to put the cross in for Ronaldo who didn't need to be asked twice to make it count for Juventus!
27'
GOOOAAAAAALLLL JUVENTUS!!! There's only one man it could be! Cristiano Ronaldo gives Juve the lead and the comeback is on!!!
24'
CHANCE ATLETICO! Finally, after almost 25 minutes, Atletico are afforded some possession! They very nearly make it count after Griezmann's shot is nervously punched away by Szczesny, who up until this point has been a spectator in this match.
21'
Atletico haven't had the chance to display their attacking strength up front as the likes of Morata and Griezmann are yet to get involved!
18'
Juanfran makes an interception in central defence to make sure Juve can't switch it up from left to right.
15'
It's relentless from Juventus and Atletico are doing well to maintain a strong defensive line!
12'
Over 10 minutes have passed and neither team has managed to settle the nerves in this Champions League clash!
11'
Juve advance again but the momentum is lost after Cancelo can't control the ball and it's out for an Atletico throw in deep within their own half.
11'
Atletico have the ball and attempt a cross but it's wild and Juve will let it go for a goal-kick.
10'
A cross comes in from the right wing for Juventus but Oblak reaches and plucks the ball out of danger.
9'
It's Juventus with the majority of possession so far! They almost made it count but VAR denied Chiellini. Will they find the back of the net again?
6'
NO GOAL! The scoreline remains at 0-0 after just five minutes! What a start!
4'
Juve look to have scored but the referee hasn't yet awarded the goal as he is checking up on a potential foul in the box. Ronaldo challenged for the ball but caught Oblak on his way through.
3'
CHANCE JUVENTUS! Matuidi takes a shot from just inside the box. It's on target but it's blocked!!!
3'
It's a feisty tie right from the get-go in Turin as both teams right for possession!
1'
Juventus have the kick-off and we're underway!!! Can Juve claim their much-needed comeback...
Prev.
Just 10 minutes until kick-off at the Allianz stadium! Juve are ready to attempt the comeback...
Prev.
While Diego Simeone has chosen Santiago Arias, Thomas Lemar and Alvaro Morata over Filipe Luis, Thomas Partey and Diego Costa!
Prev.
Both managers have made significant changes ahead of tonight's clash! Allegri brings in Cancelo, Spinazzola, Can and Bernardeschi in place of De Sciglio, Alex Sandro, Bentancur and Dybala.
Prev.
Not only do Atletico have a fairly comfortable lead after the first-leg, they also have the away goal advantage meaning they will still be keen to slot as many past Szczesny as possible tonight!
Prev.
Atletico starting XI: Oblak; Arias, Gimenez, Godin (c), Juanfran; Koke, Rodri, Saul, Lemar; Morata, Griezmann
Prev.
Massimiliano Allegri's team are really under the cosh this evening as they will be chasing a 2-0 Atletico lead after the first-leg! They will hope that their star man Cristiano Ronaldo can perform at home and deliver the much-needed victory!
Prev.
Juventus starting XI: Szczesny; Joao Cancelo, Chiellini, Bonucci, Spinazzola; Matuidi, Can, Pjanic; Mandzukic, Ronaldo, Bernadeschi.
Prev.
Welcome to our live, minute-by-minute coverage of this evening's Champions League clash between Juventus and Atletico Madrid! Stay tuned for team news and line-ups!