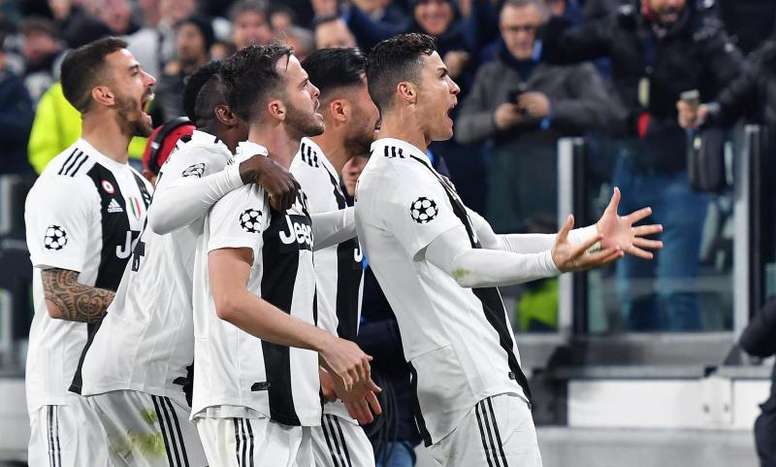 Juventus annihilate Atletico in Turin
Atletico went into this match with the advantage, having already scored two goals at the Wanda Metropolitano, and taking an away goal advantage to Turin.
However, it was Juventus who came out firing on all cylinders right from the get-go as Chiellini found himself with an early chance. His effort found the back of the net but the goal was subsequently disallowed by VAR after Ronaldo had fouled Oblak in his own attempt to score.
The remainder of the first-half was more of the same as Juventus treated their fans to a fantastic display of skill and flair, denying Atletico much more than a few minutes on the ball.
Having said that, that was all Atletico needed to start to threaten Szczesny's goal after Antoine Griezmann released a powerful strike from outside the area which was tentatively dealt with by the Juve keeper.
Ultimately, Atletico didn't manage to get close to a goal and Juventus continued to exert their authority over their opponents, with Bernardeschi even attempting a stylish bicycle kick. The effort was remarkable and one for the fans as the ball only just sailed over the crossbar.
As we approached half-time, it seemed as though Juventus would keep control of proceedings but Atletico's forwards had other ideas as Morata almost equalised for the visitors with a header that required saving.
The second-half played out much like the first as Juventus continued humiliating Atletico with dominant possession and relentless chances on goal. Simeone's side were able to register a few of their own chances on goal but in the face of a hungry Juventus side, they surmounted to nothing and Juventus continued threatening Atletico's first-leg lead.
The visitors were able to keep Juve at bay for the majority of the second-half until Correa brought Bernardeschi down in the box and the referee awarded a penalty.
You could have bet your life savings that Ronaldo would be the man trusted with converting the chance for Juve - and your bet would have paid off as Ronaldo didn't need to be asked twice to extend Juventus' lead and claim a hat-trick for himself in doing so.
The end of regulation time approached and the fourth official indicated that we would enjoy five more minutes of Juventus magic. This was Atletico's last chance to save their Champions League hopes but Juventus were in no mood to give up their place in the next round.
The referee blew his whistle for the final time and the Allianz stadium erupted. Yet another Spanish team kissed goodbye to their chances of lifting the Champions League trophy.