Juve dops out of race for Pogba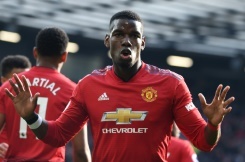 If there was ever a possibility of Paul Pogba coming back to Juventus, it has now suddenly vanished. According to the Daily Mail, the "Bianconeros" have told Manchester United that they will not be fighting for him.
Juventus vice-president Pavel Nedved would have told Mino Raiola, the player's agent, that Juve is no longer interested in the midfielder's services.
Nedved would have told the player's agent that Juventus is already considering other options. Pogba may have to forget about a return to Turin...
According to the Daily Mail, Pogba will end up in Real Madrid (as long as he can cope with United's economic pretensions). The press puts the transaction at 166 million euros.
Paul Pogba is known to be to Zinedine Zidane's liking, who has reportedly specifically asked for the player to become a Real Madrid player. His signing, of course, seems to be far from being confirmed: in order to face the payment, Madrid will have to cash in by selling some other players.