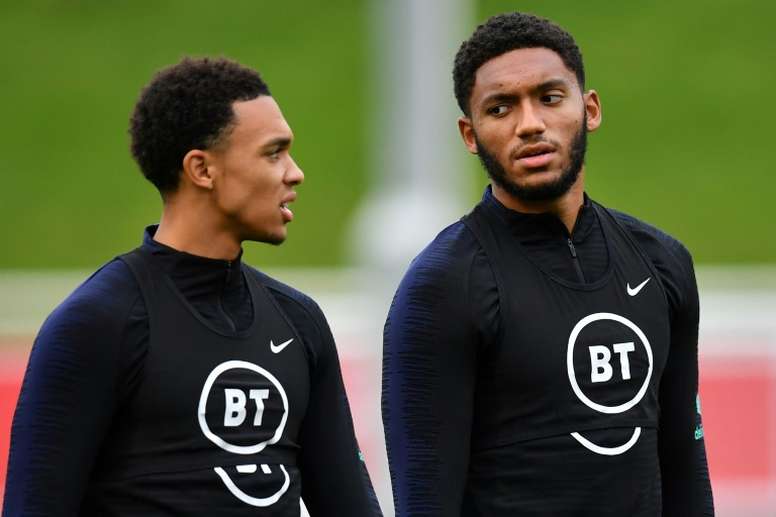 Joe Gomez left with scratch after altercation with Sterling
'The Daily Mail' and 'The Guardian' have published images from England's training session that show Joe Gomez with a visible scratch on his left eye, apparently sustained during an altercation with Raheem Sterling in the players' canteen after the squad met up at St George's Park.
The news comes after it was announced Raheem Sterling will not be considered for England's Euro 2020 qualifier against Montenegro following a reported bust-up between the Manchester City forward and Liverpool defender Joe Gomez.
The incident is thought to have been sparked after a back-and-forth about Liverpool's 3-1 Premier League win over City at Anfield went too far, and the players had to be separated by their respective teammates during the game.
Raheem Sterling has since taken to social media to acknowledge his responsibility, stating "we are in a sport where emotions run high and I am man enough to admit when emotions got the better of me. Both Joe and I have had words and figured things out and moved on."
England manager Gareth Southgate also spoke about the incident after it was announced the Manchester City player had been dropped - despite his amazing run with the national team - with the coach stating: "One of the great challenges and strengths for us is that we've been able to separate club rivalries from the national team."
Adding to the statement, the coach acknowledged the rivalry between the two teams by claiming "unfortunately the emotions of yesterday's [Sunday] game were still raw. My feeling is that the right thing for the team is the action we have taken. Now that the decision has been made with the agreement of the entire squad, it's important that we support the players and focus on Thursday night."
November 12, 2019