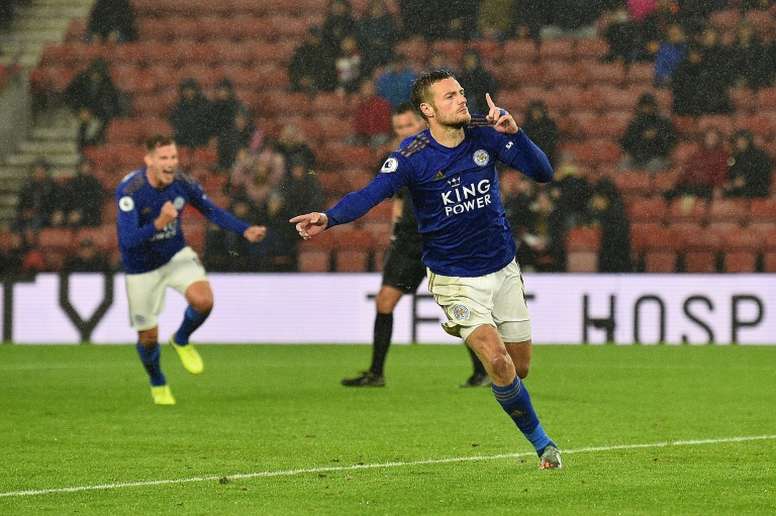 Jamie Vardy won't go quietly into that good night
If you're interested in making bets on this year's Premier League season, use the Bet365 bonus code.
During that season, striker Jamie Vardy got his moment in the sun. The hard-working journeyman who was playing in the 7th level of English football half a dozen years earlier was the Premier League's second-leading scorer, voted FWA Footballer of the Year, and was the catalyst for the most improbable title in Premier League history.
Naturally, we all assumed it would be all downhill for Vardy from there. But during the 2019-20 season, Vardy has proved otherwise. The now-33-year-old is having arguably the best season of his career and once again is the catalyst for Leicester City being near the top of the Premier League standings.
Never Quit
It's no secret that Vardy's game is built on grit, hustle, and giving maximum effort for 90 minutes. Not that he doesn't showcase skill or a deft touch when he needs to, but most of what Vardy has accomplished during his career has come from his willingness to out-work his opponents.
In the best way possible, he has the energy of a rabid dog and often plays like it. At age 33 and with nothing left to prove years after leading Leicester to the championship, the most impressive thing about Vardy's season is the fact that there's been no let-up in his effort and energy.
He continues to show off the instincts of an elite goalscorer with the legs to execute and finish off chances.
Not only can you see Vardy's effort on the field in every game he plays, but his productivity remains among the best in the Premier League. Vardy entered March with 17 goals in 25 EPL games.
He's just one shy of his goal total from last season and still within striking distance of matching or exceeding the 24 goals he scored when Leicester City won the Premier League title.
Earlier this season, Vardy scored goals in eight consecutive games, a feat no Premier League striker has matched since Vardy himself scored in 11 straight games during Leicester's title run.
"He gets paid every month at the bank by the club to score goals and create them. Naturally, that is his bread and butter", Leicester City manager Brendan Rodgers said of Vardy earlier this season.
If he can keep up his current pace, Vardy is well-positioned to win the Premier League's Golden Boot for the first time. He's also just a few goals away from his 100th Premier League goal.
Assuming that happens, he will be the oldest player to cross that threshold, which in itself is an amazing accomplishment considering Vardy didn't make his Premier League debut until 2014.
At that point, he was already 27 years old, an age when some players had already amasse 100 Premier League goals.
Team Success As Well
Perhaps more importantly, Vardy's brilliant campaign has Leicester City eyeing a spot in next season's Champions League. Other than presumed champions Liverpool and reigning champions Manchester City, Leicester City has undoubtedly been the best team in the Premier League this season.
They've risen above powerhouse clubs like Chelsea, Manchester United, Tottenham, and Arsenal, supplanting themselves as a top-4 team.
Vardy's goals have surely been the difference for Leicester City this season. Star players around him like N'Golo Kante and Riyad Mahrez, who helped the Foxes win the title in 2016, have long since moved on.
However, Vardy has remained one of the few stalwarts at the club. He's found a way to succeed with a new supporting cast around him. On top of that, he's made the transition from mere talisman to team leader, which is yet another way in which Vardy has played a vital role in Leicester's impressive season.
"He's a very important player for us and has been for this club for a number of years and, in my time here", said Rodgers. "He's been tremendous."
Other Benefits
In addition to perhaps getting Leicester City back into the Champions League, Vardy could be rewarded for his brilliant season with an invitation to join England's squad at the Euros this summer.
Officially, Vardy retired from international duty after being part of the England team that reached the semi-finals of the 2018 World Cup.
But with Harry Kane and Marcus Rashford both sidelined by injuries and questionable to be fully fit for the Euros, Three Lions manager Gareth Southgate is keeping the door open to call Vardy out of retirement if needed.
In a way, a return to the England team would be a fitting way for Vardy to cap off the 2019-20 campaign. While few were doubting whether or not he was still a quality goal scorer after netting 18 goals in the Premier League last season, nobody predicted that Vardy would play and produce at the level he's done this season.
At age 33, a player like Vardy, who relies on his speed and work-rate, should be in decline.
Instead, we've seen the exact opposite.
His play and his accomplishments this season are arguably the most impressive of his career
with Vardy showing no signs of slowing down, no signs of easing up, and no signs of allowing
himself or his career to go gentle into that good night.