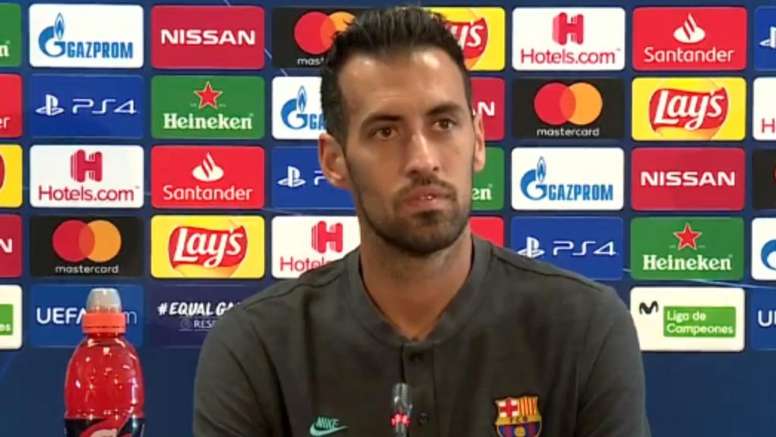 "It was a surprise Arthur didn't return"
Sergio Busquets will not be playing at the Camp Nou against Napoli as he is suspended, but he was chosen to speak in the pre-match press conference.
"We're optimisitc and we're going to give 100%. We're going to try and score and win, so I'm sure it'll go well for us," the Barca vice-captain began.
Busquets was asked whether there had been any analysis in the dressing room after having lost La Liga to Real Madrid. "Everything that is spoken about to improve is welcome. These weeks have been good for us to train and to plan the game. We're very keen to continue in the competition and make the last eight."
The Barca player was asked about whether he would like Setien to remain as coach: "It's the club's decision. We players have to keep out of it and focus on what happens on the pitch. If Setien continues, that's a good sign, but it's something we can't be concerned about," Busquets continued.
Busquets on Arthur
"The Arthur situation has been difficult, but the only ones who know about the situation are the player and the club. It was a surprise Arthur didn't come back, but only he and the club know the truth."
The player said he hoped Arthur and the club reached an agreement so that they could end on good terms: "We know a bit because of the news, that he left, now he's coming back, but we are keeping out of it and let's hope they reach an agreement, which will be the best for everyone."
Not thinking about Real Madrid
Busquets stated that the team will not look at what Real Madrid do: "Whatever happens, the match against Real Madrid does not concern us at all."
"We must focus on our game, which is against Napoli. We've been able to train much more and that has benefitted us. You can do things which hopefully help. We want to be true to our style and score goals," Busquets concluded.