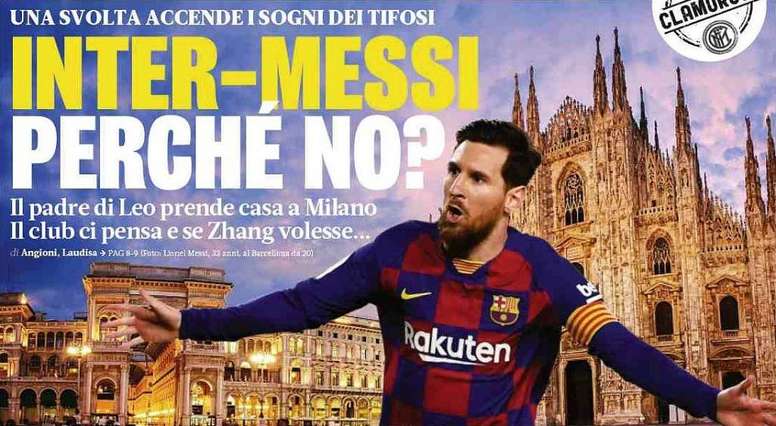 Inter still dreaming of Messi
Much like every summer, speculations about the departure of Leo Messi from Barcelona have started to swirl. This time, the possibility of the Argentinean leaving the Camp Nou in the future to sign with Inter Milan is back.
The rumour was launched by 'La Gazzetta dello Sport', which this Friday opened its cover with a question: "Inter-Messi, why not?". The rumours started swirling after it was confirmed that Jorge Messi, father of the Argentinean star, will move in August to the Milanese neighborhood of Porta Nova.
According to RAI, the footballer's father will move to Milan to benefit from the tax advantages offered by the current Italian government and to start negotiating his son's contract for the 2021-22 season with Inter.
For its part, the Italian sports newspaper explains that the Inter president, the young Chinese businessman Steven Zhang, could potentially have the necessary capital at a time to assume the cost of an operation that would be a real coup in the world of football, even more with the possibility of reuniting the Argentine and Cristiano Ronaldo in the Serie A.
July 24, 2020
Nevertheless, 'Sport' explains that the player's entourage has said it's fake information, and deny that the intention of Jorge Messi is to negotiations.
Meanwhile, the '10' is in Ibiza with his wife and children, in addition to his friends Pepe Costa and Luis Suarez, also with their respective families, during their mini-vacations.
The team is scheduled to return next Tuesday 28th at 9:30 to start training for the return leg of the Champions League, where the 'culés' have to close the round of 16 against Napoli (8th August, Camp Nou, 1-1 in the first leg).