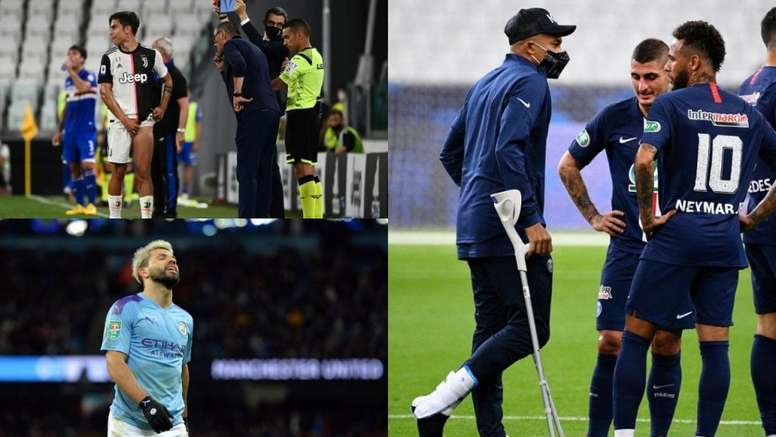 Injuries, the main threat to the Champions League
Between August 7 and 23, the European champion will be decided. The tournament is expected to see the main attacking power of some of the competition's big names, such as PSG, Juventus and City.
Let's take it one step at a time, because Mbappé's injury was a real earthquake in France. The PSG star suffered an ankle injury against Saint-Etienne and the club confirmed the worst-case scenario.
Mbappé will be out for three weeks and will at least miss the start of the Champions League finals. A tremendous blow for a team that has only been looking forward to this tournament for months due to the Ligue 1 suspension, which they ended up celebrating, because of the coronavirus crisis.
PSG will face Atalanta in the quarter-finals on August 12, already on Portuguese soil, as the finals will be played in Lisbon. Less delicate is the latest injury at Juventus.
In the 'Vecchia Signora' there was false alarm for Dybala. The results of the medical tests revealed that her injury is less serious than originally feared.
Only the Argentinean suffered an elongation in the rectus femoris of his left thigh, which had to be replaced on the edge of the break before the Samdporia because of some discomfort. Moreover, Danilo will also arrive, but everything points to Sarri will not force Dybala.
The atmosphere in Manchester City is very different. Pep Guardiola has already ruled Aguero out for the second leg of the Round of 16 against Real Madrid.
Agüero continues to suffer from knee problems that will prevent him from playing for the citizens' team against Zidane's team. Although he hopes to reach the quarterfinals in case the English qualify.
On the part of the Spanish teams immersed in the tournament, Hazard and Mariano, who tested positive for coronavirus, are the main casualties for Real Madrid. At Barcelona, Umtiti and Dembele will not make it, while Lenglet continues to recover, and Thomas is the main casually for Diego Simeone.