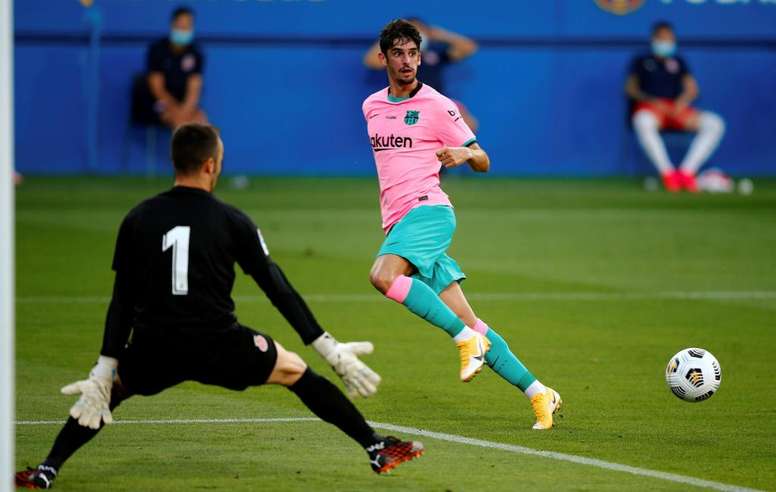 "In five years I see myself as a leader for Barca"
Francisco Trincao looks like the quiet type. The Portuguese has just arrived at Barca having completed his move from Sporting Braga and tries to keep his words cool and calm in one of the most difficult periods in the history of the club. Interviewed by 'La Vanguardia', the 20-year-old talks about his first days in Barcelona and how he has been treated by Ronald Koeman.
"Koeman talks to me a lot and what he asks most is that I just be myself, that I face up to the challenge and that I try to score goals. In short, that I do my job. I'm a young footballer who still has to improve in all areas, who has to analyse his matches and who has to see what he's doing well and what he's doing badly in order to develop," explains Trincao about the new Barcelona coach.
The player from Portugal talks about analysing his matches, although he does admit that he sees football as fair. "No way, I don't watch other teams' games, I don't like it, I only watch my team's games", says Trincao who will wear the '17' in honour of his father this year: "I love that number, it's my father's birthday. I was European Under 19 champion with '17' as well and it is a number I am very fond of".
"I was surprised by everything about the club. You can see that it is a very big club, here we have everything at the player's disposal. Here I will be able to grow a lot as a person and as a player. The truth is that at the moment I feel very comfortable both training and playing as well as off the field. The city seems very beautiful to me. The weather is wonderful and so is the food. Besides, I'm living in the same city as Barcelona and I like it," he continues about his first impressions.
Who does he get on best with?: "I arrived in Barcelona early for the start of the pre-season while most of the team was preparing for the Champions League in Lisbon. I was training while in Barcelona and the same thing happened to Pedri. We arrived together and we have become two people who have a very close relationship. But everyone has been very welcoming".
Trincao also talks about how his transfer came to be: "President Bartomeu sent me a message but I can't remember who spoke to me first. What I do remember is that when my agent Jorge Mendes told me that Barcelona wanted me, the first thing I said was: 'Yes, I want to, I'm going there'.
And looking to the future, the youngster from Viana de Castelo sees himself doing big things at the Camp Nou. "In five years? I see myself as a leader for Barca. That's my goal," says Trincao, who is staying with "Cristiano and Messi" as his benchmarks in the sport. "Although in football there are many players that I like, they are the best," he adds.
Asked specifically about Leo Messi, Trincao insists that the Argentinian has behaved like a great 'teacher' from the moment he arrived, on and off the pitch: "He asked me how I was, if I was ok and if I needed anything, and during the matches, he comments on the game and gives me pointers".