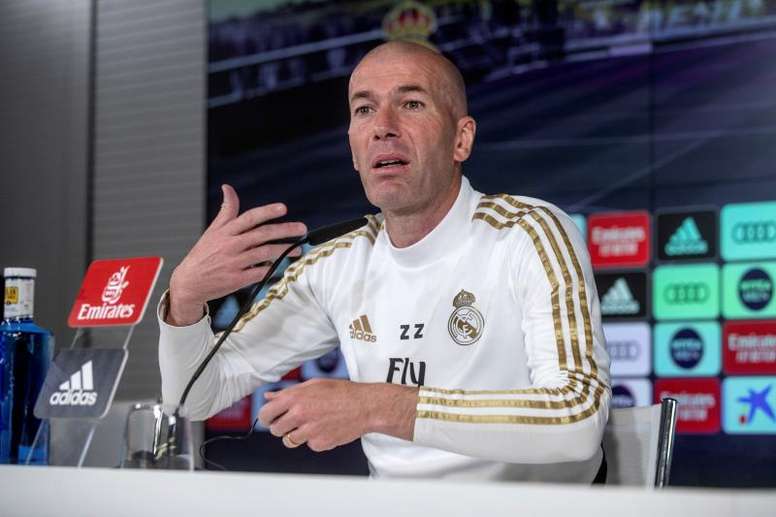 "If Ramos wants to go to the Olympics, I will support him"
Zinedine Zidane spoke to the press ahead of Real Madrid's clash against Levante, this Saturday 22 February in the 25th matchday of La Liga.
The French coach wanted to start by talking about the rival of the league: "It's a complicated and difficult match, we know that. We are ready to play a great match, it's necessary".
On whether Madrid will playing their title hopes these next few days, referring to the matches against Manchester City in the Champions League and Barcelona in La Liga, he commented: "We know that every day is important here. For us, only the day to day counts. Nothing else. We are thinking about the next game".
"The work is the same every day, we have to be focused and give our best. All we can do is give 100%. We can only control this, not the rest. The situation of the team is like always, March arrives and we play everything, but as always. I don't look beyond Saturday," he added on the subject.
The Frenchman also spoke about the pre-selection of Sergio Ramos in the list for the Olympic Games: "If Sergio Ramos wants to go play for his country in the Olympics, I will support him. It's very nice to play for your country, for all he has done for the national team".
February 21, 2020
"Ramos is our reference player. Either he plays or he doesn't, I don't care if he's on the bench, nobody cares about being on the bench. He represents the team's values. His renewal? I always want him in the team, I think he's doing well," he added about the Real Madrid captain.
"I understand that the players want to go to the Olympics, all sports are together. I have spoken to players who went to them and they have told me they had a very good experience. I would have liked to, but it's a bit late," said Zidane on the subject.
"There's no plan with Hazard, he's ready"
Zizou' also assessed Eden Hazard's physical condition: "There is no plan. He's had two or three weeks of intensive training and I think he's ready. He just wants to be with us and that's it."
As to whether the team needs to improve its defensive line, he said: "I'm not worried, but what it means is that in the last few games we did a little worse, that's all. With the ball, we know that we have a lot of resources and possibilities to do many things. I know that we can still improve."
"For me, everyone has to defend. We try to achieve that in every game and we try to make sure that when we lose the ball, everyone tries to get it back. That's the most important thing for me and not so much a save or anything else.