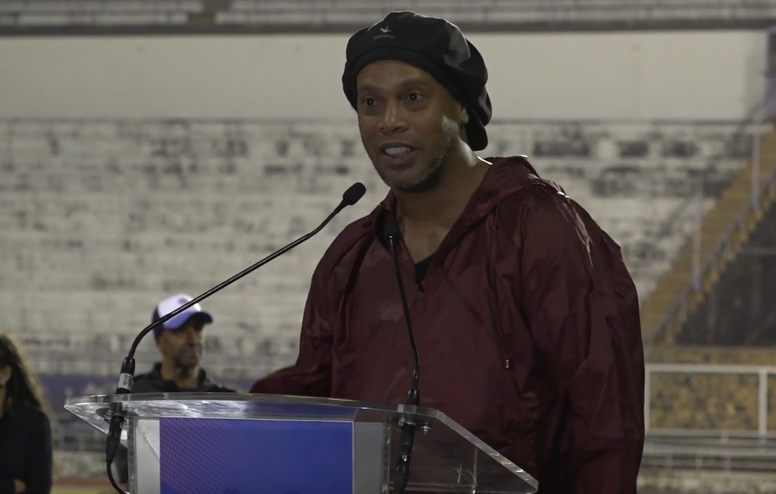 "I can't say that Messi is the best in history, he is the best of his time"
Upon being questioned about Messi deservedness for this award, who was a figure in Spain's Barcelona team, Ronaldinho recoginsed that it is unfair to call Messi the best player in history.
"I am happy for Messi because he is a friend, he has also been crucial for Barcelona. I don't like comparisons because it's difficult to identify who is the best in history, we have Diego Maradona, Pele, Ronaldo, I cannot say that Messi is the best in history, but he is the best of his time."
Ronaldinho had an exhibition at the Estadio Centenario de Morelos, in the centre of Mexico, accompanied by former footballer and Governor of the State, Cuauhtémoc Blanco.
The Brazilian, who spent time at teams like Barcelona, Milan and Paris-Saint-Germain, started to play a couple of friendly games in Mexico against former team-mates from the Mexican League.
The day before he participated in Cancun, southeast of Mexico in a meeting called 'for peace' in which he delayed his departure to the field by 90 minutes, until he was paid the 300,000 dollars he had agreed.
After that episode, he met Cuauhtémoc Blanco in the state of Morelos, in central Mexico and before some 5,000 people, he was named distinguished character of the team, as well as sports ambassador.
"It is a pleasure to be here. Thank you for the love from a friendly and nice town. I hope to have a good time with you all where football will be in between," said Ronaldinho.
Governor Cuauhtémoc Blanco welcomed him and reminded him of some sporting episodes of their careers.
"Dear friend Ronaldinho, I appreciate your visit to Morelos where your career has brought you and your altruistic work. I have the honour to appoint you sports ambassador and distinguished visitor, this is your home," he said.
Blanco stressed: "Sometimes we faced each other, it was at the Confederations Cup in 1999, also before Pope Francis in Rome, in 2016 in favour of world peace.... It was always a pleasure to play with you, people recognise you with the national team and with Barcelona. Thank you for coming to Morelos to give affection to all the people who admire you," Blanco added.
After the protocol, they had a relaxed tennis-ball session with other former Mexican League football players who will be present at the exhibition game this Friday in the Zacatepec area, about 50 kilometers from downtown Cuernavaca.
Ronaldinho, in sweatshirts and shorts, balled about 20 minutes and then went to the government palace where he had a private dinner with Cuauhtémoc Blanco, one of Mexico's most talented footballers in the last 30 years.