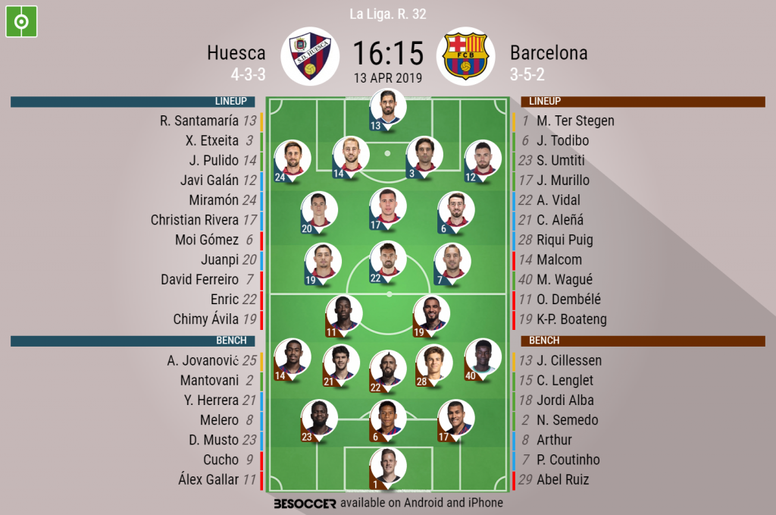 Huesca v Barcelona - as it happened
93'
Thank you for joining us today, we hope to see you soon!
93'
FT: Barcelona 0 - 0 Huesca! For a game with the La Liga leaders, the goaless result comes as a bit of a shock, but the comination of young players and a worried Huesca did not deliver the exciting game that was expected.
92'
Offside from Malcom, who knows it might have been Barcelona's last chance!
90'
Three minutes of added time!
89'
Regular time about to finish for what has been a goaless and almost actionless encounter.
86'
Last change for Huesca! Chimy Avila out, Alex Gallar in.
85'
Jordi Alba is talking to the referee and seems angry about something... Is this frustration because of the goaless encounter?
80'
Last substitution for Barcelona. Arthur Melo in for Aleñá!
79'
Goals were expected but do not seem to be rolling in... Can the last 10 minutes of regular time prove us wrong?
76'
Murillo seems to be a bit shaken up, as he calls up the medics for what looks like hip pain.
74'
'Cucho' Hernandez proves to be a good sub, as he's brought more energy to the game
71'
Huesca brings out 'Cucho' Hernandez, star colombian player of Huesca, for Ferreiro.
70'
Corner kick from Huesca, who is waking up!
67'
Dembélé and Riqui Puig leave for Coutinho and Jordi Alba!
64'
Coutinho is also seen warming up and it looks like either Jordi Alba or the brazilian player will jump onto the pitch soon.
62'
Second half is certainly more energetic than the first one for both teams.
60'
Huesca makes the first substitution! Juanpi Añor leaves for Melero.
54'
Offside from Huesca, who waste a good chance!
52'
Huesca asks for a penalti but it does not seem to be granted! Very strange play from Huesca which lead to Ter Stegen falling over.
50'
Jordi Alba is seen warming up, will Valverde sub some less experienced players for the more veteran ones?
45'
Play resumes at El Alcoraz! Let's see if this second half has some goals in store for us.
45'
HT: First half done! Huesca is playing for their survival and Barcelona players are not delivering the goals that were expected of them in this first half of the game.
42'
Yellow card for Todibo for knocking down Ferreiro! First card of the match.
39'
Missed chance from Huesca, who are trying to reach Ter Stegen's goal area
36'
Offside from Boateng! The action could've resulted in a goal but Barcelona seem a bit off without their star players
34'
Ter Stegen saves the ball from Huesca's Ferreiro. Huesca is staying shy when coming close to the goal area
30'
Barcelona is struggling to play with their usual tiki-taka style, as the game is a little bit more fast-paced than they are probably used to, and these players are clearly not used to playing together all that much.
27'
Huesca is clearly desperate to remain in La Liga's first division; their style of play currently consists of trying to knock down their opponents...
24'
Another corner kick for Huesca, who does not manage to create any scoring opportunities from it...
24'
Huesca's game is still very aggressive, with Colombian striker Murillo leading their defensive play and doing it beautifully so!
22'
Barcelona are now warmed up and it shows! They are dominating the game and have gotten quite close to scoring in the last few minutes!
18'
MISSED CHANCE FOR DEMBÉLÉ! The french player almost had it!
15'
Offside from Boateng! The player's only second game for Barcelona since he arrived does not seem to be going his way
13'
Boateng fouls Pulido with a hard blow to his face.
10'
Corner kick for Huesca, which Ter Stegen saves quite comfortably!
9'
Huesca are aware of the risk of being relegated and are playing quite aggressive football currently, but Barcelona are keeping a solid front
6'
Barcelona currently dominating posession in el Alcoraz
Prev.
Thank you all for joining us, we hope to see soon!
Prev.
Thank you all for joining us, we hope to see you soon!
Prev.
Last sub for Barcelona. Arthur Melo in for Aleñá!
Prev.
Goals were expected but do not seem to be rolling in... Can the las ten minutes of regular time prove us wrong?
Prev.
Second half underway at el Alcoraz! Let's see if this second half has some goals in store for us.
Prev.
Play resumes at El Alcoraz! Let's see if this second half has some goals in store for us.
Prev.
7500 spectators in the Alcoraz today!
Prev.
AND WE ARE OFF!!! Barcelona gets underway!
Prev.
Players jump onto the pitch! Game is about to start!
Prev.
Both teams' lineups are full of surprises, but perhaps even more so for Barcelona, as their biggest names are either resting ahead of tehir UCL clash next week or out for suspension.
Prev.
This marks Todibo's official debut for Barcelona!
Prev.
Home fans are excited for Barcelona's first visit to the Alcoraz stadium!
Prev.
Barcelona are unbeaten in their last 12 away games in LaLiga, (W8 D4) scoring exactly four goals in three of the last four.
Prev.
Conversely, opponents Huesca are rooted to the foot of the table, six points adrift of safety. They have failed to win any of their last five, though they go into the clash with the champions off the back of successive draws against Celta Vigo and Levante, respectively.
Prev.
The visitors secured a 1-0 first leg lead in their Champions League quarter-final tie with Manchester United on Wednesday, Luke Shaw unwittingly diverting Luis Suarez's header past David de Gea for the only goal at Old Trafford.
Prev.
Barcelona travel to Estadio El Alcoraz to face lowly Huesca this Saturday as the Catalans close in on a fourth La Liga title in five years.
Prev.
This is the first time in their history that Huesca have hosted Barcelona in La Liga, with the pair having only met on three previous occasions in all competitions. When they faced off in September, Barcelona annihilated their opponents, running out resounding 8-2 victors.
Prev.
Huesca starting XI: Santamaría, Miramón, Etxeita, Pulido, Javi Galan, Juanpi; Rivera; Moi Gomez; Chimy Avila; Enric Gallego; Ferreiro
Prev.
Quite a few big names missing from this Barcelona lineup. Messi and Rakitic did not make the trip to Huesca at all, while Piqué and Suarez are both suspended for picking up their 10th booking of the season.
Prev.
Barcelona starting XI: Ter Stegen; Todibo; O. Dembélé; Malcom; Murillo; Prince; Aleñá; Vidal; Umtiti; Riqui Puig; Wague
Prev.
Welcome to our live, minute-by-minute coverage to this afternoon's La Liga clash between Barcelona and Huesca! Stay tuned for team news and line-ups to follow!