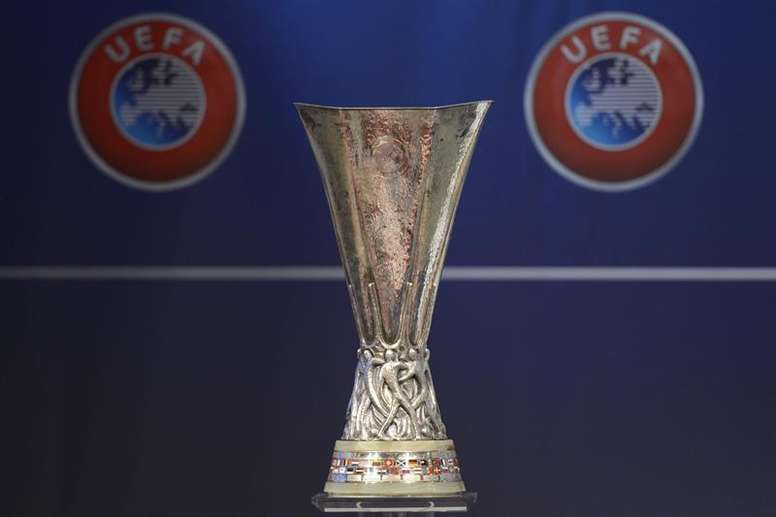 How the draw for the Europa League quarter-finals unfolded
End of draw
That's all for today! Four very interesting quarter-final ties, with Arsenal v Napoli looking to be the clash of the round.
English aspirations
A very favourable draw for one of the Premier League sides, with Chelsea facing Slavia Praha before a potential semi-final against either Eintracht Frankfurt or Benfica. Arsenal, however, face an extremely challenging tie against Napoli.
The draw in full
A quick recap of all the ties:
March 15, 2019
Arsenal will play their first leg at home.
Due to UEFA's city clash rule, Arsenal are obligated to play their first leg with Napoli at home to avoid playing at home on the same day as neighbours Chelsea.
Quarter final no.3 v quarter final no.4
And accordingly the winner of the third quarter-final will play the winner of the second in the semi-finals.
Quarter final no.1 v quarter final no.2
The winners of the first quarter-final will play the winners of the second in the semi-finals.
Slavia Praha v Chelsea
A very favourable tie for the Premier League club, as they take on Czech side Slavia Praha.
Benfica v Eintracht Frankfurt
Portugal takes on Germany as Benfica are drawn with Eintracht Frankfurt for the third quarter-final.
Villarreal v Valencia
An all-Spanish affair for the second quarter-final.
Napoli v Arsenal
The first quarter-final will be played between Napolli and Arsenal. Two big guns there - what a tie!
Marchetti in control
Sale Marchetti, secretary general, is in control of the draw.
Let's take a quick look at the teams involved...
So, included in today's draw are: Arsenal, Chelsea, Slavia Praha, Napoli, Benfica, Villarreal, Valencia and Eintracht Frankfurt.
March 15, 2019
Welcome to our live coverage!
With the draw for the Champions League having just taken place, we look ahead to the draw for the Europa League.
Join our live coverage of the draw for the Europa League quarter-finals and semi-finals!