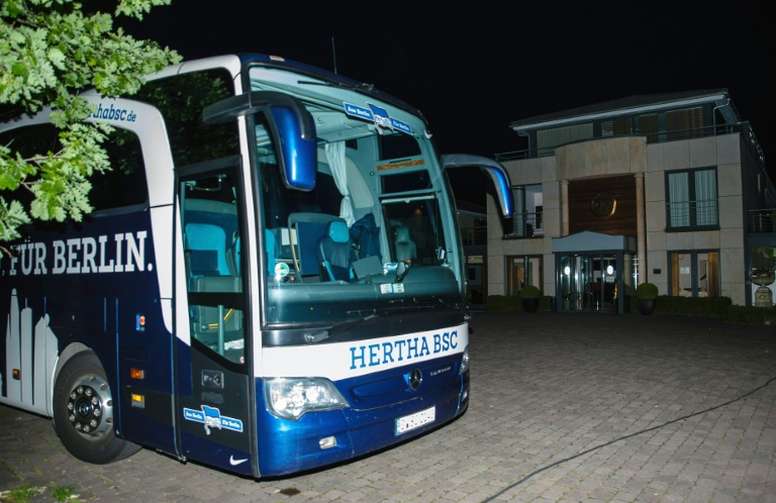 Hertha post Cup win after team gun attack
A police inquiry is underway into Sunday's incident when a motorbike rider fired at the empty Hertha bus as it was being driven to pick up the team at Bielefeld train station.
A photo posted by the club on Twitter showed the impact of the bullet which smashed a hole in the windscreen at the level of the driver's head who escaped uninjured.
Hertha beat Bielefeld 2-0 with goals from Salomon Kalou and Vladimir Darida.
Referee Martin Petersen was wounded when he was struck on the head by a lighter during a tie between third division Osnabruck and second division RB Leipzig. The game was called off in the 71st minute with hosts Osnabruck leading 1-0.
The seriousness of the injury has not yet been revealed but the German Football Federation (DFB) said that sanctions would be taken against the host club.
"The DFB control commission has already begun an inquiry," said DFB spokesman Ralf Koettker.
Television replays showed Petersen being hit by a lighter thrown by Osnabruck fans with the club's president taking the loudspeaker to ask supporters to "calmly leave the stadium".
Meanwhile, Borussia Moenchengladbach, third in the league last season, beat second division Sankt Pauli 4-1.
Bayern Munich got their Cup campaign off to a winning start on Sunday with a 3-1 defeat of fifth-division minnows Noettingen.
Holders Wolfsburg eased to a 4-1 win at Stuttgarter Kickers, as Borussia Dortmund, last season's runners-up, won 2-0 at Chemnitzer FC.
But Bundesliga rivals Hamburg were knocked out by fourth-division Carl Zeiss Jena 3-2 in extra time.