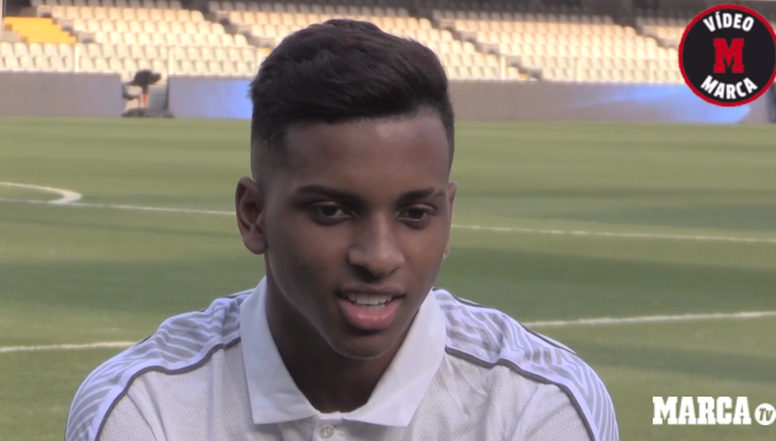 "Hazard's picture used to be my phone background, and now I'm playing with him!"
In an interview with 'Marca', Rodrygo admitted he's always been a huge fan of Eden Hazard, the Belgian star who is now going to become his teammate.
"He's a player I've always followed. I had him as my screensaver on my phone. Can you imagine, and now I'm going to be able to play with him! And with Benzema and Vinicius, who are amazing players," he explained excitedly.
Rodrygo admitted that he doesn't know what he'll say to the Belgian player when he meets him: "I'm sure I'll get very nervous. I'll be delighted to meet him."
He also had a lot to say about Vinicius and Benzema. He hopes to follow his compatriot's successful path: "He is almost the same age as me. He started in Brazil and then went to Real Madrid. I'm going to follow his path."
"For me he's a phenomenon, a great player. The best striker in the world," he said about Benzema, and then went on to discuss his talents and position within the field.
"It's a positive thing, isn't it? (scoring a lot of goals despite being in his position). When I get to play in Madrid, if I start scoring goals, it will be a surprise for the fans, who don't know me that well. I don't have any preferences for the position. Wherever the coach asks me to play, I'll try to do it well. In Santos I have played more on the right and maybe I prefer it more, but I do well on both sides," he explained.
Rodrygo was also questioned about what number he would like to carry: "In Santos I play with the 11, but I know it's occupied. I'll find another one, because I'm the latest addition. As long as I'm wearing the Real Madrid jersey, it's worth it (laughs)."
Returning to Vinicius, the player had to start in the second team, so the former Santos player was asked if he expects to belong to the first squad from now on: "Yes, that's what we've always talked about. But if I have to go down to Castilla, I have no problem either."
"In Brazil everyone has a Brazilian team and a European team. And I was always a Real Madrid fan. That's why I know how to sing the anthem. Whenever Madrid entered the pitch, I sang it watching it on television. That's why I learned it," he said of his affinity towards the club.
The strikeralso spokeb about Zidane and how he hopes his presentation will go down: "I see the videos and he was one his generation's great one. I've seen a lot of images of him as a player. He was one of the best players of all time. I'll try to copy what he was doing on the pitch."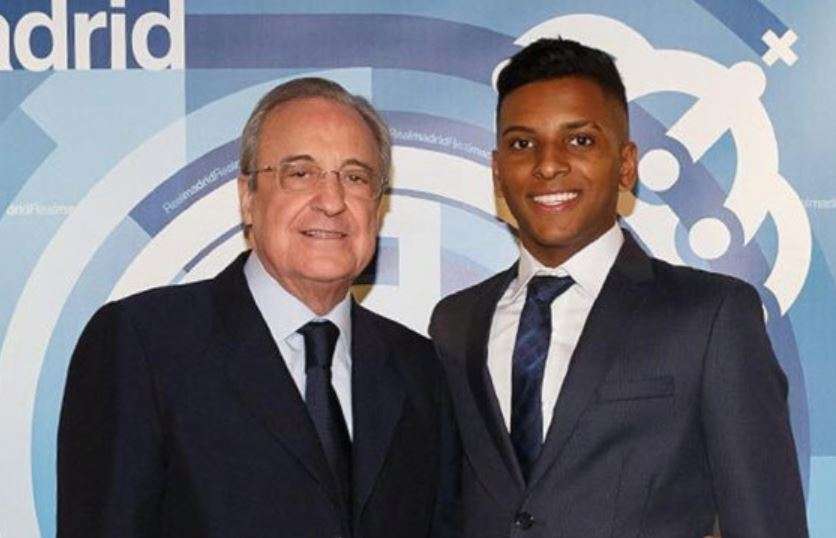 "I suppose there will be fewer people than in Hazard's. But I hope there will be a lot of fans and they will love me very soon," he explained with laughter.
Finally, Rodrygo set his goals in the Madrid club and recalled his beginnings: "I dream of the affection of all the fans and a good reception in my presentation. And I'm sure it's going to be like that because since I went for the first time in September, they showed me their affection in Madrid. And then, to play a lot, of course. In the street people stopped me and knew me. I was impressed with that."
"I remember, above all, my parents. They were the ones who made the sacrifice for me to reach Santos' first team. Then I want to thank the institution, which always trusted in my possibilities as a player, and, of course, the Santos fans. I owe them all the affection they gave me until the last day I was at the club. I'll miss them... although I know I'm going to be with another great set of fans," he said to finish off the interview.