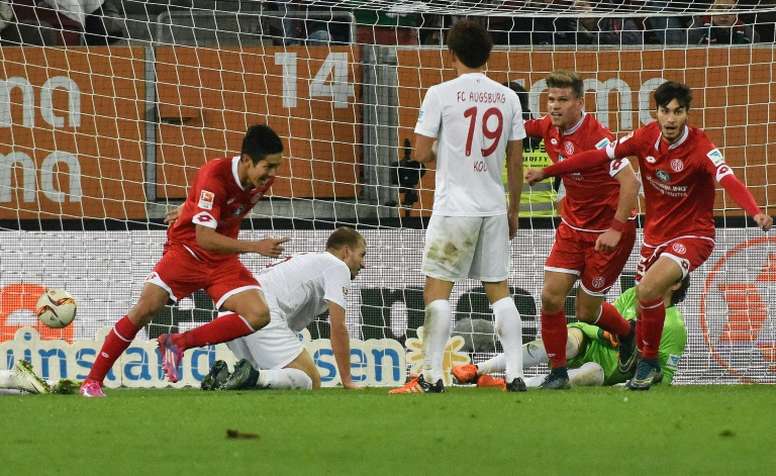 Hat-trick hero Muto targets more Mainz goals
The 23-year-old claimed his first treble in Germany's top flight when he netted all three goals on Saturday in Mainz's 3-3 draw at Bavarian side Augsburg.
Muto now has six goals in 11 Bundesliga matches, to make him the club's joint top-scorer since he joined the club at the start of the season from J-League side FC Tokyo.
He wants to add to his tally as Mainz bid to pick up their first win in five games at home to third-placed Wolfsburg, who play PSV Eindhoven away in the Champions League on Tuesday.
"I'm really delighted that I have scored three goals in one match, but unfortunately we didn't win the game," said Muto, who has made 17 appearances for Japan.
"It would have been better if I'd scored four goals, because then we could have won all three points."
"I'm still not satisfied. I want to keep progressing."
"I hope I score again in the next game and that we win it."
Muto, who chose Mainz over Premier League side Chelsea, gave his side a 2-0 lead at Augsburg before the hosts roared back with three goals.
The Japan international saved his side's blushes with virtually the last kick of the game when he scrambled the ball over the line in the 93rd minute.
The result kept Augsburg bottom of the table while Mainz are 13th.
Muto's performance earned the praise of Mainz coach Martin Schmidt.
"He has to keep on going and work hard, but for sure he will get a compliment," said Schmidt.
The point was a confidence booster after Mainz's shock German Cup exit when they lost 2-1 at home to second-division 1860 Munich on Tuesday.