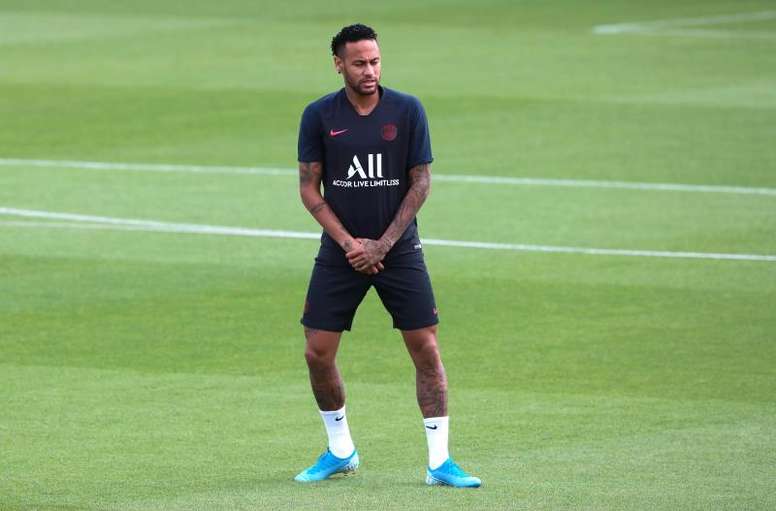 Has the time come for Neymar to play in Ligue 1 2019-20?
The Brazilian star appeared on the PSG training field in Laye under a fine rain together with Mbappe and Paredes. Shortly afterwards, he was speaking to Thiago Silva while he was carrying out the training session.
In recent days, Neymar had trained separately. The official word was that he was following an individual training programme to round off his recovery from the injury he has been suffering with this June.
The coach, Thomas Tuchel, must announce from 1pm local time in a press conference the list of players called up for the match on Sunday in Rennes. It would be a surprise if the Brazilian played in the encounter.
His future is the subject of lots of speculation, in particular since PSG and Barcelona openly admitted negotiations for an eventual return of Neymar to the Catalan capital.
Barca representative held a meeting in Paris last Tuesday with the PSG sporting director, Leonardo, but the situation seems blocked.
According to leaks from the press, PSG accepted Barca's idea of swapping him with a player, but the French side wanted two players plus at least 100 million euros. That way, it would make up the 222 milllion euros they paid the Spanish club two years ago. However, Barca rejected these demands.
The move has become more difficult since the announcement this Friday that Philippe Coutinho is leaving Barcelona to play for Bayern Munich on loan. The reason is that he was one of the footballers PSG wanted if they were selling Neymar.
Another option would be to sell the Brazilian star to Real Madrid, whose bosses, according to 'L'Equipe', are still in conversations with their PSG counterparts. There was direct contact between the two parties last Wednesday.