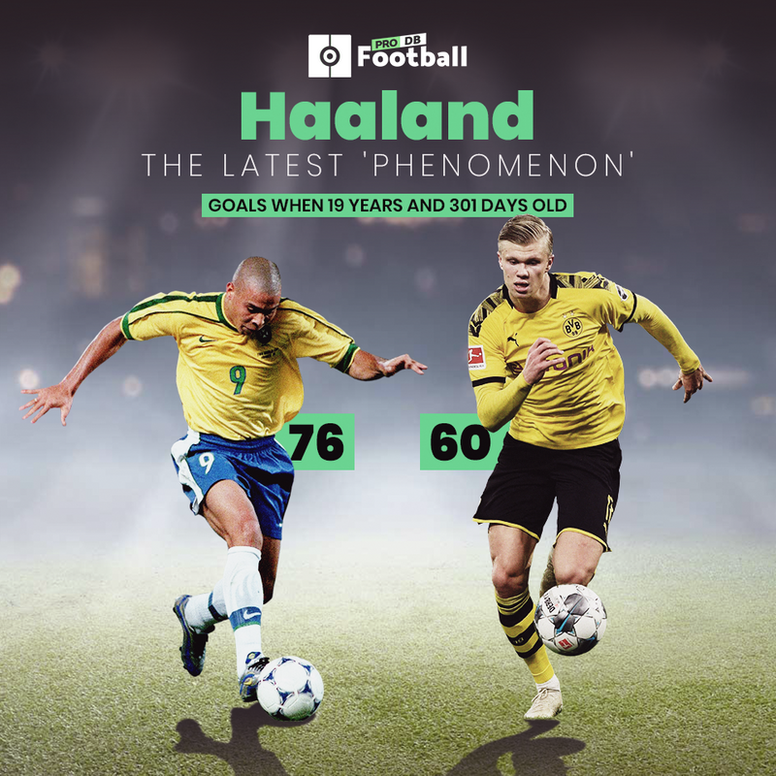 Haaland has better stats than everyone for his age except Ronaldo
Few footballers have got goalscoring stats like Erling Haaland's. He is not even 20 years old and he has historic numbers. The Dortmund striker keeps on impressing, even after the Bundesliga resumed following a two month break.
The front pages from the weekend and Monday were for Haaland, under the spotlight and the watchful eye of Florentino Perez. The Real Madrid president cannot take his eyes off him and his constant interest reminds us of when he ended up signing Ronaldo Nazario back in 2002.
Haaland and Ronaldo are both free scorers. Although they do not seem similar at first glance, they are both clinical and quick.
But at the age of 19 years and 301 days, Ronaldo had scored a lot more goals than Haaland, according to ProFootballDB stats. He scored 54 for PSV and 22 for Cruzeiro before that. They were his first club in professional football despite only being a teenager. In total, Ronaldo had scored 76 goals at the Norwegian's age. However, in Ronaldo's case, he has actually scored more because his goals in state and regional competitions are not included.
Haaland has scored 60 goals in professional football: 13 in the Norwegian League, 1 in the Norwegian Cup, Austrian Bundesliga (17), Austrian Cup (4), Europa League qualifying (4), Bundesliga (10), Champions League (10) and DFB Pokal (1). Ronaldo scored 12 in the Brazilian League, 2 in the Copa Libertadores, 8 in the Supercopa Libertadores plus 42 Eredivisie goals, 3 Dutch Cup ones and 9 Europa League ones.
Both could have actually scored more. Although Haaland had not played for two months due to the coronavirus pandemic, Ronaldo did not play the second half of the campaign in the 95-96 season due to knee problems and for trying to force a move away. He went to Barcelona in the summer for 2.5 billion pesetas (24 million euros). It was the most expensive signing at the time. Haaland went for 20 million euros.
What had Leo Messi and Cristiano Ronaldo done at Haaland's age? Both stars started scoring plenty of goals later on as both began as wingers. The Argentine had scored 20 goals, Cristiano just 11. Many less than Haaland and Ronaldo.
Those which are close to Haaland's numbers are Mbappe with 58 goals, Neymar (57), Raul (56) and Aguero (50). Stars like Rooney had got 36 at his age. Owen had ten more. Fernando Torres and Bojan were both on 34. Benzema and Lewandowski had 22 and 21. Higuain 18, Luis Suarez 17, Henry 16, Kane and Etoo 13 and Ibrahimovic 11.