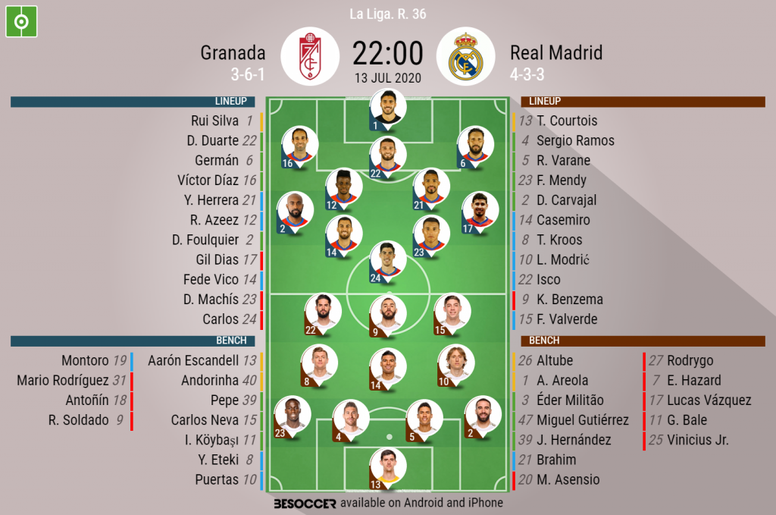 Granada v Real Madrid - as it happened
Granada CF

Real Madrid

Post.
Thanks for joining me here today. Madrid need two points to win the league. See you tomorrow for the Chelsea match.
95'
FT: Granada 1-2 Real Madrid. Madrid get another crucial win which means they can win the league on Thursday. Granada gave them a huge scare and could have knicked an equaliser.
94'
And Dias has another header which goes nowhere near the goal.
93'
Corner for Granada and the keeper is up.
93'
Courtois is booked for time wasting.
93'
Granada have been the better side in the second half and should not be disappointed with their performance.
92'
The cross comes in and Montoro heads over.
87'
And another chance. The free-kick comes in and it's almost like Dias ducks and it goes wide.
85'
And then Ramos clears the ball off the line from Azeez. That could be crucial.
85'
Granada have just come really close. First Courtois gets down and saves from Antoñín's volley.
84'
Granada sub: Ismail on Antoñín.
78'
I wonder if we will get any more chances in the last 15 minutes.
75'
Granada sub: Eteki on for Vico.
75'
Granada sub: Antoñín on for Herrera.
73'
Machís has a shot from the edge of the box that flies over the bar.
70'
Both teams are looking for a goal here.
66'
This is actually the same score as the penultimate game at Los Cármenes between the two.
64'
Madrid sub: Rodrygo on for Valverde.
63'
Madrid sub: Isco off for Asensio.
61'
Isco has a shot from the edge of the box that Rui Silva gets down and saves easily.
60'
The ball comes in and Machís volleys wide. Granada are getting closer.
60'
An interesting 30 minutes for both sides now.
58'
Dias is booked for a foul on Carvajal.
54'
Granada sub: Montoro on for Foulquier.
53'
A decent chance for Granada but Puertas volleys wide.
52'
This looks like it'll be an exciting half. Granada have come out all guns blazing.
51'
And Granada have pulled one back. The ball is played through to Machís and he beats Courtois at his front post.
47'
Granada have only had once chance in the whole match. I wonder what Diego Martínez has told them at halftime.
46'
Duarte is booked for a foul on Isco.
45'
HT: Granada 0-2 Real Madrid. A fairly comfortable match for Real Madrid which sees them one step closer to winning the league.
44'
Isco has a shot from the edge of the box that flies wide.
38'
A reminder that if Madrid win tonight then they can win the league at home to Villarreal on Thursday.
35'
The cross comes in and Duarte gets his head to it, but Courtois gets down and parries. A routine save from the Belgian.
34'
Granada still haven't really threatened at all in the match.
30'
Carvajal has a shot from outside the box that goes far wide.
28'
Still no shots yet for Granada.
26'
The last match between these sides at Los Cármenes was won 4-0 by Madrid.
23'
I think Madrid have been passing the ball around for the last minute without Granada getting a touch. Crazy.
22'
Madrid are knocking the ball about very well.
18'
What a start this has been for Madrid. I said that I don't see Madrid scoring four but who knows...
17'
Mendy is booked for a foul.
16'
A terrific start for Madrid. Benzema takes the ball into the box and fires into the bottom corner past Silva. 2-0.
10'
And Real Madrid are one step closer to the La Liga title. Mendy does lovely to work his way into the box, uses his pace to get away from the defenders and fires into the roof of the net. Rui Silva should have done better as he was beaten at his front post. 1-0 Madrid.
9'
Still just the one shot so far but Madrid have had most of the possession.
5'
Isco has a shot from inside the box that Rui Silva gets down and gathers easily.
4'
Granada are quite happy to sit back and let Madrid knock the ball around.
Prev.
Normally the area outside Los Cármenes would be buzzing with all the bars. It's fairly close to the centre so there would be lots of fans in the centre in the tapas bars. Hopefully fans are back soon to matches.
Prev.
No Hazard, Bale, Lucas Vázquez, or Vinicius starting for Madrid tonight.
Prev.
Granada have conceded 13 goals in their last three games against Madrid. I don't see them losing four goals tonight. Real Madrid haven't lost to Granada since 2013. Ronaldo actually scored an own goal that day.
Prev.
Granada are four points behind Getafe and Real Sociedad (5th and 6th), so a draw would take them 1 point behind them both. They do have two winnable games after this though against Mallorca and Athletic Bilbao. The latter promises to be a cracker.
Prev.
A win for the visitors means that Madrid can win the league on Thursday, but if they draw then they will have to wait until Sunday if Barcelona win on Thursday.
Prev.
Real Madrid XI: Courtois; Carvajal, Varane, Ramos, Mendy; Modric, Casemiro, Kroos, Valverde, Isco and Benzema.
Prev.
Granada XI: Rui Silva; Foulquier, Víctor Díaz, Germán, Duarte, Gil Dias; Fede Vico, Azeez, Yangel, Machís and Carlos Fernández.
Prev.
Hello and welcome to Granada for this huge match. The hosts are looking to qualify for Europe for the first time in their history, while a win means Madrid can win the league on Thursday.