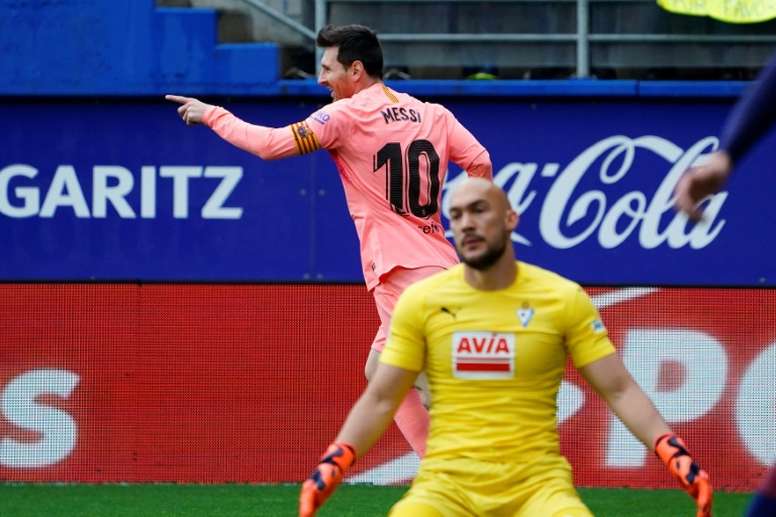 Golden Boot 2018-19: Mbappe scores, Messi responds
Lionel Messi continues to top the 2018-2019 Golden Boot leaderboard. His brace against Eibar on Sunday takes his tally to 36 goals and 72 points.
Kylian Mbappé stays four goals behind despite also increasing his tally to 32 goals (64 points). It all comes down to one final match. Can Mbappe score in PSG's last game of the season against Reims next week?
Fabio Quagliarella is in third place with a total of 26 goals, equivalent to 52 points.
Mbaye Diagne didn't manage to score in the game which saw Galatasaray take the league title. He still has a game to close the gap but would need to score at least five without Quagliarella scoring. Diagne currently sits on 30 goals (45 points).
Here lies the crowd, all tied on 44 points. Seven players have all scored 22 goals, all of them in leagues where the multiplication factor is two. Time to refer to minutes played to break the tie.
Duvan Zapata sits in fifth with 2,719 minutes, having been unable to score against Juventus. We find Pierre-Emerick Aubameyang in sixth, whose season has already ended.
Krzysztof Piatek, scorer of the first Milan goal against Frosinone, returned to the 'top 10' thanks to scoring his 22 goals in 2,883 minutes. He has one match left to try to beat Diagne, or to become a hero and score four more goals to rise higher in the standings, now that minutes are taken into account.
Robert Lewandowski did not score in Bayern's last match of the season, but he finishes in eighth position. Ninth is Sadio Mané, who finds himself one place above his teammate Mohamed Salah, both with 22 goals at the end of their season.
Lille striker Nicolas Pépé is left out of the standings by minutes played, despite his double against Angers. He also has one last match to make it onto the top 10.
Golden Boot 2018/2019​ (19-05-2019)
1.- Lionel Messi (Barcelona, Spain), 36 goals, 72 points
2.- Kylian Mbappé (PSG, France), 32 goals, 64 points
3.- Fabio Quagliarella (Sampdoria, Italy), 26 goals, 52 points
4.- Mbaye Diagne (Kasimpasa-Galatasaray, Turkey), 30 goals, 45 points
5.- Duván Zapata (Atalanta, Italy), 22 goals, 44 points (2,719 minutes)
6.- Pierre-Emerick Aubameyang (Arsenal, England) 22 goals, 44 points (2,732 minutes)
7.- Krysztof Piatek (Genoa, Italy), 22 goals, 44 points (2,883 minutes)
8.- Robert Lewandowski (Bayern, Germany), 22 goals, 44 points (2,959 minutes)
9.- Sadio Mané (Liverpool, England) 22 goals, 44 points (3,086 minutes)
10.- Mohamed Salah (Liverpool, England), 22 goals, 44 points (3,261 minutes)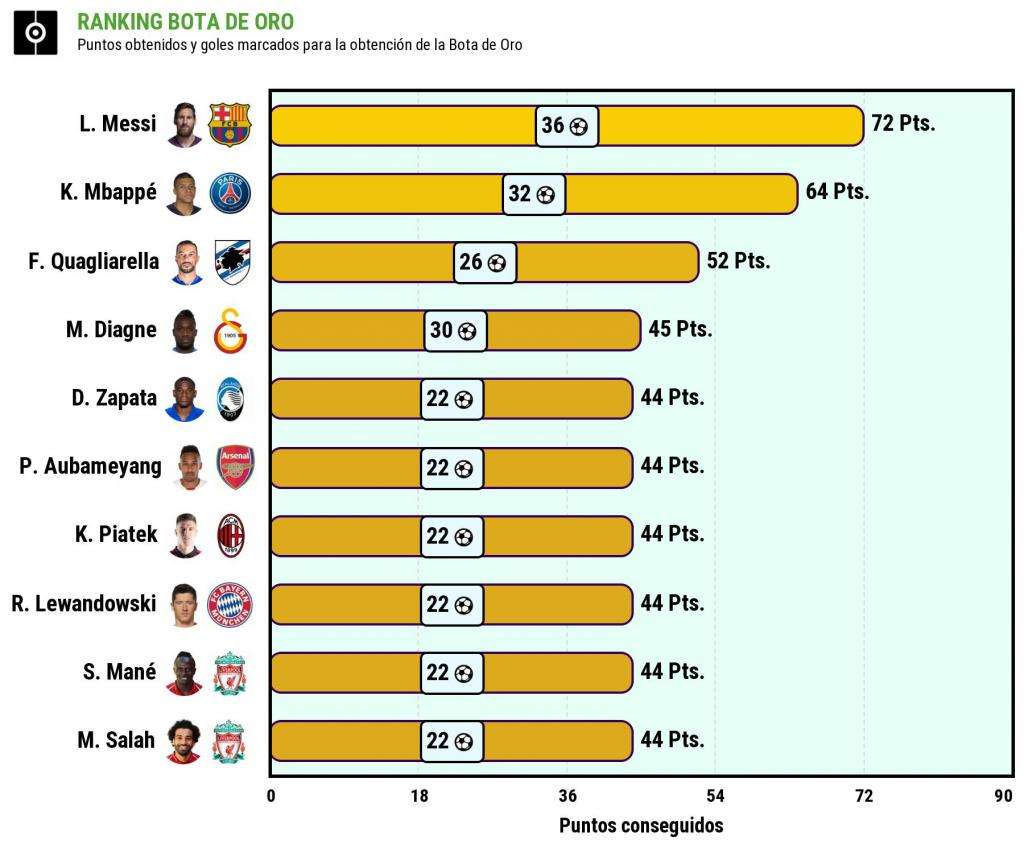 ---
It must be remembered that the European Golden Boot only counts goals scored in the league. To calculate points, 'European Sports Media' applies a multiplier to each league based on its UEFA ranking. This means goals scored in the five biggest leagues (Spain, France, Germany, England and Italy) are given a multiplier of 2, while those scored in lower-ranked leagues are multiplied by 1.5. Minor leagues do not have any multiplier applied.
In the case of two players being level on points, the one with the fewest minutes played in the league is ranked higher.