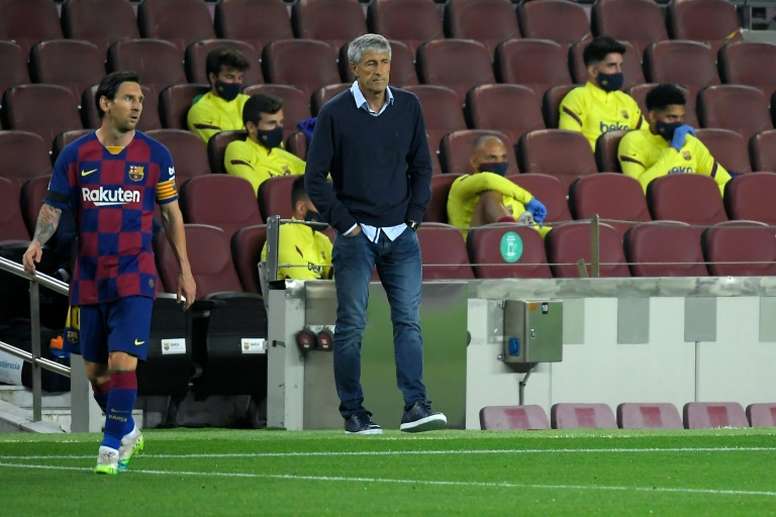 Going easy on Messi, the key for the Champions League
After a disappointing season in which they didn't achieve their target of winning La Liga again, it was be all or nothing for Barcelona's season in the Champions League.
Napoli will be the first opponents of a Barcelona side who are four games from going from a bad season to a historic season. To this end, it is clear that Barca will need the best version of their big star: Leo Messi.
Quique Setién will work hard so that the team and the Argentine star arrive in their best physical state possible for the first week in August. Once there, the manager, who could be playing for his future at the club, has a clear route map to follow in the matches.
As 'Mundo Deportivo' reveals on their cover on Thursday, the ex-Betis manager will try to go easy on Leo Messi's efforts to the maximum which were made a little long in the tremendous final sprint of La Liga.
For that reason, the manager will try to free Leo from creating play in his system and try to focus his energy on finishing, which has eluded him in the last few matches despite winning the top scorer (four goals in the last nine La Liga matches).
In this sense, the information states that, ahead of the Napoli match, Setién is nurturing the midfield as much as possible so that it can supply the balls to a Messi who will have to be more accurate in front of goal if he wants to avoid a blank year and raise as captain the sixth Champions League in the club's history.
Among the variants that Setién is reportedly handling at this time would even be a line of three centre-backs that allows them to have five men in midfield or even lining up with a 3-1-4-2 with Leo and Luis Suárez up top. Possibilities that Quique will have to make clear ahead of the big match on 8th August.