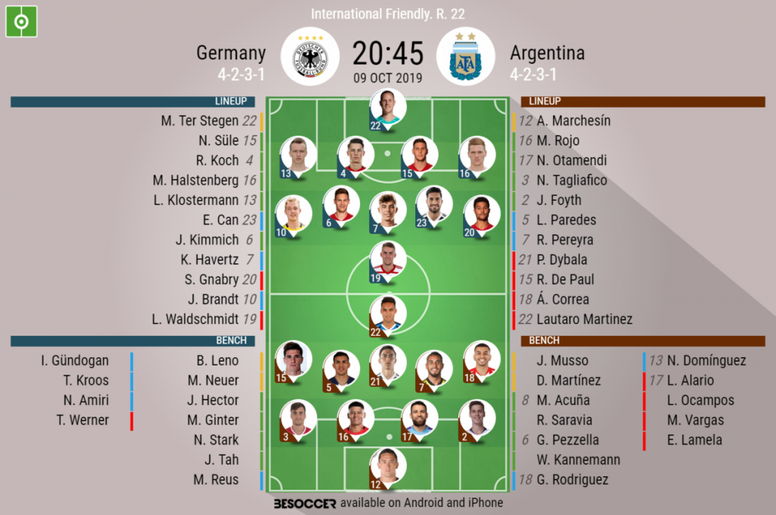 Germany v Argentina - as it happened
93'
FT: Germany 2-2 Argentina!!! All over in Dortmund and Argentina will go home much the happier after an excellent second half fightback. Alario was brilliant for them and Acuna and Ocampos also made important contributions. They have positives to take away as do Germany after Gnabry and Havertz netted in an impressive 1st half display, but they were disappointing in the last half-hour. That's all from us, we hope to see you again very soon!
93'
Game over!!! The ref didn't add the time on for the change and it ends all square!
92'
Argentina sub: De Paul makes way and Rodriguez is on.
92'
Alario bumps into Can's chest and a foul is called.
91'
Argentina passing the ball around, but not taking any risks now.
90'
Argentina have absolutely outplayed Germany in the last half an hour. Germany are all over the place.
88'
Ocampos again!!! He passes it along the face of the area, but no away man can get there. Argentina want more! Brilliant by Ocampos and Alario.
87'
Yellow card for one of the Argentina coaching staff. Maybe got a bit overexcited in the celebration.
85'
Ocampos levels it up!!!! We said it was coming!!! Germany make a terrible error at the back, Alario runs into the area, but can't find an opening so he lays it off to Ocampos to his left who finds the corner with a curling effort. There is a slight deflection off Can which leaves Ter Stegen with no chance.
84'
Ocampos is carded for a foul on Klostermann. Paredes was also there as well. Easy yellow to give.
83'
Germany sub: Rudy comes on for Havertz.
81'
Pinball in the Germany area!!! Alario, Ocampos and Lautaro all try and get shots off and the home side somehow clear!!! Germany are hanging and hanging on. An equaliser is surely just around the corner.
79'
Alario once again!!!! Lautaro has the ball inside the D, he passes to Alario to his right, but Halstenberg blocks his effort.
78'
Alario!!!! Foyth's cross finally breaks to the Leverkusen man after Saravia touches it and it's deflected wide for a corner. Germany hanging on now.
76'
Argentina sub: Saravia on for Pereyra.
75'
Kimmich's free-kick is punched away by Marchesin.
74'
Amiri is brought down just outside the box by De Paul. Dicey call for me.
71'
Germany sub: Gnabry goes off and Serdar comes on. I have the feeling Germany got complacent in the last 15 minutes.
70'
Ter Stegen!!!! Save by Paredes from outside the box after Pereyra dispossessed his opponent. This is a completely different game now.
67'
The Leverkusen striker has lifted Argentina and they attack dangerously again!!! Germany are forced to clear after a misplaced pass.
66'
Germany sub: Amiri on for Brandt.
66'
Alario scores!!!!!! Argentina back in it out of the blue! The away side have a long possession and then two subs combine. Acuna crosses from this near side and Alario heads past Ter Stegen from more or less where the penalty spot is. Nice goal.
64'
Lautaro!!! Ocampos puts in a dangerous cross and the Inter striker hits wide after being pressured well by Sule.
62'
Argentina sub: Dybala off, Alario off. The Juve man wasn't capable of doing something similar to what he did against Inter.
59'
Argentina are having some possession near Germany's half, but the home side are in control. Ter Stegen has had next to nothing to do.
57'
Brandt has an ambitious effort from distance which is easily claimed.
57'
Brandt has an ambitious effort from distance which is easily claimed.
55'
Can!!!!!!!!!Germany break quickly on the break and Havertz squares it for Can whose shot is saved by Marchesin. Was a poor finish to be honest.
54'
Klostermann clears for a corner and then Germany deal with that set piece.
53'
Holstenberg is penalised for a push 30 yards from his own goal. Replays show an Argentine pushed him onto another Argentina player. Bad decision.
50'
Argentina get themselves a corner, but it is easily headed away.
49'
Acuna wins a foul for Argentina in Germany's half.
47'
Kimmich's delivery breaks to Waldschmidt who can only find the side-netting.
47'
Foyth has to concede a corner after Havertz and Gnabry combine nicely on the counter.
46'
Back underway here in Dortmund!
45'
Welcome back everyone!!! There will be changes now at half-time for Argentina. Rojo is replaced by Acuna and Ocampos is on for Correa.
45'
HT: Germany 2-0 Argentina!!! Half-time in Dortmund and Germany deservedly lead through Gnabry and Havertz's goals. They've been the much better team and have punished Argentina's defensive errors. The away side have done very little and the closest they came was when De Paul hit the post from distance. Join us for more in 10 minutes!
45'
Gnabry!!! He gets a long pass by Kimmich from a quickly taken free-kick and he hits it wide of the far post.
43'
Germany starting to dominate once again after a good five minute spell for Argentina. The hosts are breaking through very easily.
40'
Argentina get a free-kick by this near touchline and De Paul hits the pass from Paredes well over the crossbar. Like a rugby conversion.
39'
Nasty challenge by Paredes now on Kimmich from behind in the centre circle. A foul is given, but no card. That was retribution for what happened earlier.
38'
It's pouring down in Dortmund now!!
37'
Argentina win a corner after a deflection, but nothing comes of it.
36'
Germany attack and the move ends when Brandt is penalised inside the box for handball.
33'
Correa!!!!! Pereyra drives the ball down Germany's left and Correa volleys the cross over the goal.
32'
De Paul now responds in kind!!!! It wasn't from a free-kick, but from a similar distance, De Paul unexpectedly shoots and the ball cannons off Ter Stegen's right hand upright!
31'
Halstenberg!!!!!!!! Off the bar!!! He strikes it from 25 yards and is only denied by the crossbar! What a great free-kick, but so unlucky.
30'
De Paul sees his name taken for cynically grabbing Gnabry by the arm.
30'
A reminder that no River Plate or Boca Juniors players are in the Argentina side as they have the second leg of their Copa Libertadores tie in two weeks time.
29'
Germany continue to attack and the cross goes harmlessly wide.
27'
Almost three!!! Kimmich's ball in is headed across by Sule and Kimmich is inches away from getting on the end of it! The flag was rightly up though.
26'
Otamendi is carded for kicking Brandt on the leg. Free-kick for Germany 35 yards out.
24'
Argentina look half decent going forward, but their defence is woeful. There are some absentees, but they have work to do before the qualifiers begin in March.
22'
Haveeeerrrrtz!!!! It's two!! On the counter Argentina are ripped apart. Rojo makes a shocking mistake on the far touchline, Klostermann picks up the loose ball and runs before Gnabry feeds Havertz who has a simple tap in. Argentina all over the place.
20'
Correa sends a ball into the box which Ter Stegen easily claims.
18'
Germany had just started to take control before they scored.
17'
Another defensive error by the away side sees Germany attack and Brandt wins a corner. From the set piece. Can saw his shot from outside the area deflected behind.
15'
Gnabry scores!! Klostermann gets on the end of Sule's cross field ball after a defensive error, he then cuts back as he's reaching the byline and Gnabry slots home after initially getting a bit of good fortune.
14'
Save by Marchesin to deny Brandt!!! Three quick passes see Brandt played in, the GK comes out and the German man's shot is well stopped!
13'
Gnabry is caught offside in Argentina's half! Not for me.
12'
De Paul makes a lovely sprint down this near side!!! He beats Halstenberg before Sule halts his progress.
10'
Terrible challenge from behind on Paredes by Kimmich in the centre circle. Deservedly booked.
9'
What a cross by Pereyra!!! He puts in a splendid cross from this near side and Lautaro is about to head in!! Emre Can has other ideas and clears it right off his head. Actually, Lautaro headed it and Can blocked it with his foot.
8'
Gnabry gets on the end of a long pass and turns past the defender in the area before running out of pitch. Goal kick to Low's men.
7'
Lautarotries to play in Pereyra, but he slips inside the box and they lose the ball.
6'
Waldschmidt brings down De Paul in midfield.
5'
The home side work it down the far side before Klostermann's cross in is easily caught by Marchesin.
4'
Germany pass the ball around in Argentina's half through Sule, Havertz and Halstenberg, but Argentina keep them away from the goal.
3'
Argentina have started with more possession here in the early exchanges.
1'
Argentina get us going from left to right in the black!
Prev.
There was a minute's silence which turned into applause after shouting from the stands.
Prev.
Kimmich and Otamendi (the number 19) shake hands with the referee in the middle.
Prev.
The Argentinian anthem has been played! Now it's Germany's turn.
Prev.
The players make their way out here in Dortmund!!
Prev.
Aguero and Di Maria have been left out for this one so won't play here tonight.
Prev.
The two teams have met just once since the 2014 World Cup final which Germany won 1-0. It was in September that year when the Argentinians came out on top 2-4. Aguero, Di Maria, Fernandez and Lamela all scored for the South American side.
Prev.
Clement Turpin of France is the referee for this one.
Prev.
There's no Messi for Argentina as he is suspended following his comments about CONMEBOL after the defeat to Brazil, but Lautaro Martinez plays. He's had a great start to the season with Inter. There are also many other star attractions on show.
Prev.
The big news is that Marc-Andre Ter Stegen starts despite his public criticism of teammate Manuel Neuer.
Prev.
Argentina team: Marchesin (GK); Tagliafico, Rojo, Otamendi, Foyth; De Paul, Paredes, Dybala, Pereyra, Correa; Lautaro Martinez.
Prev.
Germany XI: Ter Stegen (GK); Halstenberg, Sule, Koch, Klostermann; Gnabry, Can, Havertz, Kimmich, Brandt; Waldschmidt.
Prev.
Good evening and welcome to live coverage of the friendly between Germany and Argentina from Dortmund. Both teams will want to do well and try out some new players in this clash. This should be an exciting game, nevertheless.