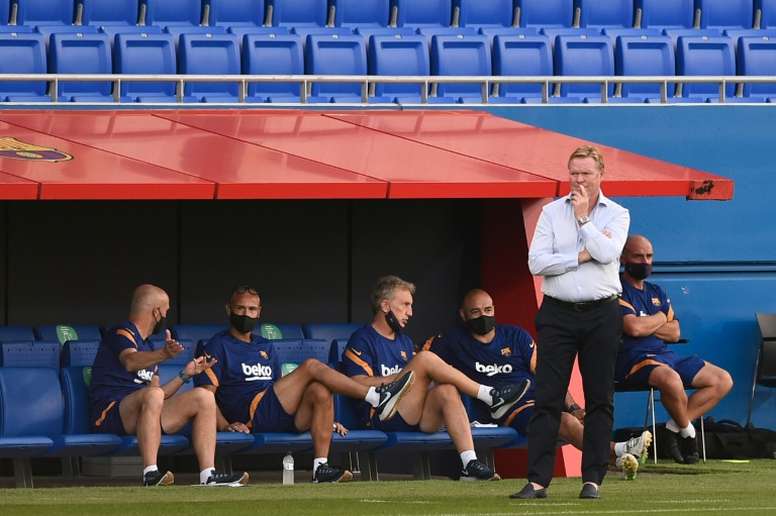 From Villarreal to the 'Clásico' and the Champions League: this is how the 'Koeman era' will begin
Barca's start to the season includes some difficult fixtures. This Sunday, Ronald Koeman will make his debut for Barca in an already tough game against Unai Emery's Villarreal.
This will be the first official match for Barcelona after a very eventful summer, which has not included the promised revolution after the 2-8 defeat at the hands of Bayern. There are still changes to be made.
However, from the pre-season friendlies you can see that Koeman's style is beginning to come through, starting with a change of formation to 4-2-3-1. In addition, players like Pedri and Trincao will play bigger roles in the team.
Barcelona start a month of challenging games with the match against Emery's team. They have had three pre-season games but face a difficult challenge in one of the toughest starts to the season in living memory.
After Villarreal, Barca will have to visit Celta de Vigo on October 1st and will play Sevilla at Camp Nou on the 4th. This will be the last match before the transfer market closes with the arrivals of Sergiño Dest and a striker, who may be Memphis Depay, still expected.
Then comes the international break and, after praying that there will be no injuries, Koeman's team will return on the weekend of October 18th against Getafe. This will be the prelude to the main course: the 'Clásico'. Barcelona will play Real Madrid at Camp Nou on the 25th of October.
But that's not all they face that week, Tuesday 20th and Wednesday 21st October, the group stage of the Champions League begins. The draw will be on the 1st and then we will know who Barca will face in the competition.