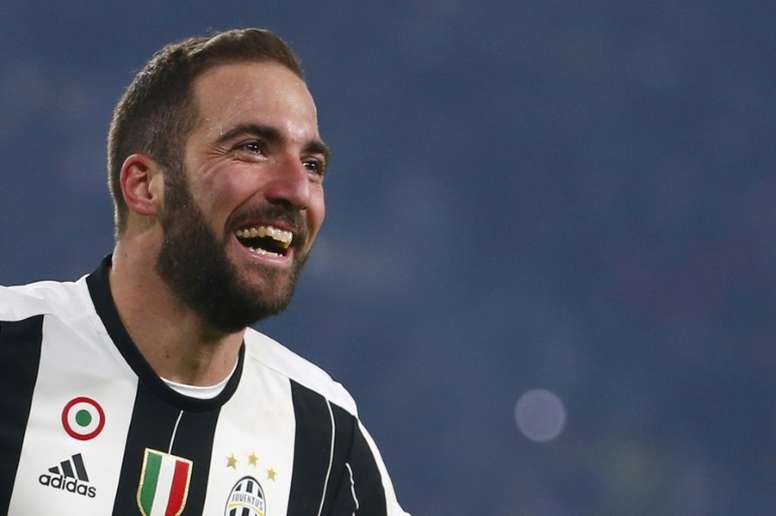 Five things we learned in Serie A
Here are five things we learned in Italy's Serie A at the weekend:
Higuain turns hunger on its head
Gonzalo Higuain's haters must have enjoyed a cheeky laugh upon hearing the Argentine describe the ambition of Juventus in a post-match television interview on Saturday. "They've won the league five years in a row but they still have a crazy hunger to win," said Higuain, whose 14th minute winner in a 1-0 defeat of Roma sent the champions seven points clear of the Giallorossi. Reports claiming Higuain is overweight usually resurface after the summer holidays. Indeed, the Juve striker's tendency to have a few extra mouthfuls, as well as the many goal chances he has missed for the national side, led disgruntled Argentina fans to launch a phone app last August designed to mock the France-born striker. The aim of 'Pipita on Fire' -- Pipita is Higuain's nickname -- is to get Higuain past a series of defenders and score the chances he missed in the 2014 World Cup final against Germany, as well as in the 2015 and 2016 Copa America finals against Chile. All while dodging food being thrown at him.
Napoli are best, says Mihajlovic
When it comes to league titles, no team in Serie A has even come lose to beating the 32-trophy haul of defending champions Juventus. Napoli have only two to their name (1987, 1990), thanks in large part to club legend Diego Maradona. But for Torino coach Sinisa Mihajlovic, Napoli play the best football in Italy. After a 5-3 loss to the Azzurri that could have been heavier despite Dries Mertens hitting four for the San Paolo giants, Mihajlovic -- whose side lost 3-1 to Juve in the city derby last week -- poured the plaudits on Maurizio Sarri's southern side: "Napoli has certainly made a big impression on me in terms of their game and everything else they're doing. I don't know if Napoli are better than the others (teams), but they certainly play better." Napoli's 10th win of the season closed the gap on Juventus to eight points.
Games for the boys, Inter ?
Watching the goings-on at Inter Milan recently has been like a Christmas pantomime: plenty of drama, loads of laughs but very little to write home about. At the weekend the agent of out-of-favour Montenegrin striker Stevan Jovetic, Fali Ramadani, claimed the club is so unprofessional that certain players have a significant say in who gets to play. Given some of their performances this season, some might be inclined to agree: the Nerazzurri beat Sassuolo 1-0 on Sunday but remain 15 points behind Juventus. Jovetic has been left off all of the club's squads and played only 67 minutes so far this season, but Inter sporting director Piero Ausilio hit back: "If three coaches haven't used him, it's undoubtedly due to technical and tactical reasons."Â
Niang drops down penalty-taking order
M'Baye Niang has been unceremoniously moved aside as one of Milan's penalty-takers, and the towering French striker has little room for complaint: he missed two penalties in succession, one of which came after an on-field spat with teammate Gianluca Lapadula over who would step up to the spot, prior to Saturday's scoreless stalemate with Atalanta. Milan coach Vincenzo Montella said Friday Niang would "no longer" be the team's penalty-taker, although he never was the number one choice anyway. Colombian striker Carlos Bacca is Milan's usual marksman from the spot. Until he regains match fitness following a recent return from injury, Niang will have to wait his turn.
Pescara's puny players not big enough
The coach of Serie A strugglers Pescara, Massimo Oddo, usually gives credit where it is due, and amid a 14-game winless run it's usually been given to the opposition. But after a 3-0 home defeat to Bologna on Sunday, he tried to blame their dismal campaign on his comparatively puny and inexperienced players. Oddo says his players are so disadvantaged they never play high or long balls during games. "We always keep the ball on the ground because we just can't do otherwise," said Oddo. "We have a lot of players who have never played at this level, so they're lacking an element of mental strength. If I had players with a bit more physical power we could change the way we play. But we're Pescara and our economical potential is limited."