Fiorentina enter the race to sign Ibrahimovic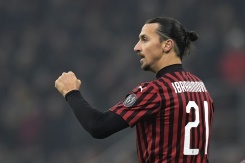 Can you imagine seeing Zlatan Ibrahimovic at Fiorentina before the end of his career? It could be a reality, since Italian newspaper 'Corriere della Sera' has placed the Swedish star in the Florence team.
According to the source, which insists that Mihajlovic's Bologna is the most interested in his transfer, Fiorentina are keeping an eye on the developments and decisions the player will make.
His arrival could serve as motivation for the former Italian giants who have long since become accustomed to losing.
In Florence, Ibra could meet up with Franck Ribery, another veteran who continues to prove that he still has plenty of football in his boots.
In his time in Serie A after his return from North America, Ibrahimovic has played ten games, scoring four goals and conceding one assist. Ribery's Fiore campaign, meanwhile, has yielded a total of 11 games, two goals and two assists to the tournament's close.