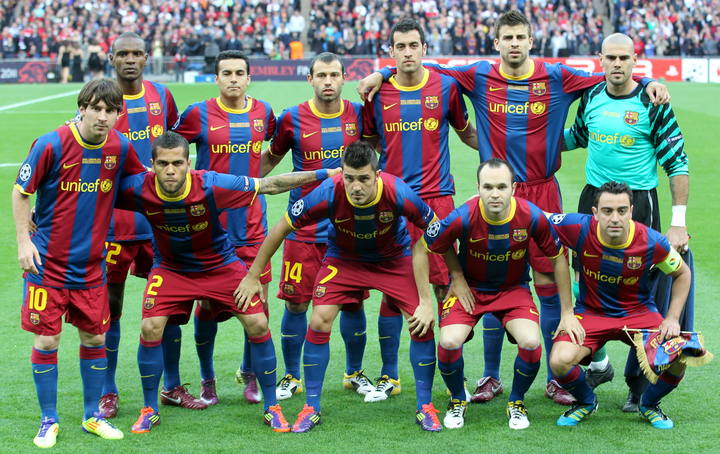 Ferguson and that unforgettable thrashing
"They are really good. Nobody has given us such a trashing." With this phrase, Sir Alex Ferguson summed up the feeling of the squad, technical staff and Man Utd fans after the Champions League final on 28th May 2011.
Because that was, probably, the best match of the 'Guardiola era' at Barca. Even if many say winning the Club World Cup against Neymar's Santos seven months later was Barca's best game, the quality of the opponent means the win over Man Utd should be considered the best victory.
The eleven made of Valdés; Alves, Mascherano, Pique, Abidal; Xavi, Busquets, Iniesta; Villa, Messi and Pedro, with seven players from the La Masía academy, crushed a Manchester United side which only managed to last one half. They spent most of that half chasing after the ball and they were worn out.
It was a formidable encounter from the Barcelona midfield, then at their best, and the front three rounded it off with their goals (3-1), above all in a lethal second half.
The final at Wembley did not do other than reinforce the Barcelona dominance over Manchester United in the Champions League, which started two years earlier in Rome, after United knocked out Barcelona in 2008, who were then managed by Rijkaard. Man Utd then lifted the trophy in the final in Moscow in 2008.
On Italian soil, two years earlier, Barcelona put out a similiar line-up, but with a different formation: Valdes; Puyol, Toure, Pique, Sylvinho; Xavi, Busquets, Iniesta; Messi, Eto'o and Henry. However, although the result (2-0), was as clear as the 2011 final, the final was not as one sided because United had various opportunities and the clash was much more even.
In both, the quality of Leo Messi was also the protagonist of those semi-finals in the 2007-08 campaign. Despite their good game, it was not enough for a Barcelona in decline. Manchester United started their short lived reign by reaching the final with a solitary goal from Scholes.
Between 2008 and 2011, Barca and United only did not meet in the 2010 edition which was won by Inter Milan's Mourinho after knocking out Guardiola's Barca in the semi-finals. United were knocked out by the other finalist, Van Gaal's Bayern Munich, in a very even tie which was decided on away goals after ending 4-4 on aggregate.
Since then, those from Old Trafford have gradually fallen into decline from which they are still recovering from at the moment. Barcelona, with many changes of coach and a team which has got old, aspires to reign again in Europe like they did then, although now very different from a football which will not be repeated again.