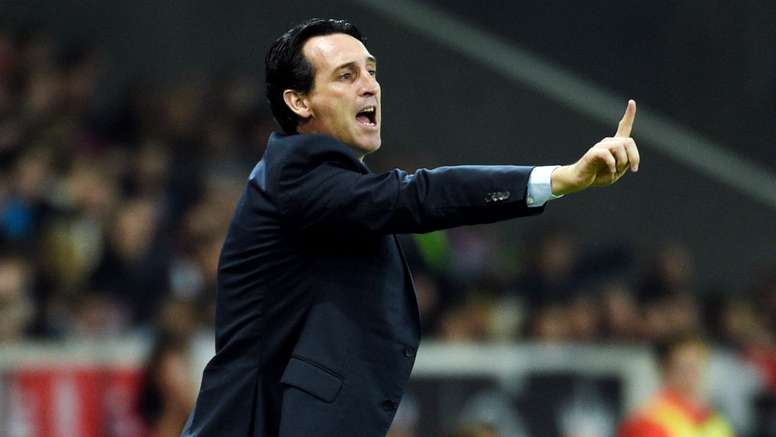 Failure to beat Barca could be the end for Emery
After a 2-0 win over Angers at the end of last month, Paris Saint-Germain boss Unai Emery claimed, "We are slowly making progress." That was debatable but what is now beyond dispute is that PSG have to improve - and quickly - if they are to have any hope of beating Barcelona in the last 16 of the Champions League. Emery will know this better than anyone - because his job is likely to hinge on the outcome of the daunting two-legged tie.
After blowing top spot in Group A by drawing 2-2 at home to Ludogorets on matchday six, the former Sevilla boss knew that there was always the chance that Monday's last-16 draw in Nyon could go badly. In the end, it was downright cruel, with PSG having endured the slowest, most agonising wait possible before it became official: Barcelona were the only team left for them to meet.
As a result, they must now face the team that routed them 5-1 on aggregate in the quarter-finals of the 2014-15 Champions League. In truth, the tie was over after 79 minutes of the first leg, the point at which Luis Suarez bagged his second goal of the evening, after another nutmeg on David Luiz. It was a humiliating evening for PSG and their Qatari-backed project; an embarrassing illustration of just how far behind Barcelona they still were. The concern will be that they have not closed the chasm in quality in the interim.
Emery was brought in specifically to narrow the gap; to help the club realise their lofty goals of European domination. The Spaniard's pedigree is beyond dispute, having won three successive Europa League titles before departing for the Parc des Princes during the summer.
Furthermore, it must be acknowledged all coaches need time to implement their tactics upon a new team but PSG have impatient owners with high standards - Laurent Blanc was dismissed after leading the Parisians to a second successive domestic treble - and Emery's men have underwhelmed terribly so far this season.
Indeed, they are even struggling in Ligue 1, a domestic competition that they have won - usually at a canter - for the past four seasons. Admittedly, Nice's sudden improvement has taken everyone by surprise, while Monaco are one of the form teams in Europe right now, but third place in the table is unacceptable for a club of PSG's ambitions and vastly superior resources.
Consequently, the pressure is building on Emery. There have been persistent rumours that Marco Verratti, PSG's most talented midfielder, is unhappy with the formation and style of play, while Emery has put his faith in Edinson Cavani, a striker who seems to personify the current PSG side: good but not good enough.
Amidst mounting calls for him to be dismissed, Emery called for an increasingly tense situation in the French capital to be put in perspective ahead of Sunday's 2-2 draw with Nice.
"We have done well in the group stages of the Champions League," he said, taking heart from two draws against Arsenal. "And we have to look at the past when it comes to Ligue 1."
The problem is that PSG are constantly building for the future and, with Barcelona now looming large on the horizon, it looks quite bleak - for both the club and their coach.