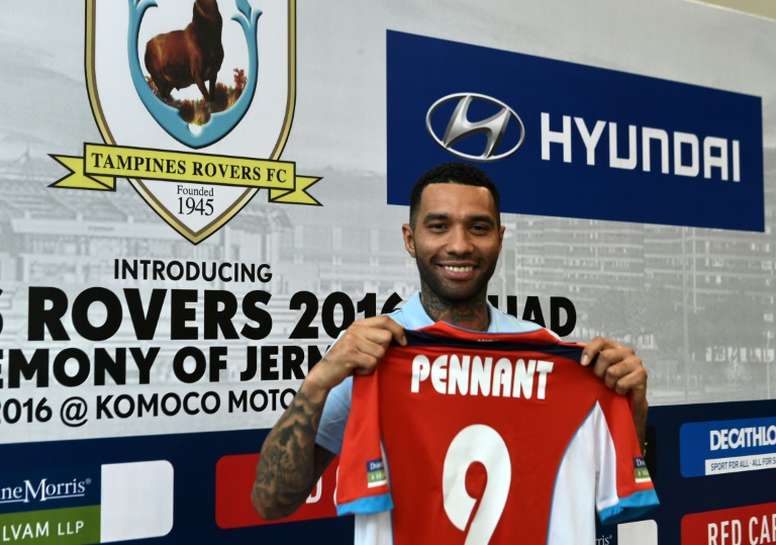 Ex-prodigy Pennant signs 'sexy' deal with Singapore football club
The 33-year-old reformed wild boy joined Tampines Rovers, five-time winners of the local S-League, under a one-year contract.
Tampines chairman Krishna Ramachandra would not give details of his salary, telling reporters only it was a "sexy" figure.
The Straits Times newspaper said last week that Pennant would be paid about Sg$40,000 ($28,000) a month, or less than a quarter of his last drawn salary with Wigan Athletic.
His salary could rise with bonuses related to his number of appearances, performance and team's achievements, state broadcaster Channel NewsAsia reported.
Despite the hefty cut, Pennant will be the highest paid player in the S-League's 21-year history. He was also presented with a car at the signing ceremony.
"No matter where you go in the world, it's always a great chance to prove yourself, no matter the level," said Pennant, who has insisted that his wild days are behind him following the birth of his son in 2010.
"I don't look at it as lesser league, it's just another chapter in my career," Pennant added, referring to the S-League, which has suffered from waning attendances.
Pennant will don the number nine jersey for Tampines, the league's runners-up last season.
The winger, approaching the tail-end of his once-promising career, had been on trial with the club since arriving on January 7.
"The financial component (of the contract) is one not typical to what we traditionally pay our players. We've been fortunate that a couple of sponsors have stepped up to absorb the cost associated with the signing on," Ramachandra told AFP last week.
Team officials hope Pennant's star appeal can help revitalise the S-League, which has seen dwindling attendances since crowds of 30,000 packed the stands during the inaugural season in 1996.
"It will inject more confidence into the fan base. In the long term, this is the necessary fillip that Singapore football has needed," Ramachandra said.
Ahead of Tuesday's signing, a Facebook fan page for Pennant was set up.
Pennant was England's most expensive teenager when he was snapped up for two million pounds by Arsenal as a precocious 15-year-old.
He was acquired by Liverpool in 2006 for 6.7 million pounds.
He later featured for a number of clubs including Stoke City, Wolves, Wigan and Spanish side Real Zaragoza.
But Pennant's career was marred by his off-pitch misdemeanours, including disciplinary issues and drink-driving convictions.
In 2005, while on loan from Arsenal at Birmingham City, Pennant played wearing an electronic tag after being freed from jail for drink-driving.
Despite his chequered past, Ramachandra has been impressed by the player, describing him as a "total professional".
Before arriving in Singapore, Pennant also had a spell with Pune City in India and tried out with Thai Premier League outfit Muangthong United.