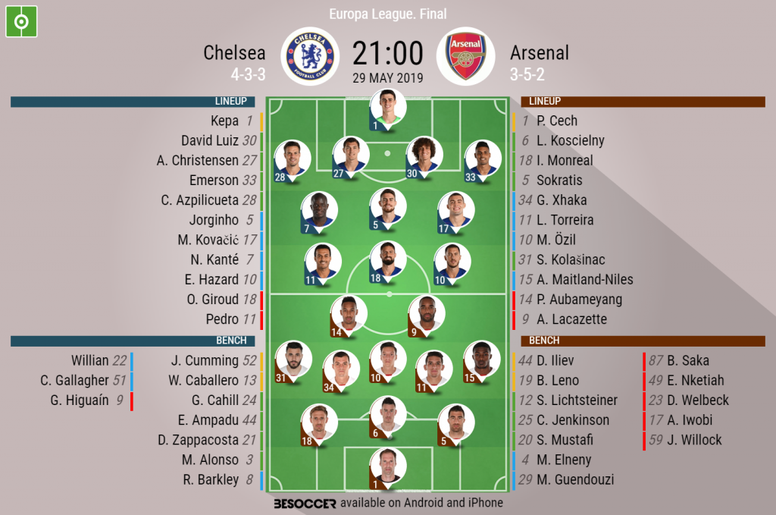 Europa League final - as it happened
Post.
As always, thank you for joining our live coverage of tonight's Europa League final! We hope to see you for the next!
Post.
Arsenal look forlorn, as they kiss their Champions League place goodbye. Totally conflicting emotions unfold in front of the Gunners however, as Chelsea's players and staff storm the pitch in deserved celebration.
Post.
And so, the title returns to London! Although, I guess it would have done either way...
93'
FT: Chelsea 4-1 Arsenal! And that's it. Alex Iwobi can take some personal credit for his stunning goal but Chelsea totally dominated Arsenal, scoring four goals in the second half to seal a convincing Europa League victory!
93'
Arsenal are still fighting but their attempts come to nothing and the title will be Chelsea's as the dying seconds tick by.
91'
Willock tries to pull Maitland-Niles' cross back but it ends up rebounding off Lacazette. Chelsea goal kick. Sums up Arsenal's night really...
90'
If this is Hazard's last game for Chelsea, he's gone out with a bang. Two goals in the bag.
89'
Hazard makes way for Zappacosta as Chelsea likely waste time.
86'
Lacazette's free kick clears the wall but doesn't dip low enough to get under the bar.
86'
Lacazette is behind a free kick for Arsenal...
84'
Joe Willock is screaming for it as Lacazette approaches the box. He gets it but the shot is curled off target. Perhaps should have done better there...
83'
Aubameyang in front of goal but can't quite control it well enough to get the shot away. The flag goes up for offside anyway.
80'
Willian comes charging again but his shot is blocked, this time by a sliding Sokratis who made up a lot of ground to get there.
79'
Willian decides he wants a piece of the action and has a go with his right foot. Cech is down with a hand to it and prevents another Chelsea goal.
78'
At least Ozil has the decency to look embarrassed as he makes his way from the pitch.
77'
Arsenal too make a change, bringing Mesut Ozil (who has contributed absolutley nothing to the side) off for Joe Willock.
76'
Chelsea substitution - Barkley replaces Kovacic who has been unsurprisingly silent all evening.
75'
Aubameyang has it up at the other end but his shot is wild and flies way over the crossbar.
75'
Hazard has a go from outside the area! It was heading goalward and Cech gets down well.
73'
Chelsea have really stepped it up a notch over the last 10-15 minutes. Iwobi deserves credit for his goal, but Arsenal as a team can't keep Chelsea at bay. It was a midfield error that gifted Chelsea possession for the fourth.
72'
GOOOOOOOAAAAALLL CHELSEA! 4-1! The Arsenal fans hadn't even had time to take their seats after Iwobi's goal before Chelsea respond. Hazard with Chelsea's fourth!
71'
First change of personnel for Chelsea as Willian replaces Pedro.
69'
GOOOOOOAAAAALLLL ARSENAL!!! Alex Iwobi releases a rocket! He hits it first time from the edge of the box as the ball comes out from a previous deflection! He should get two for that! No chance for Kepa!
68'
Christensen this time goes into the book for bringing Iwobi down. Free-kick Arsenal.
65'
GOOOOOOOAAAAAALL! Hazard makes his mark on this final with a penalty to really stick it to Arsenal. 25 minutes remaining but with three goals in the bag, it should be over and done with!
64'
Lacazette brings Giroud down in the box and Chelsea have a penalty! No question.
62'
Arsenal looked as though they were edging towards an equaliser, until Pedro crushed that dream by doubling Chelsea's goal tally. A slight mountain to climb for Arsenal now!
60'
GOOOOOOAAAAAAAALLL CHELSEA!!! Pedro makes it 2-0! Hazard's cross was put on a silver platter for Pedro who side-footed it past Cech and into the back of the net!
59'
Torreira has a go in the box, the rebound comes off Kante before Aubameyang attempts a bicycle kick. It's all action in the Arsenal box at the moment!
56'
Pedro receives the first yellow card of the game. A needless challenge on Monreal.
55'
Lacazette this time in the box, going it alone, and is smothered. Nobody there to support.
55'
Saying that, Arsenal haven't shyed away. Maitland-Niles this time in the box but loses control just before the defence close in.
51'
With their notoriously shocking away form this season, Arsenal will have to be careful that they don't capitulate under the pressure!
50'
With that goal, Giroud takes his tally up to 11 for the competition, but that one could certainly prove the most important!
49'
GOOOOOOOOAAAAAALLL CHELSEA! Great start to the second-half by the Blues! Giroud breaks the deadlock with a great header off Emerson's cross. On another day, Cech might have done better but the header was right in the corner! Chelsea in the lead!
46'
BACK UNDERWAY! Chelsea this time get the ball rolling.
45'
The teams make their way back out onto the pitch ahead of the second-half! Here we go!
45'
Both keepers were called into action over the course of the first-half, making for thrilling viewing, but neither side could break the deadlock. Bring on the second-half!
45'
HT: Chelsea 0-0 Arsenal. No added time and we go into the break goalless in Baku. Both sides with chances though, so let's see if the half-time team talks can make the difference in this Europa League final! Stay tuned to find out!
43'
Both managers very animated now as their sides have just minutes left before the break for a final push.
42'
Just a few minutes away from half time and we're level. Both teams with chances but neither with a goal. Can either side sneak one before the break?
41'
The corner comes in a Christensen gets the first touch on it. He can't control it giving Arsenal time to position themselves. Pressure building though!
40'
Giroud with a routine shot from the edge of the area! Cech gets down well for Arsenal and Chelsea take the resulting corner! That was close!
39'
Emerson dealt a clear warning by the referee after a challenge on Lacazette - "one and finish".
37'
Kolasinac with a lofty ball in that Kepa clears but it was tentative and Chelsea need to be careful that they're not caught in possession in defence.
36'
Arsenal restore a bit of calm to this clash as they play the ball around a bit in midfield.
35'
Emerson overlaps Hazard before putting a cross into the box. Giroud is there but couldn't react quick enough.
34'
Emerson's shot is straight down Cech's throat and Maitland-Niles does well in defence to block out any potential rebounds.
33'
Arsenal corner and it's every man for himself as the referee keeps an eye on the pushing and shoving.
32'
Back at the other end and Kolasinac's shot takes a dangerous looking deflection off Azpilicueta. Kepa can only watch as it flies wide!
31'
The game is starting to level itself out now as Chelsea enjoy an extended period of possession. Can they make the most of it?
29'
Chelsea with a lovely build up before Emerson has a go! Sokratis is in the right place for the clearance. Chelsea now starting to establish themselves in this game!
28'
CHANCE ARSENAL! Xhaka with a screamer that narrowly flies over the bar!
26'
Giroud very nearly picks up Kante's ball in but it get stuck under his feet and he can't gain control. Goal kick Arsenal.
25'
Xhaka whips a free-kick in from the left. It rebounds off the rabble in the centre of the box and safely into Kepa's arms.
24'
It's been all Arsenal for the last 10 minutes or so...
22'
Lacazette in a one-man race with Azpilicueta ahead of goal but Kepa comes to gather. The Chelsea goalkeeper collides with his own man in doing so but Azpilicueta looks to be alright.
20'
Maitland-Niles free on the right, his cross comes but is cleared by a sliding Jorginho. Corner Arsenal.
18'
Lacazette is almost through but Kepa comes out to clear. The Frenchman goes down in the box but there was minimal, if any, contact.
16'
Xhaka releases Kolasinac down the left whose cross is vitally blocked by Azpilicueta!
15'
Luiz with a clear foul on Torreira in the box and Arsenal back in possession with the resulting free kick.
15'
Sokratis leaves it on Giroud a bit and the Frenchman goes down for a free kick. Hazard behind this one, of course...
14'
Lacazette very nearly puts Aubameyang through but Luiz and Kante are there to sandwich the Gabonese and the ball slides on past.
11'
Hazard is looking lively already as he one-twos with Giroud before attempting a break into the box. Torreira and Koscielny are well-positioned, however.
9'
CHANCE ARSENAL! Maitland Niles charges up the left for Arsenal, his cross is blocked by Kepa but it's straight into Aubameyang's path. The resulting shot is wide! First clear chance so far!
7'
Arsenal now breaking past the half way line but Chelsea are wise to it and smother their opposition swiftly. Neither team affording their opposition much time on the ball in these opening 10 minutes.
5'
Most of the action unfolding in Arsenal's half but Chelsea unable to find a way through just yet.
4'
Foul on Hazard by Maitland-Niles. Nothing too serious and Chelsea use the free kick to re-settle.
2'
A game of pinball between the keepers at the moment as both teams test the waters.
1'
AND WE'RE OFF! Arsenal get this final underway!
Prev.
Cesar Azpilicueta and Laurent Koscielny lead their sides out as respective captains and we are just minutes away from kick-off now! Here we go!!!
Prev.
So, the fans have made a 4970-mile round trip to watch a London derby. Let's hope it's worth it! The players are out on the pitch!
Prev.
As what looks like an opening ceremony gets underway, the teams will be preparing themselves ahead of tonight's big clash! Any score predictions?
Prev.
The winner of tonight's Europa League final will avoid the likes of Barcelona, PSG, Bayern Munich and Juventus in next year's Champions League draw. Now there's some incentive!
Prev.
Arsenal have never won the competition, but under Unai Emery, could that change tonight? Their boss is well versed in what it takes to become European champions?
Prev.
Aaron Ramsey is injured but will be supporting his teammates from the stands ahead of a move to Juventus over the summer.
Prev.
Cech is in goal for Arsenal for the final game of his professional career, before he takes up an administrative role at none other than ... Chelsea!
Prev.
Giroud makes a well-earned start for Chelsea as the competition's joint top scorer (with Luka Jovic) on 10. Aubameyang has also totted up an impressive tally of eight goals and starts up front for Arsenal, alongside Lacazette.
Prev.
Danny Welbeck is on the bench for Arsenal and will hope to get some game time, in what will be his final appearance for the Gunners before being released this summer.
Prev.
So, the big news is that Kante starts for Chelsea, while Mesut Ozil bags himself a starting position, despite a less than impressive season.
Prev.
Chelsea starting XI: Kepa, Azpilicueta, Luiz, Christensen, Emerson, Jorginho, Kante, Kovacic, Pedro, Hazard, Giroud
Prev.
Arsenal starting XI: Cech, Maitland-Niles, Sokratis, Koscielny, Monreal, Kolasinac, Torreira, Xhaka, Ozil, Aubameyang, Lacazette
Prev.
The fans will certainly be hoping for a thriller this evening, having made the trip to Azerbaijan to watch their teams compete. Two teams that are 6 miles apart from each other in London...
Prev.
Above all, it will be bragging rights up for grabs tonight as these two London sides hope to get one up on the other! Unai Emery will be fighting for his fourth Europa league title, while Chelsea have won it more recently, in 2013.
Prev.
The two sides don't have an extensive European history and the 1972 UEFA Cup Final was the last time England face England in a European final!
Prev.
Welcome to our live coverage of tonight's hotly anticipated Europa League final! Chelsea and Arsenal are to battle it out at the Baku Olympic Stadium!