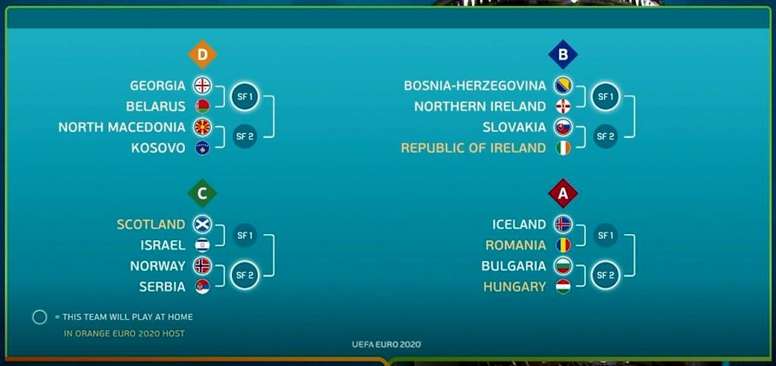 Euro 2020 play-off draw made
Scotland will host Israel in the semi-final of their Nations League play-off in path C while in path A, Hungary will travel to Bulgaria and Iceland will face Romania. This was the result of the draw conducted by UEFA in Nyon, Switzerland.
The full play-off line-up is as follows:
Path A: Iceland v Romania and Bulgaria v Hungary. The winner of Bulgaria v Hungary will host the final.
Path B: Bosnia and Herzogovina v Northern Ireland and Slovakia v Repulbic of Ireland. The winner of Bosnia v NI will be at home in the final.
Path C: Scotland v Israel and Norway v Serbia. Norway or Serbia will be at home in the final.
Path D: Georgia v Belarus and North Macedonia v Kosovo. Semi-final 2 will host the final.
November 19, 2019
The semi-finals will be played on 26th March and the finals on 31st March.
In addition, there were two additional draws held thirty minutes after the play-offs. One was to found out who will host the head to head clash between Denmark and Russia at Euro 2020 as both teams are in the same group and qualified directly for the tournament. The Danes will have the luxury of playing three games at home.
The other was to determine which group the winners of the path D and path A will go to. This is a result of path A having two hosts (Hungary and Romania) in the play-offs. The winner of path D will go to group C with Ukraine and the Netherlands while the play-off winner from path A will play in group F with Germany.