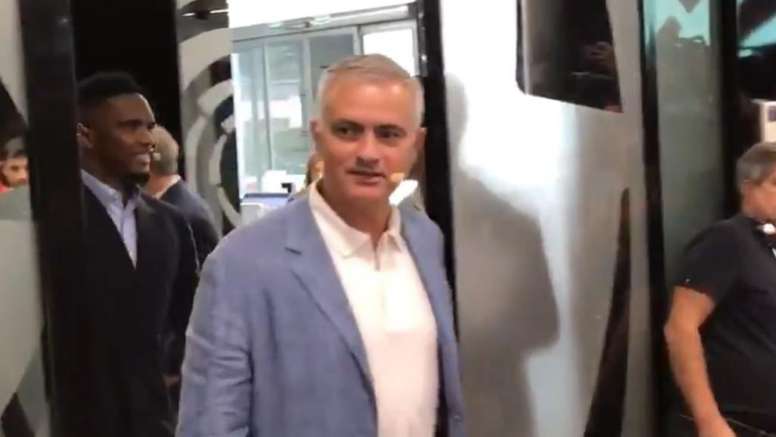 Eto'o states that it would be "lovely" if Mourinho coached Barca
"I'm tired of justifying that this man (Mourinho) is one of the best people there is in world football. I ended my career and the first person to send me a message was this man," Eto'o said in a ceremony at the La Liga HQ in Madrid together with Mourinho and the La Liga president Javier Tebas.
For Eto'o, an ex-player after more than two decades in the game, Mourinho is one of the people who "deserves that respect."
The ex-Cameroon striker thought that Mourinho returning to Barca, where he was the number two between 1996 and 2000, would be "lovely", although he also joked that he would like to see him manage Mallorca. Mallorca are Eto'o's old side and they were promoted back to La Liga this season.
"I would like to ask Jose to come to Mallorca, it would be good, it's the best city in Spain. But I would rather him go to Barca," he explained.
Eto'o recalled that when he was at Barca and had to face Chelsea, "it was not against the players, but against Mourinho," which gave them "more motivation."
"When I had the fortune to play under him at Inter Milan, people were saying, they're going to win the Italian league, the cup, but no-one expected us to win the Champions League. When we won at Stamford Bridge against Chelsea, we said: "Whoever we play we will win this Champions League," the 38 year-old continued.
September 12, 2019
The Cameroonian admitted that the quickest player he has ever seen in La Liga was the Brazilian Ronaldo Nazario, "the genius", because he was capable of being quick with he ball, so he was "unbelievable".
"Giuly was also very fast, as he was small he had more advantage and afterwards messi. That pace which he has, few people have it," he added.
Eto'o analysed current La Liga leaders Atletico Madrid who he said are doing "incredibly well" since Simeone joined back in 2011, but said "it was early days still."
"We have to wait. Barca haven't got going because Messi hasn't played, Hazard hasn't for Real Madrid. Let's hope they both return soon and then we will see,"
Although Mallorca is the club he likes the most, Eto'o also talked about Betis. "They've been playing good football for years and I hope that this year they become a bit closer to the big sides," he opined.
Lastly, Eto'o announced he was in favour of the VAR. "VAR is a technology which allows us to have a cleaner football and we have all accepted it. It makes football fairer," he concluded.