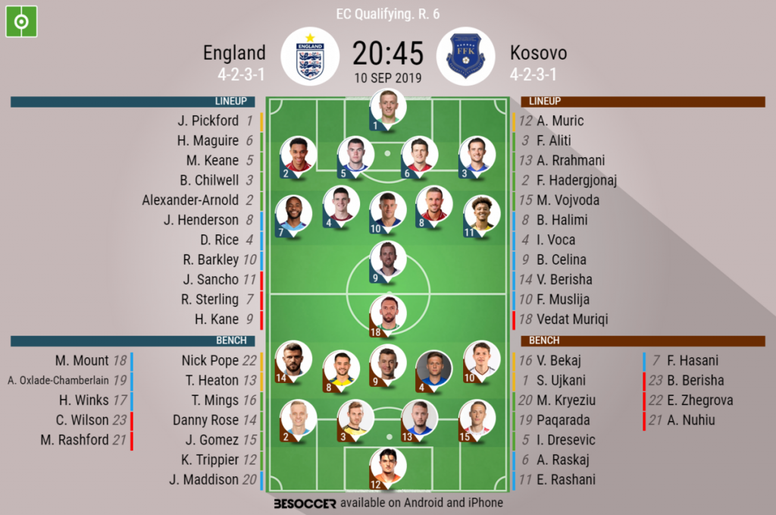 England v Kosovo - as it happened
90'
England see the game out and it finished 5-3 in what was a magnificent 8-goal thriller. St Mary's seems a little stunned at tonight's events as this was a game that was very hard to comprehend. England have now gone 10 years without defeat in a qualifying match. Kosovo will go away extremely disappointed with the result as they fought hard until the end to get something out of the game. 5-3 finish!!
90'
Chilwell takes the free kick, plays it short as England are just trying to wait for the whistle.
90'
Foul on Rashford by Rrahmani on the byline gives England a free kick.
90'
England are going to come out of this game with 12 points from 12. Kosovo will definitely be disappointed with the way things have turned out tonight, but obviously still have a great chance at qualifying in second place.
90'
Corner comes to nothing. 5 added minutes
87'
Rashkaj receives a yellow card for his earlier foul on Mount, lucky not to be a straight red as he collides with him with a high knee.
86'
Kosovo counter and Celina has a powerful shot, just goes wide of the post! Kosovo could have messed up their chance to really get back in the game.
85'
Rashford makes an impact straight away, as a pass from Mount sees Rashford have a shot, which goes straight to the keeper, Sterling goes for the deflection but hits it over the bar and is then deemed offside anyway
84'
Kosovo make a change as goal-scorer Berisha comes off, his replacement is Hasani
84'
England's second change sees young Jaden Sancho, who scored his first two England goals, be replaced by Manchester United player Marcus Rashford
83'
England make their first change of the game as Ross Barkley comes off and the young Mason Mount comes on.
82'
Berisha receives a yellow card, after he fouls Sterling (grabs him) and then kicks the ball away when a free kick is given
79'
Kosovo are more confident now going into the final ten minutes of the game, they have had a lot more play in their attacking end and are frantically searching for goals to at least get something out of this.
73'
Corner for England as they counter on Kosovo, who manage to get defenders back. Sterling's shot goes out for a corner
72'
Perfect chance for Sterling after Kane passes the ball through to him, Sterling gets it past the keeper but hits the post as the keeper just manages to get a little touch on it.
71'
Vojvoda has a strike from distance but it goes well wide
70'
Alexander-Arnold took the free kick, however he hits it wide. Would have been a powerful goal if it was on target
69'
Foul on Sancho at the edge of the box means Aliti gets a yellow card and England get a free kick.
63'
The substitution Paqarada received a yellow card before the penalty was taken for reluctance.
63'
Keeper is clearly off his line when the ball is struck and so is lucky to get away with this. But he manages to easily save the penalty
62'
England penalty after Barkley is tackled once and shrugs it off, the second time is in the penalty area and a penalty is given. Kane to take. Halimi is carded for the challenge
58'
Kosovo make their second change of the night, as Voca comes off and is replaced by Raskaj
54'
Muriqi scores the penalty!! Pickford gets his hands to it, but it still goes through him and into the back of the net, He knows he should have done better here. A game of lots of goals, where Kosovo are now getting some confidence back and ready to fight for the come back
53'
Maguire tries to clear a cross into the box, Muriqi goes for the ball and Maguire kicks him on the back of the ankle, goes down very theatrically, but still a penalty to Kosovo.
50'
England have now conceded in the first five minutes of each half, which Gareth Southgate will not be happy about
48'
Muriqi composes himself and flicks the ball to Berishi, who is inside the box. Berishi just flicks the ball into the top corner and over the keeper and Kosovo look to come out fighting here. 5-2
48'
Berisha gets a second for Kosovo!!
47'
Kane made an excellent pass from outside the box to Alexander-Arnold, who has a powerful shot at goal, but the keeper manages to deal with it as England come on strong and ready in this second half.
45'
Kosovo make a half time change, as Paqarada comes on to replace Muslija
45'
England get the second half underway, as they go into it with a 4 goal lead! Kosovo will have a big battle on their hands here!
45'
Half time sees a game of men against boys as Kosovo leave the pitch very disappointed. England started off bad, but now look strong and comfortable. 5-1 at half time
45'
Sterling has a shot but Muric makes a very comfortable save.
45'
Sterling dribbles into the box and the defender's can't keep up with him. He passes to Sancho who just casually scores the goal. Sterling has been magnificent this half. Too good to defend against. Kosovo are clutching at straws at the moment
43'
England counter and Sterling makes a great run down the pitch, a pass wide of the box to young Jaden Sancho sees him go one on one with the keeper and just calmly put the ball in the net. Excellent play from Sterling
43'
Jaden Sancho gets his first goal for England!!!
37'
Aliti seems to pick up an injury and goes down, controversy as England play on, Kosovo don't think they should have and Sancho puts the ball in the box after some teasing play and Vojvoda just accidentally slots the ball into the back of his own net, thinking it would not be allowed and play would have been stopped. 3-1 England. Kosovo manager also picks up a yellow card for protesting.
36'
Vojvoda takes on the shot after he is passed the ball, however it goes just wide and hits the other side of the netting. Pickford would have probably got to that one anyway if it was on target
35'
Chilwell doesn't seem to be able to hit the target as another shot goes wide!!
34'
An England corner sees Chilwell head the ball towards goal, but it is well high and wide and goes out for a goal kick
30'
Berisha has a shot on the counter, but he has no support and so Pickford easily deals with the ball in, which has no power to it.
29'
After a good run of play, Sterling can't quite make it count after the ball is crossed into the box, Sterling slips and the keeper easily gets to the ball
24'
The corner comes to nothing as Barkley crosses in, but Maguire cannot finish it off
24'
Foul on Barkley means England get a free kick 20 yards outside the box. Barkley takes
22'
England look a lot more comfortable and confident now as they pile on the pressure. Ross Barkley just tries his luck and has a shot but flicks it well wide over the goal.
19'
England now have 16 goals in this competition! The main of them scored by either Kane or Sterling
18'
Raheem Sterling makes a run from the centre circle, passes to Kane in the box, who of course slots the ball past Muric and into the goal. 2-1 England!
18'
HARRY KANE PUTS ENGLAND IN THE LEAD!!!!
16'
Barkley and Sterling have a good bit of play in the box, but their ball is kicked out, only for Alexander-Arnold to cross the ball back in, but his kick is too powerful and forceful and goes out for a goal kick.
12'
Maguire makes a clearance after Vojvoda tries his luck and has a shot at goal after a run of play. Nothing comes of it.
11'
6 foot 5 Kosovo keeper, who plays for Nottingham Forest in the English championship, is decisive and easily catches the ball.
11'
Corner for England after Chilwell dribbles into the box and crosses it, the Kosovo captain clears it out for a corner.
7'
Raheem Sterling gets the goal from a header after the corner is crossed into the box, Keane heads the ball to Sterling, who heads the ball into the back of the net. All level again now
6'
Corner for England after Henderson tries to put the ball into the box and it is cleared
5'
Dream start for Kosovo after getting the early lead. England will need to step up now and try to minimise the damage as much as possible
1'
With a terrible pass from Barkley to Keane, which Berisha intercepts and slots it past Pickford on the left, into the back of the net. Terrible defending from England and playing it out from the back mean that Kosovo get the early lead after 35 seconds!
1'
Kosovo get the scoring underway!!!
Prev.
We are about to kick off!
Prev.
Gareth Southgate's men have scored 14 goals in only three games, and have a perfect record as they prepare to face Kosovo. After playing out draws in their opening two matches, Kosovo have since secured wins over Bulgaria and the Czech Republic to go second in Group A.
Prev.
Kosovo sit just a point behind England in the Group A standings and are yet to lose a game in this qualification campaign. This game could be more challenging than first thought.
Prev.
Gareth Southgate makes three changes from the team that comfortably beat Bulgaria on Saturday. Trent Alexander-Arnold and Ben Chilwell come in for Kieran Trippier and Danny Rose at right back and left back. And there's a start for Jadon Sancho, who replaces Marcus Rashford.
Prev.
Kosovo: Muric (GK); Aliti, Rrahmani, Hadergjonaj, Vojvoda; Hallimi, Voca, Celina, Berisha, Muslija; Verdat Muriqi
Prev.
England: Pickford (GK); Maguire, Keane, Chilwell, Alexander-Arnold; Henderson, Rice, Barckley, Sancho, Sterling; Kane
Prev.
The line-ups are as follows:
Prev.
Join us live for the game against England v Kosovo for the Euro 2020 qualifiers at St Mary's stadium, Southampton. Both teams are at the top of Group A and are battling it out to secure a guaranteed place at the Euro 2020. Can England continue their winning streak?