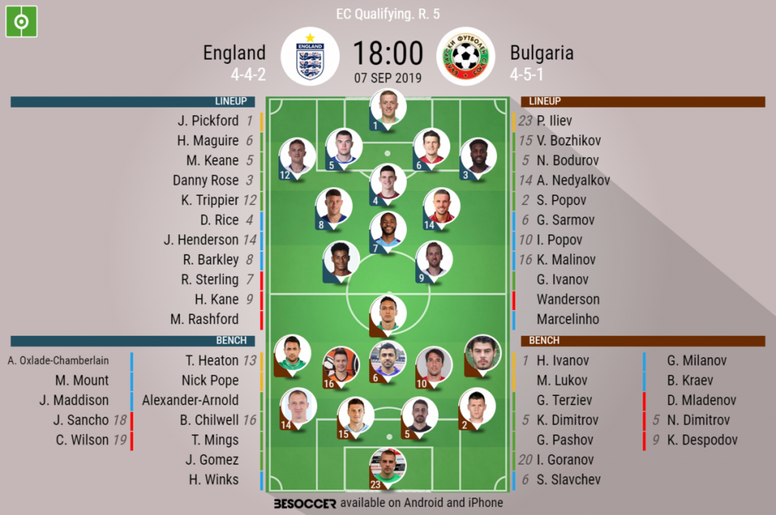 England v Bulgaria - as it happened
92'
Full time! England dominate the game and secure all three points after a 4-0 win over Bulgaria. They have had lots of big wins in the qualifiers, 5-0, 5-1 and now 4-0! Can they be stopped?!
92'
Danny Rose is booked for a pretty reckless challenge on Nedyalkov, this is his second of the campaign, three means a suspension.
87'
Marcus Rashford is denied a goal by Iliev as he uses his pace to get past the keeper. He tries to flick it over the keeper, however it hits him the face and he saves it.
85'
Corner kick for England. Headed away by Dimitrov
84'
Sarmov down after a brave block stops Rashford's shot from hitting the net!
82'
The attendance at tonight's game at Wembley is 82,605
81'
Top scorer in the Bulgarian League Daniel Mladenov is to make his international debut at the age of 32. Off goes Ivanov
76'
Hatrick Harry comes off, Harry Maguire has got the captain's armband and is replaced by Alex Oxlade-Chamberlain, who will be thrilled to return to international duty after 18 months after suffering a serious leg injury
74'
Maguire fouls a Bulgarian man on the edge of the box and they have a free kick. Popov is likely to take. Pickford just manages to get his fingers to it and let it go over the bar for a corner
72'
Kane beats the keeper with an excellent penalty, to the top right corner as his powerful strikes gives him his second England hatrick and allow England to lead 4-0
72'
HARRY KANE GETS HIS HATRICK!!!
71'
Another penalty for England as Harry Kane was fouled in the box as Dimitrov kicks his ankle
70'
Another England substitution as Sterling, who has had an exceptional game and scored the third goal, is to be replaced by number 21, 19-year-old, Jaden Sancho
68'
Mount has a shot from outside the box and tries to impress on his debut, but it goes well wide over the bar!!
65'
Bulgaria change: Marcelinho off and Despodov on up front
65'
Substitution for England as Henderson comes off and number 18, Mason Mount, makes his senior debut for the national team
63'
Change for Bulgaria, Bodurov comes off and centre-back Dimitrov comes on. England absolutely dominating now as Pickford has nothing to do at the other end
60'
England in definite control now!
54'
Rashford makes a run down the pitch, as he has started better this half, passes through to Kane in the box who manages to slip the ball through to Sterling who just slots it easily into the back of the net. Bad defending from Bulgaria means that England are one step closer to securing the three points here.
50'
Corner for England, Barkley takes and it lands on the head of Maguire, who is unchallenged on the edge of the box, but it goes wide.
48'
Harry Kane looks so calm, goes to the keeper's high right and sends him the wrong way. The captain doubles England's lead and the goal is just what they needed after a slow start
48'
Penalty for England as Rashford goes down in the box! Kane to take
48'
Penalty for England as Rashford goes down in the box!
47'
England have a made a slow start to this half. Marcelinho has a shot that Pickford luckily saves as Wanderson gets through the defence and passes to Marcelinho
45'
Second half is under way!
45'
Half time at Wembley as England lead 1-0 after a Harry Kane strike into the back of the net. Bulgaria have been hard to wear down due to having a 5-man defence, however England have been pressing well and being patient to make every chance count.
45'
Really good pressure just before half time earns England a corner. Barkley takes and it lands on Keane's head. That's the last action of the first half as the ref blows the whistle!
42'
Barkley wins a corner as the defender clears his attempt to get the ball into the box. It is cleared further out and Trippier crosses the ball back in, onto the head of Kane, who doesn't quite get enough power on it and the keeper manages to save it
40'
Barkley wins a free kick in the Bulgarian half. Keane fouls in the box as he leans over a Bulgaria man to try and get to the ball.
37'
England are pressing a lot in and around the Bulgarian box, putting a lot of pressure on Bulgaria
35'
Bodurov picks up a yellow card for pulling Rashford's shirt as he gets away from the Bulgarian defence and makes a run down the pitch, being hard to catch. Bodurov will feel this is a small price to pay
34'
Rose crosses into the box after a counter and Kane waits, therefore doesn't get to it. Sterling's touch was a little heavy and nothing came of it as the Bulgarian defence clear.
30'
Popov has a chance after Popov crosses it into the box and Popov doesn't get any power on it and can't angle it right. Easy save for Pickford
29'
Keane gets there just a tad late and catches Marcelinho instead of the ball. Foul and a yellow card. Free kick to Bulgaria
26'
All England now as they are pushing and pushing to get more goals. Sterling is having a great game. There has been no change in Bulgaria's approach since going behind
23'
ENGLAND GO 1 UP! The keeper plays it short to his defenders, where Sterling steals the ball from, passes it through to Kane, who slots it in the back of the net. Hapless defending from Bulgaria in their 18-yard box
18'
Sterling receives a ball through and Harry Kane is ahead of the defence. Perfect ball from Sterling through to Kane, he gets past the keeper and slots it in the back of the net, but he was just offside.
17'
Free kick for Bulgaria in the middle of the pitch as Sterling floors Ivanov
14'
Chance for England, Rose crosses into Henderson who tries to cut the ball around the defender and volley it into the corner. It goes wide.
13'
England are really struggling to get through this solid Bulgarian defence and will need to be patient and wait for a break to get through and try and slot the ball in the back of the net
10'
England have a corner after Sterling runs into the box from the left and crosses it in, but Bulgaria clear for a corner. They also clear the corner up the pitch too.
6'
There is no VAR in tonight's game, just goal-line technology.
5'
Bulgaria has a corner after Maguire clears away. England have a lot to think about here
4'
Pickford has to make the first notable save of the game, after Bulgaria slip through a gap in England's defence and Wanderson tries his luck. Luckily Pickford was there to stop it.
1'
Corner for England as Bozhikov clears the ball in the box from Sterling's reach. The corner came to nothing.
1'
Bulgaria are playing with a back five instead of the expected back four, making their intentions very clear. 5-4-1 is their formation
Prev.
England lost their first-place position earlier today, however beating Bulgaria will correct that and put them back at the top of the Group A table.
Prev.
The teams are coming out and are getting ready to sing their national anthems
Prev.
Jesse Lingard has been sent home for today's game due to illness and will not be called up. Southgate says that the young players may get a start, but that the priority is to win matches and so he cannot just give players caps for the sake of it.
Prev.
England have played 2 less matches than the other teams in Group A and so they are in a very good position going into this, especially having got 5 goals in the last two qualifiers. Bulgaria will need to step up and perform if they want a result here.
Prev.
Bulgaria: Illiev (GK); Bozhikov, Bodurov, Nedyalkov, S Popov; Samov, I Popov K Malinov, Ivanov, Wanderson; Marcelinho
Prev.
England: Pickford (GK); Maguire, Keane, Danny Rose, Trippier; Rice, Henderson, Barkley; Sterling, Kane, Rashford
Prev.
The line-ups are as follows:
Prev.
Join us for the Euro 2020 qualifying match between England v Bulgaria at Wembley. England are in second place of Group A with 6 points, Bulgaria are fourth place with only 2 points and so tonights match will be crucial for them if they want to try and qualify for the Euro's in 2020.