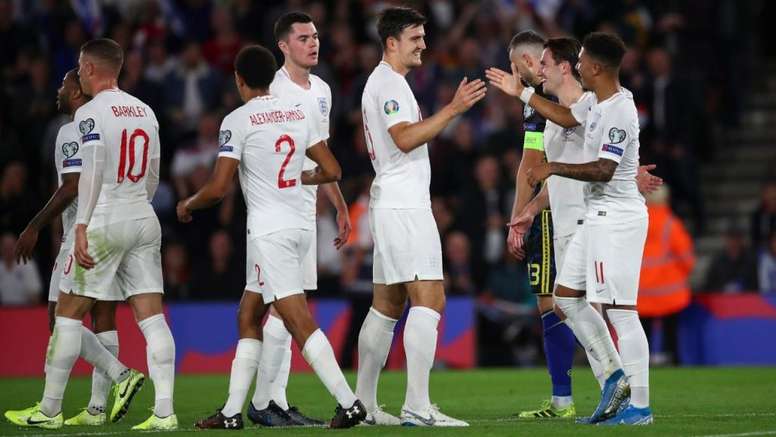 England secure the 3 points after an 8 goal thriller!
In what was a thrilling game from start to finish, filled with goals and a lot of action, England secure the three points against Kosovo to go top of Group A. After this game, Southgate's men have scored 19 goals in only four games.
Before the referee even had chance to properly blow the whistle, Kosovo got the scoring underway, in the 35th second, after some terrible defending. A Ross Barkley pass to Keane is intercepted by Berisha, who slotted the ball past Pickford and into the back of the net. England played out from the back here and it did not pay off for them, as Kosovo got some early confidence in the first few seconds of the game!
7 minutes later England equalised. They were given a corner and Keane headed the ball from the corner straight to Raheem Sterling, who opened the scoring for England as he headed the ball into the goal. It was all to play for again at this point.
At the 16th minute mark captain Harry Kane managed to get on the scoresheet after Raheem Sterling made a run from the centre circle, he passed to Harry Kane, who was in the box and who of course, did not miss, as he slotted the ball calmly past Nottingham Forest keeper Muric to put England ahead and give them some much-needed confidence after going behind earlier on in the game. From this point you could already tell that this was going to be a thrilling game as both sides were battling to get something out of it!
A lot of missed chances, mainly from England saw no more goals until the 37th minute and then it was controversial. Aliti seemed to pick up an injury and went down, there was controversy as England played on, Kosovo didn''t think they should have and Sancho put the ball in the box after some teasing play and Vojvoda just accidentally slotted the ball into the back of his own net, thinking it would not be allowed and play would have been stopped. 3-1 England. Kosovo manager also picked up a yellow card for protesting.
Just a few minutes later the young Jaden Sancho got his first goal for the national team. England countered and Sterling made a great run down the pitch, a pass wide of the box to young Jaden Sancho saw him go one on one with the keeper and just calmly put the ball in the net. Excellent play from Sterling here.
As if this wasn't enough for England, just before half time they had to make it 5-1! Sterling dribbled into the box and the defender's couldn't keep up with him. He passed to Sancho who just casually scored the goal. Sterling had been magnificent this half. Too good to defend against. Kosovo were clutching at straws at this moment, as Jaden Sancho's second goal saw England dominate.
Kosovo came back out very powerfully in the second half and Berisha soon got a goal to try and get Kosovo back into the game. Muriqi composed himself and flicked the ball to Berisha, who was inside the box. Berisha just flicked the ball into the top corner and over the keeper and Kosovo looked to come out fighting here.
Harry Maguire gave away a penalty which saw Kosovo come back 5-3, Muriqi scored the penalty as it went through Pickford, who still managed to get a hand to it. This gave Kosovo a lot more confidence and the game evened out a lot more after this, which left St Mary's stunned at the turn of events. England had a lot more chances and even missed a penalty in the seconf half as Kane's shot was saved by Muric.
England saw the game out and it finished 5-3 in what was a magnificent 8-goal thriller. St Mary's seemed a little stunned at tonight's events as this was a game that was very hard to comprehend. England have now gone 10 years without defeat in a qualifying match. Kosovo will go away extremely disappointed with the result as they fought hard until the end to get something out of the game. Gareth Southgate will not be happy with the way his team gave away goals and a penalty. Give Kosovo a lot of credit as they fought hard, did not compromise and came back. England were left victorious here and remain at the top of the Group A table.