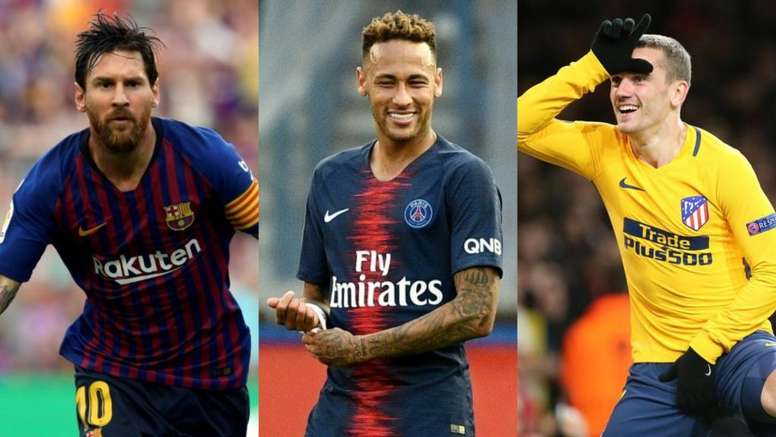 'El Mundo': Messi asks for Neymar and wants Griezmann sold in deal
It seems like Barcelona are making this even more complicated. Because, in addition, according to these sources close to the Barca board, Messi's wish would be for Griezmann part of the equation and what he says goes at the Camp Nou.
The Argentine has apparently suggested to the president, Josep Maria Bartomeu, the desire of bringing the Brazilian star back to the club. Neymar still has a very good relationship with the majority of the dressing room being favourable to his return and that Neymar himself is apparently more convinced to return two years after his departure.
Messi has also apparently let slip that he is not precisely enthusiastic about the possibility of Antoine Griezmann signing for the club. That signing seems to be agreed and it will be agreed on when his buyout clause drops from 200 million to 120 million euros at Atletico Madrid. This is from 1st July.
What is Barcelona's solution to this? They can include the Frenchman in the operation. And that would mean making PSG take on Griezmann and that way Neymar may be able to leave for a much more affordable amount.
Now Nasser Al-Khelaifi has assured that the door is open for Neymar to leave, it would be a very good reason to sell him. Although, of course, two things would be left to sort out: Thomas Tuchel's side would have to want Griezmann and the world champion would be open to moving there.
For the time being, 'Le Parisien' informed that as of now no formal offer has been sent to PSG for the Brazil striker.
And that would not be the end of the matter. They would have to find the way to finance Neymar's very high salary, close to 40 million euros.
In addition, there is a court case open against him as well as Neymar's constant injuries and off the field issues. In the two seasons in France, he has missed the key moments in the Champions League and has recently been in the headlines for the wrong reasons.
Currently, he is recovering from an ankle sprain which has deprived him of the opportunity to play for Brazil in the Copa America.