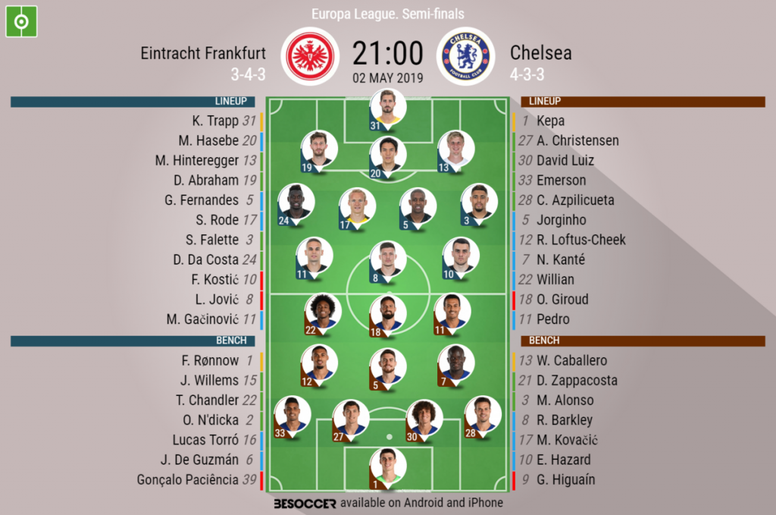 Eintracht Frankfurt v Chelsea - as it happened
Eintracht Frankfurt

Chelsea

96'
FT: Frankfurt 1-1 Chelsea!! Full time here in Frankfurt! An even first period with goals for Jovic and Pedro was followed by 30 minutes of Chelsea dominance before Frankfurt finished the stronger. Chelsea have the slight advantage as they don't have to score and have the second leg at home, but it's all to play for next week in West London. This was a fair result, in my view. Thanks for your company and enjoy the rest of your evening!
96'
Chelsea look for one final ball in which doesn't happen as there is a lack of communication between Azpilicueta and Giroud.
95'
Pedro counters and looks for Giroud, but his pass is cut out.
94'
Giroud is caught offside from a free-kick taken by the goalie. Marginal.
93'
Both teams trying, but no goalmouth chances so far in injury time.
92'
Frankfurt sub: Gacinovic off, Willems on.
91'
Giroud gives a Frankfurt player a shove from behind in his own area and is penalised.
90'
Five minutes of stoppage time. It looks this will end 1-1 as Frankfurt have picked up in the last 10 minutes.
89'
Free kick to Jovic for a foul on Pedro near the corner. LIke a short corner. Nothing from it.
87'
Pedro is down after getting a blow in the face. He is up now. Abraham caught him.
85'
Frankfurt almost score after a defensive calamity and the defence manage to clear the danger.
85'
Frankfurt get a corner! And Abraham heads over the set-piece at the far post! He should have hit the target. Rode took the corner.
83'
Chelsea sub: Kovacic replaces Loftus-Cheek who has played very well.
81'
What a chance for Frankfurt! Da Costa beats David Luiz down the far side and Paciencia is unable to get his toe on it at the far post. The flag had gone up, but I'm not sure he was offside.
78'
Kostic gets a corner! From the corner, Frankfurt claim for a pen for a handball by Giroud after a Frankfurt player charges down a clearance. It hits his chest. Good decision.
77'
Hazard launches in a free-kick and Luiz heads it straight at Trapp! Another good chance.
74'
Great save by Trapp!! He fires a powerful left footed shot after Kante feeds him and the German makes a brilliant save. Hazard then tries to score from the rebound, but Hinteregger deflects it for a corner.
73'
Frankfurt sub: Fernandes makes way and G Paciencia comes on.
72'
Hazard looks to foul Abraham from behind, but the ref gives a throw-in! Then Giroud fires wide. Abraham isn't happy.
71'
Pedro has the ball in the area, but is quickly dispossessed. They are still trying.
69'
If anyone will score here, it will be Chelsea. The hosts have done next to nothing in attack since the break.
67'
Emerson wins a corner kick! All Chelsea.
66'
Penalty shout for Chelsea not given! Giroud can't believe it! He gets the ball with his back to goal and his arm is pulled and he tries to turn, but I think there is not enough in it. He is already on his way down. Took a chance though and it was right in front of the extra man.
64'
Jovic's pass for Kostic is way too strong and it's a goal kick.
63'
Giroud receives in the area, chests it down and gets a corner!
61'
Chelsea sub: Hazard is on now! Willian leaves the field.
61'
Fernandes is booked for a challenge from behind on Loftus-Cheek.
60'
It was actually a corner as the GK got fingertips to it, but the corner couldn't beat the first man.
59'
Luiz to try from 25 yards out. He hits the bar! His free kick goes over the wall and cannons off the bar before going over.
58'
Willian is hacked down by Kasebe and sees yellow! Chelsea have a free-kick in a great position here.
57'
Willian hits at Trapp from inside the D! Loftus-Cheek was the one who passed it to him. Chelsea stronger now.
54'
What a miss by Chelsea! It all starts deep in their own half, Loftus-Cheek makes a fantastic run down the middle, turns past a defender and plays a one-two with Pedro before Loftus-Cheek's strike flicks the top of the bar and goes over.
52'
Da Costa fouls Luiz. Boos from the crowd.
51'
Both players are back and play resumes. Jorginho has a bandage.
50'
Rode is not bleeding, but looks dazed.
49'
Jorginho has a cut to his head.
48'
Nasty clash of heads between Rode and Jorginho! The ref stops play immediately. Both players had their eyes on the ball.
47'
Emerson finds Loftus-Cheek in the box, he then reaches the by-line and cuts it back to Emerson who has to dodge the referee and cannot get a shot off.
46'
Early foul by Jovic in midfield.
46'
Welcome back everyone! Frankfurt have got us back underway! No changes.
45'
HT: Frankfurt 1-1 Chelsea!! Half-time in an entertaining and even game. Jovic gave the hosts halfway through the first half before Pedro equalised right on the interval when the away side were finishing the stronger. Both teams could easily score more goals. Jpoin us shortly for the second half!
45'
One minute of added time. That goal was coming.
45'
Pedro equalises! Willian puts the corner in, it is half cleared by a Frankfurt head (Falette), Christensen chests it down for Loftus-Cheek, who finds Pedro. The Spaniard then beats Trapp at his left hand corner.
43'
Willian makes an amazing run from the far side into he area, he megs Abraham and Da Costa then clears the pass to a teammate for a corner.
42'
Loftus-Cheek shoots from the edge of the area after cutting inside and it just shaves Trapp's right hand post. He had forced a corner 30 seconds before that.
41'
Giroud tries to lay it off for Loftus-Cheek inside the box, but Hinteregger clears!
38'
Chelsea win a corner and then Giroud wants a penalty for a shirtpull! It was actually he who was pulling Hinteregger. The ref rightly gives Frankfurt a free-kick.
37'
The cornner is taken short and Gacinovic wins another. The second one is again taken short. No success.
36'
Dangerous free-kick here for the home side after Jorginho fouls Gacinovic! The ball in is headed for a corner.
35'
Willian fires wide now for Chelsea! Was never troubling Trapp that.
33'
Top intervention by Hasebe! Loftus-Cheek makes a dangerous run down the middle, he passes to Willian who then tries to cut inside and Hasebe knocks it out for a corner. Nothing came from it.
32'
Chelsea want a handball just outside Frankfurt's box, but nothing given. Too close.
30'
Frankfurt had another good ball in cleared in the last couple of minutes. They are playing very well.
27'
Pedro fires just wide for Chelsea! It just goes past Trapp's left hand post!
25'
Another dangerous run by Kostic! He passes to himself to beat Azpilicueta, but Christensen dispossesses him just as he is about to enter the area. Frankfurt are on a high.
23'
Frankfurt take the lead! Luka Jovic scores! Terrible defence by Chelsea to stupidly lose the ball and Frankfurt break! After a couple of passes, Jovic breaks down the middle, he passes to Kostic on the near side before his excellent cross is headed in by Jovic into Kepa's bottom left hand corner. Superb!
21'
Good opportunity! Kostic's delivery takes a couple of deflections before the ball breaks to Abraham at the far post who hits it over the bar.
20'
Christensen goes in the book after a very strong on Rode down the near flank. Clear.
18'
First chance! Good build up play by the hosts! Kostic's ball in beats all the defenders, then Rode and Gacinovic play quick one touch football to find Da Costa. Unfortunately for Frankfurt, Da Costa's effort is hit straight at Kepa.
16'
Kostic has a go from distance and a Chelsea defender blocks it! The goalies have had nothing to do so far. Da Costa made a super run down that far side again. He is looking sharp.
13'
Abraham makes a nice run down Arsenal's left, he finds Da Costa and the move ends when Kostic tries to volley the cross into the net with his left foot, but cannot connect.
11'
Loftus-Cheek looks to find Pedro, but his pass is too strong and it runs out for a goal-kick.
9'
Emerson looks for a teammate in the area and Abraham clears away.
8'
Good play by Frankfurt again! Jovic and Kostic link up, Jovic turns just inside the area looking for a gap to emerge, he then passes to Kostic whose cross to Costa is overhit.
7'
Falette sends in a cross from the near side to the far side, but Da Costa is unable to turn it towards goal!
6'
Giroud is penalised for a handball in Frankfurt's half.
4'
Another cross is put in and cleared by the Frankfurt defence. Good start by the away side.
2'
Corner for Chelsea early on which Azpilicueta wins! Taken short and then Willian's cross is blocked by a defender for a throw in
1'
Chelsea get us underway in yellow! Enjoy!
Prev.
Abraham and Azpilicueta have shaken hands! This is going to start.
Prev.
16 degrees and dry. Frankfurt are unbeaten in their last 11 home games in Europe.
Prev.
The players are out on the pitch! Chelsea in yellow! There's an electric atmosphere here in Frankfurt! The hosts haven't been this far since 1980!
Prev.
Chelsea got a 1-1 draw at Man U last Sunday. Rudiger picked up a knee injury and is out of season so Christensen plays. Emerson is in instead of Alonso at left back. Hazard, Higuain and Kovacic drop to the bench whereas Loftus-Cheek, Giroud and Pedro start.
Prev.
Frankfurt drew 0-0 at home to Hertha Berlin on Saturday. They make two changes tonight. Falette and Gacinovic replace Jonathan de Guzman and Rebic, who is suspended.
Prev.
Chelsea have had an easier route to this stage. They have knocked out Malmo, Dynamo Kiev and Slavia Prague.
Prev.
Frankfurt are the surprise package of this tournament. They have knocked out Shakhtar, Inter and Benfica to reach this stage. Against Benfica, they scored a goal which was clearly offside.
Prev.
Carlos del Cerro Grande from Spain is the referee for tonight's match. There is no VAR inexplicably so let's hope there is no controversy.
Prev.
Chelsea team: Kepa (GK); Emerson, Christensen, David Luiz, Azpilicueta; Loftus-Cheek, Jorginho, Kante; Willian, Giroud and Pedro.
Prev.
The teams are in! Frankfurt XI: Trapp (GK); Hinteregger, Hasebe, Abraham; Falette, Fernandez, Rode, Da Costa; Kostic, Jovic and Gacinovic.
Prev.
Good evening and welcome to our live coverage of Eintracht Frankfurt versus Chelsea from the Commerzbank Arena. Will Chelsea take a lead going into the second leg or will the hosts surprise once again? Stay with us!