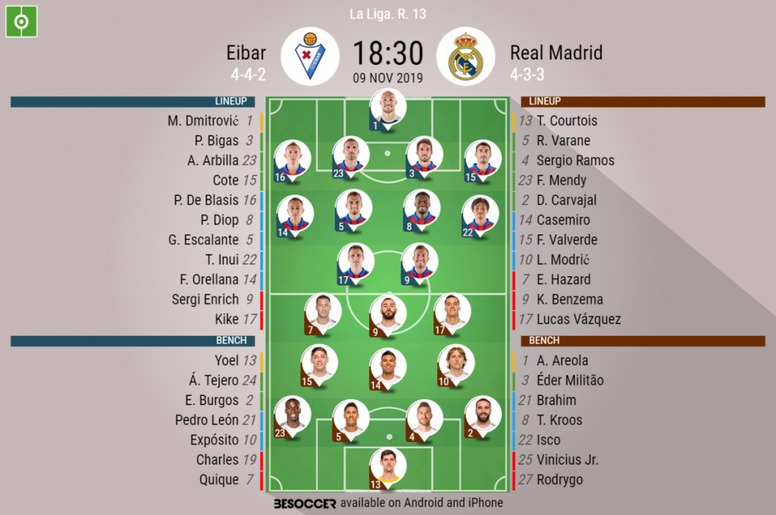 Eibar v Real Madrid - as it happened
Eibar

Real Madrid

92'
FT: Eibar 0-4 RM!! It's all over at the Ipurua! The damage was done in the first half through Benzema (2) and Ramos. RM calmed down in the second half and Eibar had the odd attack, but Courtois only had to make one save in the whole game. Fede Valverde managed to make it 0-4 just after the hour mark, his first La Liga goal. RM are back top, but that will only last a couple of hours if Barca win later. This was no contest, but we hope you enjoyed all the same. Thanks for joining us!
92'
Edu Exposito attacks looking for a corner and it was a clear corner off Casemiro, but the ref gave a goal kick.
89'
Both teams just waiting for the final whistle here.
87'
We have yet to have a card in this match!
86'
Exposito!!! He shoots from inside the box and Courtois has to mkae a great save to his right to tip it for a corner!
81'
RM sub: Brahim on for Vazquez.
81'
Eibar double sub: Diop and Kike off, Charles and Exposito join us.
78'
Inui sees his ball in cleared and on the counter, Vinicius is picked out, he gives it to Benzema and Vazquez is very close to making it 5! Fantastic defending by Bigas to block the shot.
76'
Vinicius nutmegs De Blassis to progress down field! That's brilliant play. It leads to nothing though.
74'
Eibar are trying to get a consolation, but Courtois has had nothing to do. Ramos has just headed away from a ball in from RM's right. This hasn't been a contest to be honest.
71'
Double sub: Valverde and Hazard off, Vinicius and Isco on.
69'
Eibar get another chance from a similar position two minutes later. The free-kick is overhit and beats everyone though.
67'
Free-kick to the hosts near the box after a handball by Vazquez. Diop tries to get on the end of Leon's free-kick and then Inui smacks home the rebound.
66'
Eibar attack through Inui, but Courtois easily catches.
65'
Eibar sub: Orellana off, Pedro Leon on.
64'
Benzema hits over the crossbar now!
61'
It's 0-4!!! Valverde scores! Mendy's cross goes to Modric on the far side, he then takes his time before finding Valverde and the Uruguayan smacks it into the corner from the edge of the box. That's his 1st La Liga goal.
60'
RM taking a bit more time from the goal kick now just to break Eibar's momentum a bit.
56'
Eibar want a penalty for handball!! Enrich heads the cross towards onto Carvajal's arm, but it's too close.
55'
He goes for the ball with Enrich and I think he plants his foot badly.
54'
Casemiro is getting treatment here on his leg.
51'
Enrich is caught offside.
50'
De Blasis! He is fed the ball on this touchline, he goes past Mendy before curling shot narrowly wide of the far stick.
49'
Eibar having some good possession in RM's half now.
46'
Lovely flick on from Benzema's boot and Hazard hits wide from outside the box. It takes a deflection so it will be a corner.
46'
Welcome back! We are back underway!
45'
HT: Eibar 0-3 RM!! Half-time at Ipurua and except injury time, it was all RM! Benzema put Real ahead after 12 minutes before Ramos scored a pen two minutes later and then Benzema made it 0-3 from 12 yards just before the half-hour. Eibar had a couple of chances in injury time, but they have hardly been able to do anything. Join us for more in a bit!
45'
Enrich!!!! Eibar threatening again! Cote goes down this near flank and he sends in a lovely ball, but Enrich heads wide.
45'
What a chance for Escalante! A free-kick comes in from Orellana and Escalante hits over from a tight angle!
44'
Enrich has picked up an injury to his hand.
42'
Real Madrid are passing the ball around now and don't seem in any great hurry to score again before half-time. Eibar are able to pass, but nowhere near the RM goal.
38'
Benzema!!! What a chance for the Frenchman! Cote loses the ball by the near touchline and Vazquez gives Benzema the ball, but his shot goes across the goal!
34'
Real Madrid are absolutely cruising.
32'
It comes to nothing though.
31'
Eibar finally win a corner!
31'
Shots: 1-5, on target: 0-4.
30'
Mendilibar, the Eibar coach, said pre-game his team could concede six, like Galatasaray, if they aren't concentrating. They could well concede six.
29'
And he scores! He puts it in exactly the same place as Ramos and the GK went the same way (the wrong one).
28'
VAR are checking the move, but it's given the all clear. Benzema to take this time.
27'
Another penalty to RM! It's Cote, the guilty party. There is clear contact on Vazquez. The home crowd aren't happy. It's a pen though.
25'
Lovely play by Rm again! A rabona by Hazard included!
24'
De Blasis looks for Kike in the box with a long pass and Kike can only knock it wide. Eibar finally attacking. They don't really have a choice.
22'
Hazard wants a foul in the D by Dmitrovic! It could be last man, but the ref isn't interested! He was going towards the side and there wasn't much contact.
21'
Escalante!!! He tries his luck from 35 yards and even though Courtois dives to his left, it goes wide of the post.
20'
It's an uphill task for the hosts now,.
19'
Ramos stutters in the run-up before sending Dmitrovic the wrong way! 0-2! Good pen.
18'
Penalty to RM! Hazard is tripped in the box by De Blasis. Clear.
17'
RM score through Benzema after pinball! Benzema gets into the box, he spots Valverde in the D, a defender hits it against him and the ball breaks to Modric. His shot is saved by the keeper and after a bit of pinball, Benzema hits it into the far corner from an angle.
14'
It's all RM so far here. Eibar have yet to threaten Courtois' goal.
12'
Corner for RM after Cote heads Mendy's cross away. RM are targeting Eibar's right.
10'
What a save by Dmitrovic!!! Hazard plays a lovely scoop pass to Benzema inside the six yard six and Dmitrovic makes a stop from point blank range!
9'
Escalante is finally up and we resume.
7'
Mendy has got blood in his mouth, but the Eibar man looks to have come off worst. He is talking, but seems to have a cut to his nose. More face to face rather than head to head.
6'
Escalante is down after an accidental clash of heads with Mendy on the edge of the box. They were running and didn't see each other.
5'
Eibar have to clear away another Vazquez ball into the area. Good start from the visitors.
4'
Hazard runs down the middle and Vazquez is dispossessed by Cote in the box!
3'
Chance for Benzema!! He hitsthe far post after Modric's pass, but the flag is up.
2'
Eibar have a good spell of possession which comes to nothing and at the other end, Mendy's cross beats everyone and goes out for a throw.
1'
Eibar gets us going from right to left! Both teams in their usual kits.
Prev.
Escalante and Ramos shake hands in the middle!
Prev.
The players make their way out here in the Basque Country where it's raining!
Prev.
It's an overcast day in the Basque Country and it's just 12 degrees.
Prev.
RM make just one change from the 0-0 draw v Betis. Kroos is replaced by Fede Valverde.
Prev.
Eibar make one change from the match at Butarque. Bigas replaces Oliveira in defence.
Prev.
14th v 3rd. 15pts v 22pts.
Prev.
Eibar won 1-2 at Leganes in their last fixture.
Prev.
Real Madrid won 6-0 in the Champions League v Galatasaray in midweek when Rodrygo got a hat-trick. Their last league game was a 0-0 draw v Real Betis.
Prev.
Adrian Cordero Vega is the referee for this one and Jose Luis Gonzalez Gonzalez is the VAR.
Prev.
Real Madrid XI: Courtois (GK); Mendy, Varane, Ramos, Carvajal; Valverde, Casemiro, Modric; Hazard, Benzema and Lucas Vazquez.
Prev.
Eibar XI: Dmitrovic (GK); Cote, Bigas, Arbilla, De Blasis; Inui, Diop, Escalante, Orellana; Enrich and Kike Garcia.
Prev.
Good afternoon and welcome to live coverage of the La Liga clash between Eibar and Real Madrid from the Basque Country. Real Madrid will go back top with three points here!