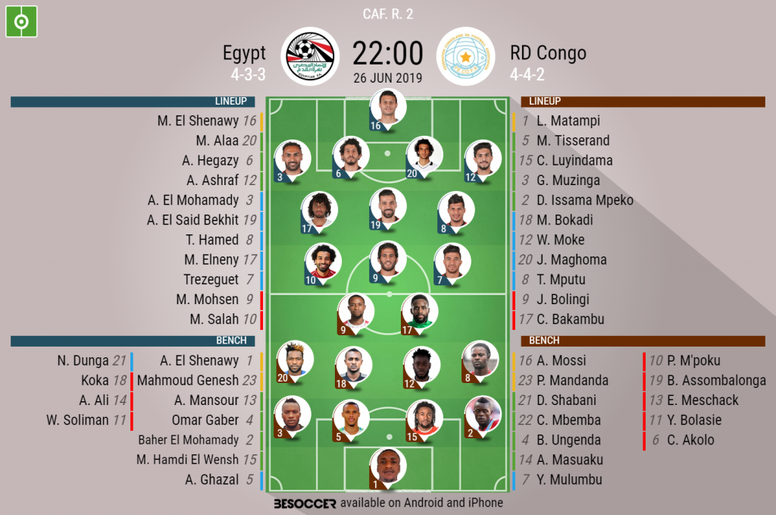 Egypt v DR Congo - as it happened
Post.
Egypt win!! It was by no means a vintage performance from the hosts, but the difference was that they were clinical whilst DR Congo were wasteful. Thank you for joining our live coverage - see you again next time!
90'
Huge chance for Bakambu! El Shenawy flaps at a high cross from the right and the ball falls to Bolasie. He curls a ball into the middle, which Bakambu flicks over from all of six yards out. They've had their moments, DR Congo...
90'
Four minutes of added time here in Cairo.
88'
Salah looks to lead a one-man counter attack, but is well marshalled by Issama who snuffles out the danger.
87'
And, moments after coming on, Ghazal enters the book for a cynical challenge.
84'
The impressive Trezeguet trots off and is replaced by Aly Ghazal for Egypt.
82'
After a rather long wait, Bolasie looks to curl his effort across goal and into the corner but it flies just wide of the post.
80'
Alaa pulls down Bakambu as he looked to stride into the box and through on goal, and receives a yellow for his trouble. Big chance for DR Congo from this free-kick...
78'
Congo again look dangerous in the air, but a header back across goal from a corner is scrambled away by Egypt.
75'
Great save from El Shanawy!! Bolingi rises highest and powers a header towards goal after a cross from the right, but the Egypt keeper gets down quickly and pushes it away.
74'
Bakambu spins and fires towards goal from the edge of the box, but it's straight at the keeper once again. Not been the forward's night.
72'
Egypt dropping deeper here, but DR Congo still not causing them too many problems in possession.
68'
Mohamed Elneny receives a yellow for a poor, scissoring slide tackle that could've been deemed as a red on another day. Almost unrecognisable without his dreadlocks, the Arsenal midfielder.
68'
El Said, who's been quiet tonight, makes way for Walid Soloman.
67'
Chance for Hassan! Salah slides the sub in down the right of the box, but he fires his effort wide of the near post.
65'
Another half chance for DR Congo as Bolingi receives a quick throw down the left from Ngonda, but he tries to find the near post from a tight-angle and it hits the side netting.
64'
A familiar face enters the fray as Yannick Bolasie replaces Bope.
63'
Trezeguet tries his luck from distance, but blazes high and wide off-balance.
61'
Congo aren't letting Egypt settle, but their problem lies in the fact that they themselves aren't doing much when they win the ball.
59'
Egypt make their first sub as Mohsen makes way for Ahmed Hassan.
58'
Ah you hate to see it...Ngonda flies into Said with his studs up and catches him right between the groin...ouch. The DR Congo left-back gets a yellow card for his challenge.
56'
Strange goalkeeping from El Shenawy as, uncontested, he elects to punch an Ngonda cross clear with one hand rather than try to catch it.
54'
Half-chance for Bakambu! Maghoma fires in a dangerous low cross to him from the left but, facing his own goal, he gets in stuck in his feet and Egypt clear their lines.
52'
The roar every time Salah touches the ball is noticeable here...Egypt's talisman twice finds space on the turn within a minute, but DR Congo manage to scramble behind after Salah slid a pass to Trezeguet who was bursting into the area.
51'
Egypt happy to slow the game down here, with Congo pressing and committing fouls as they look to mount an unlikely looking comeback.
48'
Substitute Meschak tries a curling effort from the left side of the box, but it lacks power and is comfortably held by El Shenawy.
47'
Salah tries a shot on the edge of the area but it's well blocked...you sense that Egypt will have spaces on the break in this second half.
45'
Change at half-time as Elia Maschek comes on for Mputu.
45'
HT: EGYPT 2-0 DR CONGO. The hosts have a two goal lead at the break thanks to Elmohamady and Salah, but it wasn't all one-way traffic with Congo hitting the bar twice. Can The Leopards mount a second half comeback? See you in 15 to find out...
44'
Just as I was talking about Salah's lack of impact on this game, he pops up with a moment of magic to shut me up - it's what the big players do...
42'
GOOOOOOOOALLL! WHAT A GOAL! Trezeguet sets off on an incredible run from his own half after another cheeky nutmeg before sliding in Salah down the right. Salah cuts inside, throws a couple of dummies and fires a powerful finish back towards the near post. Egypt have breathing space!!
39'
DR Congo hit the bar again!! Mputu flicks a deep cross from the left back across goal towards Bolingi, who rises highest and glances a tough header onto the right side of the crossbar. Unlucky for The Leopards, but the hosts get away with one again.
38'
Another poor ball towards Salah, this time from Ashraf, leaves the forward cutting a frustrated figure up front.
36'
A lovely touch from Salah starts a promising Egypt attack, which ends with a cross drifted over from the right that sails behind for a goal kick.
35'
Congo enjoying more time in Egypt's half now, but struggling to really carve the hosts' defence open.
32'
Mputu swings a teasing ball to the back post, which Tisserand is just inches away from reaching and turning home.
31'
DR Congo's turn for a free-kick in a dangerous position now as Elmohamady wrestles with Maghoma.
30'
Salah opts for power and shoots towards the keeper's side, but Matampi does well to push the ball far away from his goal.
29'
Bope receives a yellow for his foul on Trezeguet. Salah is lining up this free-kick...
29'
More dangerous running from Trezeguet sees him tripped on the edge of the Congo area...didn't seem to be too much in that one.
27'
Egypt have their tails up here! Trezeguet starts a dangerous counter attack, but Mohsen badly underhits a through ball to Salah that would've put the Egyptian through on goal and Issama recovers.
24'
GOOOOOALLL! Egypt are ahead!! Salah cuts inside from the right and his cross sparks a game of pinball in the middle, before Elmohamady shows the instinct of Raúl in his prime to take a quick touch and poke a volley home from around the penalty spot.
22'
Another tough foul on Trezeguet, with DR Congo certainly not holding back on Egypt's most promising threat today.
21'
A heavy touch from Salah on the edge of the area, who tries to worm his way through but to no avail. Not been his tournament so far.
18'
Neither side is doing a particularly good job of keeping the ball in the opening 20 minutes, with DR Congo certainly not just here to play the role of polite guests.
15'
Speak of the devil...Salah is almost allowed through after a heavy touch by Tisserand, but the defender recovers in time to scramble clear.
14'
As you may have noticed, lots of the play has been focused down the left so far. Apart from his early chance, Salah has been very quiet over on the right wing.
13'
A cheeky nutmeg from Trezeguet on the left gets a roar from the crowd, but the winger is dispossessed soon after as he looked to beat Issama down the wing.
11'
A good spell of pressure here from The Leopards, who already look a much more cohesive unit than they did against Uganda.
10'
Close for DR Congo!! A corner from the right is flicked on across goal, before being scrambled onto the bar at the back post by a combination of Tisserand and an Egypt defender.
7'
Moke tries an early cross towards danger man Bakambu from the right, but it's deflected behind for a corner.
5'
For the second time already, Trezeguet is chopped down as he looks to start a mazy dribble down the left. He looks a tricky player, Egypt's number 7.
3'
Big chance for Salah!! The LIverpool star latches on to a ball over the top and is through on goal, but Tisserand gets a vital touch on his shot and forces a corner.
2'
First shot of the game is a Congo one!! Mputu tries a volley from the edge of the box as Egypt struggle to clear a long, straight ball forward, but it flies straight into the hands of El-Shenawy.
1'
Electric atmosphere early on here as Trezeguet charges forward towards the Congo box, but he's crowded out and the ball is cleared.
Prev.
DR Congo, shooting from left to right, get us underway in Cairo!
Prev.
A quick word on the heat in Egypt...it is currently 32 degrees Celsius at 22:00...
Prev.
A packed Cairo International Stadium rises for Egypt's anthem...
Prev.
The teams are out on the pitch and lined up for the national anthems.
Prev.
We have a full house at the Cairo International Stadium as the atmosphere continues to build with under half an hour until kick-off...
Prev.
DR Congo, meanwhile, were disappointing to say their least as they limped to a shock 2-0 defeat against Uganda in their first match. This makes tonight's match virtually a must-win for 'The Leopards if they are to progress to the knockout rounds, but they face a tough task against the tournament favourites.
Prev.
Egypt kicked AFCON 2019 off with a nervy 1-0 win against Zimbabwe last Friday, and although they showed glimpses of their threat going forward, 'The Pharaohs' will be hoping for a much improved performance tonight without the expectancy and pressure that comes with a tournament opener.
Prev.
For DR Congo, their Premier League stars Yannick Bolasie and Arthur Masuaku drop to the bench, as does ex-Newcastle defender Chancel Mbemba. Cedric Bakambu, who has scored 32 goals in 41 games since movign to Beijing, will lead their line as they hope to stun the hosts in their own backyard.
Prev.
So, hosts Egypt will once again be looking to global superstar Mohamed Salah as their main threat going forward. The Liverpool man starts on the right of a front three that includes Marwan Mohsen and last week's match-winner Trezeguet. Amr Warda is notably absent after being kicked out of the squad amidst sexual harassment allegations.
Prev.
DR Congo: Matampy; Issama, Luyindama, Ngonda; Bopé, Mputu, Moke; Maghoma, Bakambu, Bolingi
Prev.
Egypt: El Shenawy; Elmohamady, Hegazi, Slaa, Ashraf; Elneny, El Said, Hamed; Salah, Mohsen, Trezeguet
Prev.
With 40 minutes until kick-off, let's take a look at how both teams are lining up tonight...
Prev.
Good evening and welcome to live coverage of tonight's Africa Cup of Nations clash between Egypt and DR Congo.