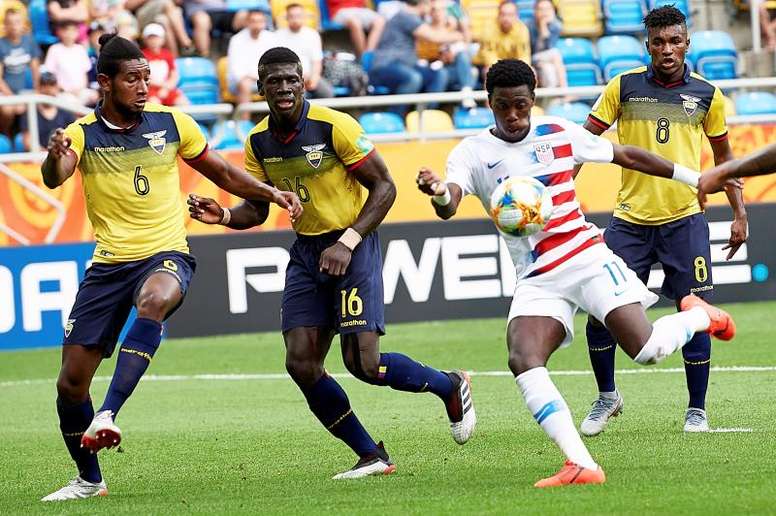 Ecuador down USA in historic victory
Ecuador's U20s have qualified for the semi-finals of the World Cup for the first time ever. But Jorge Celico's men have achieved it by beating one of the candidates to win the tournament.
The first half was exciting with both teams playing attacking football. Only injuries stopped the flow of the game, but despite that, it was a breathless first period.
Ecuador struck the first blow with a great strike by Cifuentes which Ochoa could not save. USA reacted well to going behind and just six minutes later, in the 36th minute, they equalised.
It was from a corner when Tim Weah scored from the rebound. George Weah's son made no mistake and levelled the scores.
And before half-time, Ecuador went back in front. This time, they had to wait a bit before they could celebrate. Espinoza got the ball from Campana and he finished from inside the six yard box. The referee disallowed the goal, but the VAR intervened to put Ecuador 2-1 up. That ended up being the winning goal.
Ecuador in the second half, far from sitting on their lead, tried to increase it. They were close to sealing the victory with a header by Alvalado, but Ochoa made a fabuolous save to avoid what would have been Ecuador's third goal.
Celico went for a more conservative formation in the final few minutes of the games to resist USA's charge forward in search of an equaliser. They managed to stop them and Ecuador even had a couple more chances to kill off the match, but Ochoa prevented the third Ecuador goal.
USA fell just short without even being able to test Ramirez because of the solid Ecuador defence. Ecuador are deservedly in the semi-finals of the Under 20 World Cup.