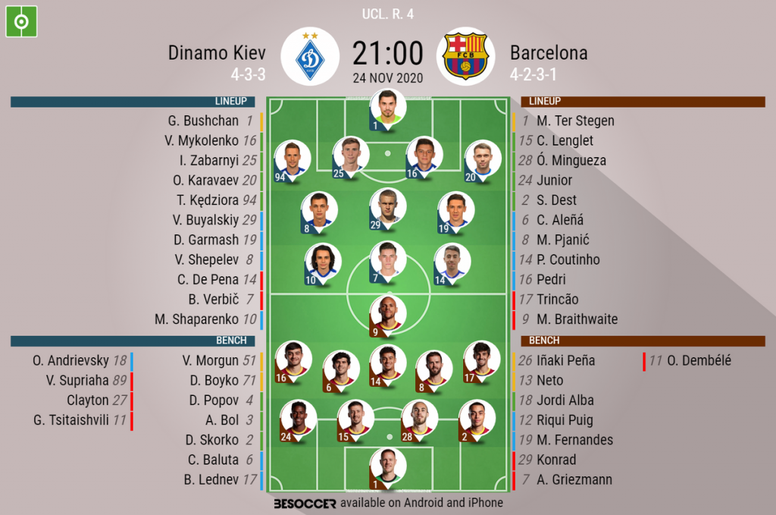 Dinamo Kiev v Barcelona - as it happened
Dinamo Kiev

Barcelona

Post.
That's all from us. Thanks very much for joining us and see you again very soon!
93'
FT: D Kiev 0-4 Barca!! All over in Kiev and it was a brilliant second half display by Koeman's men. Kiev put pressure early on, but once Dest scored, there was no way back. Braithwaite got a brace (the second from the spot) and Griezmann found the target right at the end. Kiev were outclassed in the second 45 and they are now out of the CL while Barca are top with 12 points and into the last 16 with two games to spare.
92'
Griezmann scores!! 0-4 now!! Lovely quick passing involving Alena, Puig and Griezmann and the Frenchman's strikes finds the back of the net! Nice team play.
91'
Three added minutes and Griezmann is denied by the keeper from close range!! Good save by Bushchan.
89'
Dest!! The Barca man dribbles with the ball towards the D before firing over.
88'
Buyalskiy's shot is deflected by Junior and it's a corner.
86'
Barca are just keeping the ball here in Kiev's half.
83'
Barcs sub: Konrad on for Trincao.
83'
Kiev sub: Shepelev is replaced by Baluta.
82'
Verbic puts the ball in the back of the net, but it's disallowed.
80'
Barca comfortable here and the tempo of the game has understandably dropped. Corner for the visitors.
77'
What's Puig doing!!! Barca threaten down this near side, Dest cuts inside and passes for Puig in the middle who blazes over.
76'
Good counter by Kiev looking for Verbic in the middle, but he just can't reach it. He was offside anyway.
73'
Barca sub: Matheus Fernandes makes his first team debut! Pedri is the man replaced.
71'
Kiev double sub: Supriaya and Shaparenko on for De Pena and Lednev.
70'
Braithwaite scores again!!! The Dane hits to Bushchan's right, the GK goes the right way, but it's right in the corner!
69'
Popov is booked for the push.
69'
Penalty to Barca after a foul on Braithwaite!! Popov pushes him from behind after a lovely volleyed pass by Alba for Braithwaite in the middle. Clear spot kick.
67'
Kiev are caught offside now.
66'
Barca triple sub: Griezmann, Alba and Puig come on. Puig is making his CL debut! Pjanic, Coutinho and Lenglet make way.
65'
De Pena!! What are you doing?? Lovely play down the far side by Verbic, he passes for Buyalskiy who feeds De Pena to his left and the Uruguayan completely miscues it.
64'
Junior's ball into the area is headed away by Popov.
63'
The first goal knocked the wind out of Kiev's sails and the second even more so.
60'
Kiev double sub: Karavaev and Garmasho off, Popov and Andrievsky on.
59'
A cross is turned behind by Junior for a corner.
58'
As it stands, D Kiev will be out of the CL and Barca will be in the last 16 with two games to spare.
57'
Braithwaite makes it two!! Alena's corner is flicked on at the near post by Mingueza and Braithwaite, unmarked at the far, hits home with his foot from two yards. In control now.
56'
Barca definitely much better now and they win a corner.
54'
Trincao is in this time, but he cannot finish the move!
52'
Dest scores for Barca and that's cruel on the hosts! Dest starts the move, he passes to Pedri (I think) who then gives to Braithwaite, he then touches the ball into the American's path and Dest hits across the goalie into the far corner.
51'
Mingueza!!!! Another dangerous move by Kiev. Shaparenko passes to Buyalskiy on his right and the pass for Verbic in the middle is cut out by Mingueza. That was a clear goalscoring opportunity.
49'
Barca threaten down Kiev's right and the flag is raised.
48'
Verbic goes down in the box under pressure form Lenglet and nothing's given!! The Frenchman definitely took a chance.
46'
Verbic!! The '7' gets into the box and shoots at Ter Stegen who saves easily. Was hit hard though.
46'
Kiev get us going again! No changes.
45'
HT: D Kiev 0-0 Barca! Half-time in Kiev and I'd say it's a fair score. Barca have had more possession, but the hosts have arguably had the clearest opportunities. De Pena saw a shot saved right on half-time, Buyakskiy could have scored before that had his teammate not got in his way and Karavaev also had a half.chances. Coutinho and Trincao have come the closest for Barca in a half with little goalmouth action. Back for more in a bit!
45'
De Pena!!! Right at half-time, the Uruguayan charges down the far side, he gets towards the by-line, he could have passed in the middle and his cross come shot is tipped behind for a corner by the goalie. No time for the corner though.
45'
Good play by Kiev sees a lovely ball across the face of goal which beats all the Kiev players.
43'
Garmash is down after getting caught by Lenglet's studs. Nasty.
41'
Kiev shield the ball out of play for a goal kick. Looks it will be goalless at the interval and that would be very fair.
39'
Free-kick to Barca after Trincao is brought down. This will go into the box. Pjanic takes and Garmash deals with it.
37'
65% possession for the visitors.
36'
Trincao!!! The Portuguese hits firmly from 25 yards, but it's straight at Bushchan!
34'
Trincao goes down in the box wanting a penalty and there is contact by Mykolenko, but it's not enough.
33'
What a chance for Kiev!!! A dangerous cross into the box finds Buyakskiy in the box and he somehow can't turn it in!!! Verbic gets in his way! He shouldn't have touched it.
31'
Junior tries to run into the box and Garmash stops him.,
27'
Barca win a free-kick through Coutinho, it's half cleared and then the Brazilian is given the ball back and he fires wide of the GK's left hand post.
26'
Barca having possession and pinning the hosts in their own half. Bushchan has still had little to do though.
23'
Lenglet is down on the ground from the corner after contact with Buyalskiy and no pen is given. Doesn't look enough.
22'
Junior!! Alena passes to Junior in the box, he takes too long over the ball and his pass is cut out for as corner.
19'
Karavaev!!! The ball breaks to Zabarnyi in the box, he miscues it, it is thenm cleared to Karavaev whose tame shot is easy for Ter Stegen.
18'
Kiev attack Barca's right again and Verbic is brought down by Mingueza.
17'
Barca having some possession here, but little to report.
15'
Pjanic booked for a cynical foul from behind on Buyalskiy.
14'
Barca win a corner here now, but it comes to nothing as De Pena heads away.
14'
Barca better so far, but both teams attacking and no major chances.
13'
Karavaev runs out of pitch on the far side and it's a throw in for the visitors.
10'
Braithwaite is played in in the box, but is then crowded out by defenders.
9'
Free-kick conceded by Mingueza for a push in the back.
8'
Kiev attack through Verbic and his shot from outside the area is blocked by the sliding Verbic.,
7'
D Kiev attacking again down the far side and De Pena is flagged offside. It wasn't but the move came to nothing.
6'
Coutinho!!! A ball into the box is touched by Kedziora straight to Coutinho who controls and wins a corner.
4'
De Pena passes to Buyalskiy on the far side, but the flag is up.
3'
He's getting treatment and we're back underway.
2'
Barca having some early possession here and there is a problem with Buyalskiy. He's downm with a leg injury.
1'
Barca get us going in the black from right to left!! Kiev in white.
Prev.
The players make their way out here!
Prev.
Kiev are top of the Ukrainian league and won 0-2 at Inhulets on Saturday. Just one change for them. Verbic in for Supriaha.
Prev.
Changes from 1-0 loss to Atletico; Pique, Sergi Roberto (both injured), Alba, Griezmann and Dembele all on bench. Messi is rested and De Jong also out. Mingueza, Junior, Dest, Alena, Coutinho, Trincao and Braithwaite all in.
Prev.
Barca 9pts, Juve 6pts, D Kiev and Ferencvaros both on 1pt.
Prev.
4 degrees and dry in Kiev. Matej Jug of Slovenia is the referee while Sascha Stegemann of Germany is the VAR. Barca won 2-1 when these sides met three weeks ago at the Camp Nou.
Prev.
The least well known player of the dfive youngsters mentioned is centre-back Oscar Mingueza. He's 21 and normally plays for the B-team. This is his first team debut.
Prev.
Barca will qualify for the last 16 with a win tonight. Have 2 more chances to win if they lose this game, but they will want to finish the job as soon as possible.
Prev.
Mingueza, Dest, Pedri, Alena, Trincao... Lots of youngsters in this team. Messi doesn't travel as he is rested, Pique, Fati and Sergi Roberto are injured, Griezmann is on the bench. Will be very interesting to see this Barca side.
Prev.
Barca XI: Ter Stegen (GK); Junior, Lenglet, Mingueza, Dest; Pedri, Alena, Coutinho, Pjanic, Trincao; Braithwaite.
Prev.
D Kiev XI: Bushchan (GK); Karavaev, Mykolenko, Zabarnyi, Kedziora; Garmash, Buyalskiy, Shepelev; De Pena, Verbic and Shaparenko.
Prev.
Hello and welcome to live coverage of the Champions League ,match between Dynamo Kiev and Barcelona!