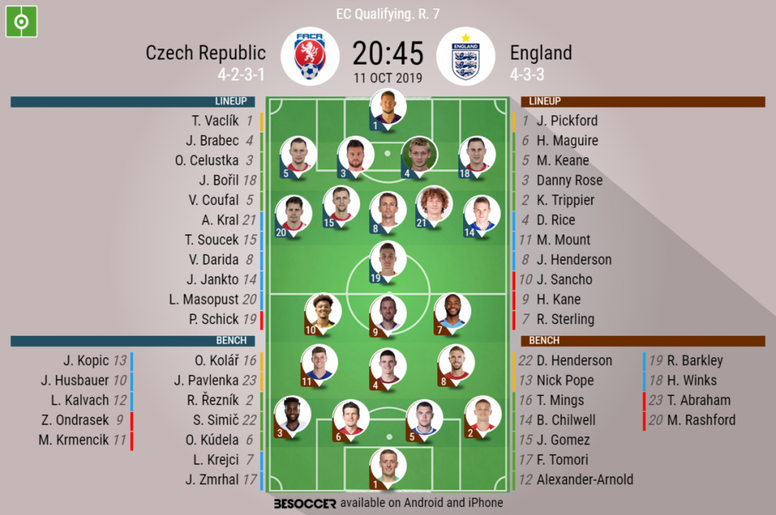 Czech Republic v England - as it happened
Republica checa

England

95'
FT: Czech Republic 2-1 England!! What a result this is!!! England lose a qualifier for the time in 10 years and 1 day after falling behind to a Kane penalty. Brabec quickly drew them level and despite being Pickford making two great saves, 30 year-old debutant Ondrasek won it for the hosts five minutes from time. That certainly makes the group interesting and there are wild celebrations among the Czech players!! Thanks for joining us and see you again soon!
95'
England doing everything they can. The GK launches it forward, but Czech clear and they break on the counter!!! Four v two and Kopic shoots at Pickford!!
94'
England go out on the attack, but Barkley goes without the ball.
93'
Ondrasek received treatment and was bleeding slightly from the lip.
92'
Henderson is cautioned for catching Ondrasek with a stray arm. Henderson isn't happy with it.
91'
One minute gone of the stoppages and Czech have a goal kick.
90'
Four minutes of added time.
90'
Czech Rep sub: Zmrhal replaces Masopust who has had an amazing game.
89'
What a way that was for Ondrasek to mark his debut. It looked like it was going to be a draw, but if any side deserve to win, it's the Czechs.
88'
England sub: Abraham on for Rice.
86'
Soucek won the initial header and caught Rose with his shoulder so Rose was just getting treatment.
85'
Ondrasek scores!!!!! Czech Rep hit the front!!! Masopust darts down the near flank and as Maguire and the byline draw near, he cuts it back for Ondrasek and the MLS striker keeps his cool to score from 10 yards on his senior debut!
84'
Ondrasek is in a very good position, but he goes to ground and the chance is gone as Rose cleared the danger. I think he might have slipped.
82'
Czech Rep sub: Kopic on for Jankto.
81'
Vaclik!!!! England are playing direct tonight. Barkley passes to Kane who is one on one, but has a very tight angle and Vaclik saves.
80'
Soucek headers Barkley's delivery away despite being under pressure from Maguire.
80'
Free-kick for England after Sterling is brought down.
77'
Kral!!!! What a save by Pickford to his left after a brilliant one two between Kral and Darida. It was a lovely chest lay off by the latter.
76'
Coufal makes a very good tackle inside his own area to deny Sterling.
75'
Celustka almost gets on the end of the free-kick, but it's slightly overhit.
75'
There was little contact on Soucek and it was no pen.
74'
Czech Republic attack and a player goes down in the box before England try and attack on the break, but it comes to nothing.
72'
Barkley and Rashford are on for England as Mount and Sancho go off.
69'
Coufal is tackled by Rose and the home team want a second yellow.
68'
Crazy scenes!!!! Sterling pushes Coufal and then keeps on playing as he didn't hear the whistle for a good 10 seconds and then squared for Sancho. Both sets of players finally heard the whistle and Sterling was harshly booked for playing on when he didn't hear it.
66'
The sub wins a corner! Henderson deals with Jankto's corner though.
65'
Henderson shoots from outside the area and Vaclik saves.
65'
Czech Rep sub: Ondrasek on for Schick.
64'
Kane is inches away from scoring!!!! Sterling's cross into the area sees Kane a whisker away from flicking it past the GK!! So close.
62'
Kane finds Sancho now one for one and Brabec gets back to clear before he can pull the trigger. England attacking less, but look threatening when they do so.
60'
What a save!!!!! Masopust hits a curling shot with his left foot and Pickford dives to tip over with his left hand. That was going in. Chance of the half.
59'
England get a free-kick, but Maguire makes a foul from it.
57'
Vaclik!!! Kane feeds Sterling who is one and one and tries to go round the keeper. The Sevilla GK stayed on his feet and knocked it away with his hand.
55'
Mount is penalised for a foul after Rose had won the ball back.
53'
Mount's free-kick finds Keane whose header is weak and the ball goes out of play.
53'
Foul by Soucek on Sterling now 35 yards from goal.
52'
Soucek!!!! Masopust dispossesses Maguire in England's half, he then spots Soucek to his left, but the shot is awful. Off target.
51'
Soucek looks for a teammate with his pass which goes for a goal kick.
49'
England break through Sancho, but his pass to Sterling is poor.
47'
Darida has an ambitious effort from distance!! It goes over though.
46'
England get us going once again in Prague!
45'
HT: Czech Republic 1-1 England!! It's half-time here in Prague and it's a completely different game to the one at Wembley. Czech Republic have the been the much better side, but fell behind when Sterling was felled and Kane scored the penalty before Brabec restored parity four minutes later. Jankto, Schick and Masopust look dangerous against an England team struggling at set pieces. England have had the odd good attack as well. Join us in 10 for more!
45'
Mount's set piece comes to nothing.
45'
The corner is cleared and Sancho on the counter makes a lovely sprint which ends in a corner.
44'
Masopust wins a corner for the hosts. This is a really good contest.
44'
Coufal is fouled by Sterling and Coufal wants a yellow which isn't given.
41'
Czech threaten!!! Schick beats Trippier down England's right and his ball in ends up at the feet of Masopust who slices it wide.
38'
The game has been more even in the last few minutes and I think it will stay 1-1 going into the break.
35'
Sancho and Sterling combine in midfield and then Trippier's attempted pass to Sancho is cut out.
34'
Schick gallops into the box, but then loses control of the ball and slides into Maguire.
33'
England attack again and Kane's shot is blocked before Celustka puts off Mount hits wide. The first real attack England have had for a while.
32'
Jankto's ball in is headed goalwards by Schick, but it's too soft to beat Pickford.
31'
Sterling is penalised for a push from behind on Coufal by the far touchline.
28'
England finally clear after Darida and Masopust combine a few times near the England box.
26'
Trippier is down injured after being caught by Darida. The ball got away from the Czech and he couldn't get it back despite stretching out for it.
25'
Boril gets the ball again and he feeds Jankto whose centre goes across the face of goal, but nowhere is there to turn home.
24'
Boril has a pop from just outside the area after good build up play. It's a tame effort in the end though and Pickford easily collects.
21'
Things have calmed down in the last few minutes after a frenetic start.
18'
Czech Republic are continuing to attack and are looking the better here.
16'
Again!!!! Jankto's ball in is headed on by Soucek and then Schick almost gets on the end of it. England shaky from set pieces.
16'
Coufal wins a corner for Czech Republic on the far side.
14'
Off the training ground!! Rose passes along the ground to Sancho who plays a quick pass to Sterling. Overhit though.
13'
Free-kick for England now, 25 yards from goal.
11'
The free-kick is sent in and despite being won initially, it's cleared.
10'
Rose is carded now for a foul on Schick, I think. It's in a dangerous position.
9'
Jankto gets the first card of the game.
9'
It's 1-1!!!! Brabec levels it up from the corner!! The delivery in is flicked towards goal by Celustka and Brabec is there to tap in from less than six yards out! Deserved.
8'
Huge shout for a penalty after Kral's shot seems to come off Keane's arm and then Coufal hits the rebound towards goal and Pickford makes a great save.
8'
Derida puts a ball into the box which is headed away.
6'
That was a big blow for Czech Republic as they had started the better.
5'
Harry Kane scores!!!! He strikes it down the middle while the keeper dives to his right.
4'
Penalty for England!!! Kane plays in Sterling who runs into the box and is brought down by Masopust. Stone wall penalty. Sterling cut inside instead of shooting, but he got his penalty.
2'
Chance for Schick!!! A cross into the box is chested down by Schick in the area and it goes to the keeper.
1'
Czech Republic get us going in Prague in the red from left to right!
Prev.
The anthems have been played and the coin toss has been done!
Prev.
When these two teams met at Wembley last March, England romped to a 5-0 victory.
Prev.
In fact, Borikl, Coufal and Soucek all play for Slavia Prague while Brabec also plays in the Czech league.
Prev.
Sevilla's Vaclik and Patrik Schick on loan at Roma are familiar faces in the Czech line up.
Prev.
England are on 12 points at the top of the group while the Czechs are second with 9. If England win, they will book their place at Euro 2020.
Prev.
The big news is that Chelsea's Mason Mount will make is first start for England this evening in Prague. Rose and Trippier are also in defence.
Prev.
The referee for this one is Damir Skomina of Slovenia. No VAR.
Prev.
England side: Pickford (GK); Rose, Maguire, Keane, Trippier; Mount, Rice, Henderson; Sancho, Kane and Sterling.
Prev.
The teams are in! Czech Republic team: Vaclik (GK); Boruil, Brabec, Celustka, Coufal; Jankto, Kral, Darida, Soucek, Masopust; Schick.
Prev.
Good evening and welcome to live coverage of the international game between Czech Republic and England from Prague. These two are top of the group so it should be well worth watching.