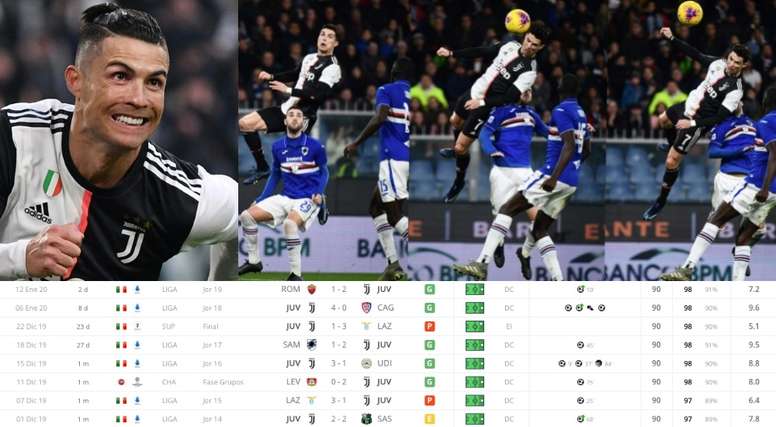 Cristiano Ronaldo's eternal youth
The Portuguese has had a tremendous month and a half. Just when the critics started sounding due to his slow start to the season, the Portuguese puts on his superhero cape and started to show that he is still very much with it.
As has happened on numerous occasions throughout his career, Cristiano Ronaldo started to slow down after he reached the first 15 games of the season with just six goals and an assist.
Whether because of criticism or because he was planning to go further this season, the star has reacted ever since. His last eight games are no match for those of his golden era at the Santiago Bernabeu. Ten goals, an assist and a shot on the woodwork have put him back in the running for the Ballon d'Or and Golden Shoe.
It all started with a penalty goal against Sassuolo that helped his team get a point on the 1st December. It was not the best moment for Juventus, who stumbled behind for the first time this season, although he did manage to get a goal (3-1 against Lazio). That second goal was followed by three consecutive matches where he scored, in a 0-2 draw against Bayer Leverkusen in the Champions League, a double against Udinese (3-1) and the iconic header against Sampdoria that killed the clash against the Genoese.
He only did not score in the Juve-Lazio SuperCup final, a game that, once again, escaped their grasp, as they lost with an identical result (1-3).
Now in 2020, and turning 35 very shortly, CR7 gifted the fans with a hat trick and an assist in the 4-0 win over Cagliari on the 6th January. That game, one of the best of the season, confirmed that his state of form is still growing, something which Cristiano against proved against Roma this past weekend. Another goal from a penalty and another key win (1-2) in the fight for the title.
Cristiano Ronaldo no longer has to listen to those who were criticising him, as he has well and truly put himself back in the fight for the Ballon d'Or. With 14 goals in Serie A, the Portuguese is already seventh. He is still far from the top (Immobile leads with 20 and 40 points), but once Messi is overtaken and yet 2020 is ahead, it can be said that the Portuguese is as much a candidate as the Argentinian. One day he will tell us what it takes to feel so young...