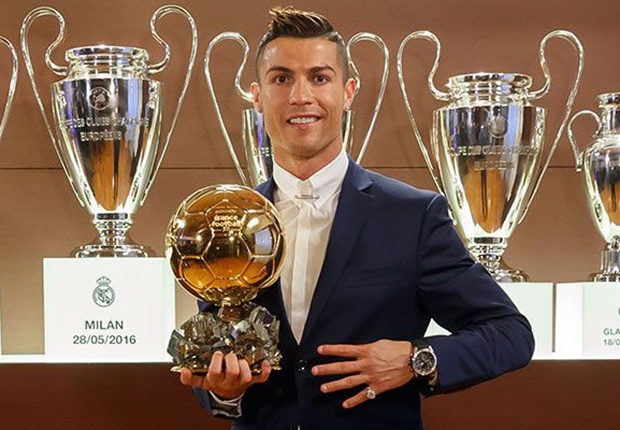 'Cristiano Ronaldo is taken for granted'
After winning a fourth Ballon d'Or, Cristiano Ronaldo received immense praise from an unlikely source - one of the main newspapers of China's ruling Communist Party.
The Real Madrid and Portugal star was rewarded for a glorious calendar year in which he won the Champions League and Euro 2016, beating Barcelona counterpart Lionel Messi to the prestigious award.
While the consensus has been that Ronaldo deserved the prize, there were still some who disagreed with him winning it. China's People's Daily, though, was full of praise for the attacker, stating that his professionalism must be used as an example.
"Cristiano Ronaldo has won the Ballon d'Or for the fourth time and his prominence is taken for granted. The hardship behind this success tend to fall into neglect," said the top mouthpiece of the Communist Party said.
"Ronaldo is no longer the buccaneering young lad who thrived on spectacular solo runs. And given attacking talents are susceptible to wild tackles, it's quite rare and commendable that a thirty-something Ronaldo can still be voted as the best footballer in the world.
"Numerous pundits, papers and ex-players had asserted that considering his style of play, it's impossible for Cristiano Ronaldo to be at the peak of his powers for a long time. But the fact that he won his fourth Ballon d'Or in nine years have made those assertions seem like a joke.
"Why Cristiano Ronaldo is capable of winning the Ballon d'Or in his 30s? The answer lies in his professionalism. What is professionalism? It entails a healthy diet and lifestyle, hard working attitude, among others. Sounds easy, but it's not so simple to establish a lifelong habit.
"The Chinese Super League are currently flush with cash, and seeing Chinese players, even those at an early age, earning a huge amount of money have become a common sight. However, how many of those are still keeping that burning desire to improve themselves?
"In contrast to Cristiano Ronaldo, most Chinese players lose their place in the starting XI as they get into their 30s. It's not so much because of the differences in perception, but because of the lack of professionalism which is reflective of their short careers".
Clubs form the Chinese Super League have been big spenders in the transfer market lately, but the newspaper insists the attitude of some of its players must be further developed.
"The Chinese Super League have spared no effort to catch up with the world's top leagues but in terms of professionalism, it still have a long way to go," it concluded.