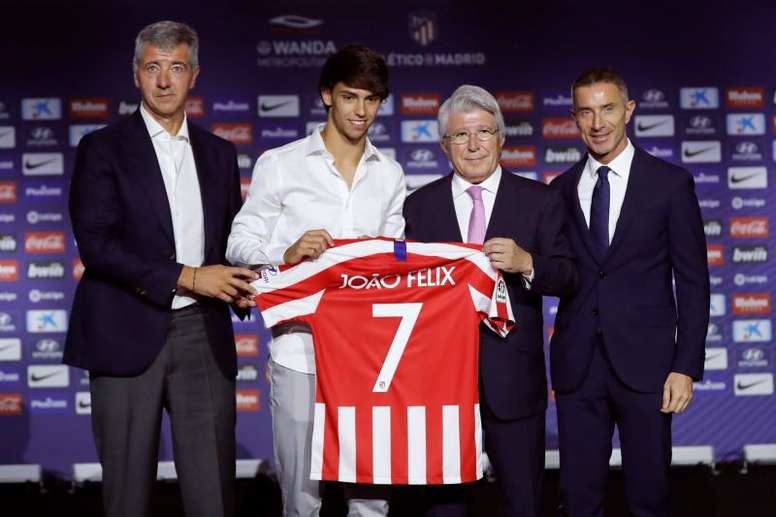 "Cristiano is Cristiano, I'm Joao Félix"
"Cristiano Ronaldo is a great player, at the moment he is the best in the world and maybe the best ever. When we were with the national team he told me about Madrid, which he likes very much, but I'm here to write my story. To be remembered as Joao Felix. Cristiano is Cristiano and I want to be myself", said the youngster.
The 19 year-old was presented alongside his family, friends and members of the Atlético board on Monday in a press room at the Wanda Metropolitano.
"I'm here to give my all and to make history at the club," said Atleti's club-record signing: "I don't have that pressure. I'm a little out of touch. I don't read or see anything. I just do my job and give my best to help the team.
"This issue of transfer fees is an issue with the market. I don't know anything about that. I play, do my job and do my best to help the club I'm at(...) I don't pay much attention to it. Or none at all. I just do my job the best I can," he insisted.
"They've received me very well, they've all welcomed me in the best possible way, they've integrated me into the group and that's great," said Joao Felix, who admitted, at the same time, that his departure from Benfica has been "difficult". "I'm always going to carry them in my heart," added the attacker.
"We had a group at Benfica and everyone left me messages and wished me luck. We had a very special relationship," said Joao Felix, who added: "I'm also leaving my home. It's not easy to leave Portugal. I will always have my parents. My brother won't be here, because he plays there, but my parents and my friends will always accompany me. I've never been alone and I'm not going to be now".
Félix then looked ahead to the upcoming friendly match against Real Madrid in the USA. "It's a great club. Even if I wasn't at Atletico it would always be good to play against them, but as I'm here it's a special game, because we all know they're a direct rival," he said.