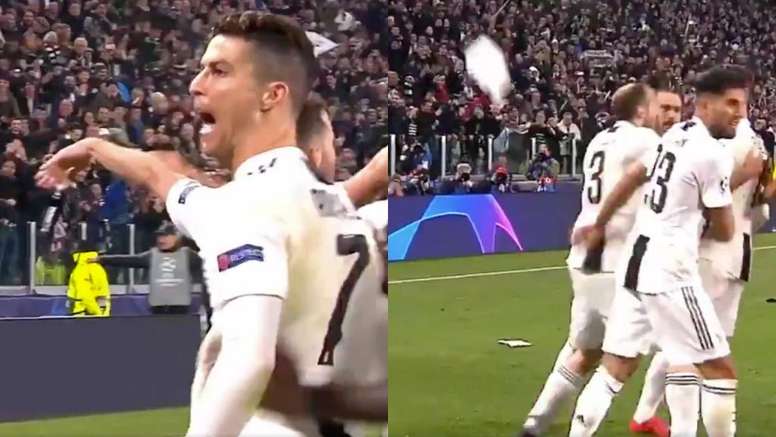 Cristiano insulted the Atletico fans and they threw a chair at him!
Fresh images, spread both by Spanish channel '#Vamos' and Spanish programme 'El Golazo de Gol' added another dimension to what occurred on the pitch at Juventus Stadium when Cristiano went towards the stands to emulate the gesture that Simeone did at the Metropolitano putting his hand on his testicles. Until now, what could be seen was the obscene gesture of the Portuguese. But on closer inspection, the story incorporates new and important elements.
Firstly, it can be seen who the gesture was aimed at. Specifically, a group of Atletico Madrid supporters located behind one of the goals, Even a 'Frente Atletico' scarf was visible. In addition, once Crisitano turns around and his teammates go over to hug him and celebrate the qualification, the Juventus player utters the expression "Sons of bit****."
Straight afterwards, objects start to come down from that area. A bottle of water and most notably, part of a white seat which, in fact, as can be seen in the video, is closing to striking Cristiano Ronaldo. That action from the Portuguese star was the only thing which was out of order in a great game by him, and it was close to leading to serious consequences.
In fact, it remains to be seen if UEFA take any action and punishes him as occurred with Diego Simeone, who had started the battle of unfortunate gestures in the first leg, and seems he will receive a large fine.
Although both actions from the Portuguese and the Argentine were inappropiate, one of the big differences between them is that Cristiano's was aimed at the opposition fans, whereas Simeone's was for his own set of supporters.
March 13, 2019